Are you satisfied with your push notification service?
Are you absolutely sure the results you are getting are as high as they could be? We will give you some time to reflect on it for sure, but in case you are already thinking about changing your push notifications provider, and are not sure which way to turn, this is an article for you.
Also, all among you who believe your current push provider's results are no more than decent, know this – it can get better.
Notix delivers up to 30% better subscription rates than any other push notification service in the market. And this leads to better conversion rates as well.
Notix push notifications service is what you need in order to stay on top of your game and to increase your visibility and subscriber base.
It may sound like we are being overly confident right now, but just keep on reading and we will prove to you we can back up this claim. Also, we are well aware there are some myths and fears following this type of decision-making, where most common being:
#1 I'm afraid I will have even worse results than with my current provider
#2 I will lose my subscribers
#3 I will lose money and time on switching to a new provider
#4 It's hard to start all over again
In the lines that follow we will dispute every single one of them. Without further ado, here are the 5 reasons to consider switching to Notix.
---
#1 Unique subscription and delivery technologies
The fact we can deliver so much better results than anyone else in the industry shows that we have a secret weapon in our hands. We are talking about Notix's advanced and unique technology, which is the thing we are the most proud of.
To be clear – we are the No1 when it comes to growing engagement and getting the best out of your audience.
And that's based on numerous independent researches and feedback from our partners.
The majority of our time, efforts, and funds were invested in making sure we offer our users top-quality service, and we believe it paid off.
Our solution guarantees high subscription and delivery rates thanks to our smart technology.
Notix will send push notifications and check to make sure they have been delivered. If the alert didn't get to its destination the first time, the message will be sent again until it hits the target, or until the Time-To-Live (deadline for push delivery) ends.
It's what increases the delivery rate, the number of clicks, and site visits.
Also, we can vouch that 100% of your notifications will be delivered to your subscribers. And on time. We all know how urgent some alerts can be, so we made sure they reach your audience in the right time frame.
The fact that a great number of our clients came to us straight from the competitors and never looked back is big enough proof we are doing a great job.
---
#2 Free and safe parallel testing
It is in human nature to stick to a familiar and stay in a comfort zone. So the decision to switch to another push provider won't be easily made by the majority of people.
And we get it. It's hard to make this decision without a guarantee the switch to Notix would be a good call.
But what if we say we can offer FREE parallel testing? An opportunity to compare your current push provider to Notix on fresh traffic.
This means you will be given an opportunity to use both services at the same time, again with Notix being free for testing purposes, and in two weeks, you will see the results. Notix will also offer you a specialist who will lead you through the process.
And don't worry. When you decide to switch to Notix we can arrange the transition to be done in no more than 5-20 minutes – that's how long it takes to switch the tag.
We believe that this is the strongest reason to give Notix a chance. You can literally check how it works in practice and in real-time.
And as for your database, we can save it and help you expand it very quickly. Just look how we did it with our client Fani Pogody:
---
#3 Subscriber migration
While we are on the subject.
We made it possible for you to keep all your active subscribers after you switch to the Notix service.
After you change your provider's service tag to ours this will be done. When users give permission to send them notifications, they are giving it to your domain, not your provider.
The bottom line is – you can shift to Notix and your old active subscribers will continue receiving push notifications as if nothing happened. You will just be using another service that will get better results.
---
#4 User-friendly interface
We believe user experience must be on top of priority lists for push-providing services like Notix. This means we need to be able to offer a well-organized, modern, and easy-to-navigate interface.
After seeing from a close-by how some interfaces are non-transparent, a bit confusing, and hard to handle, we paid attention to creating a dashboard that's super easy to understand and use.
The Notix sidebar is visually separated, quite exact, and illustrative, so the chances you won't understand some of the options are super low. Also, all the steps you need to take are well-explained, and there is an analytics section available right at the dashboard, which our partners love.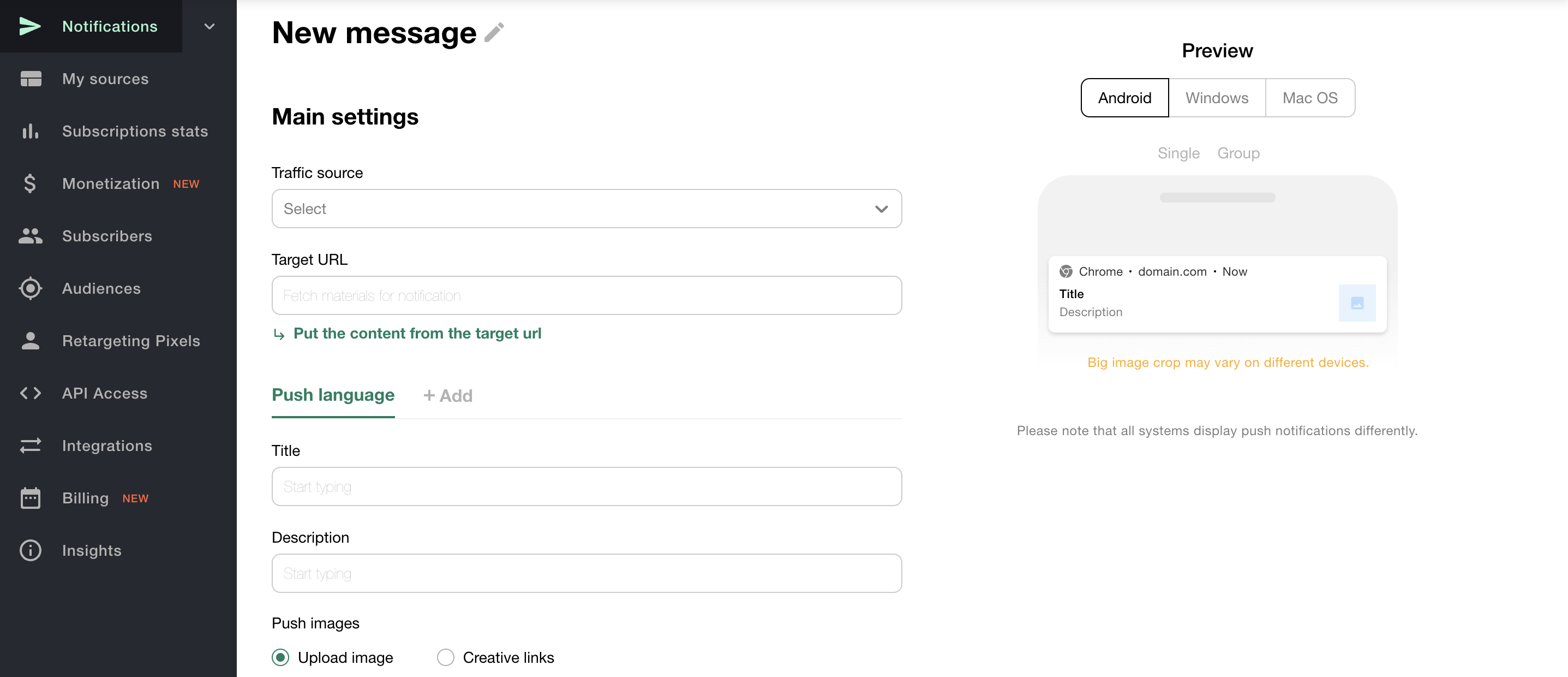 But in case you need more clarification on something you can always contact our support team and ask for help. We will be more than ready to meet all your needs.
And know this – not all push services have such fine and fast replying support teams. And with time, publishers can even get their personal managers in addition to always present support. It's actually another of our great advantages.
---
#5 Open ear for our publishers
There is always room for improvement. And we are willing to admit that.
We are listening to what you have to say. Meeting our partner's needs is what drives us forward and keeps us on the right track.
For example, the unsubscribe button we recently presented was developed precisely after a partner of ours asked about this feature to improve UX (user experience).
So if we truly see the suggestion that comes from you makes sense and has business value, we will consider it for sure. Notix is all about meeting publishers' needs and listening to them. Creating new features with them in mind is what we do.
---
Instead of conclusion
This list could be endless, honestly, so we cannot give you a proper conclusion since there are many more reasons we believe are worth giving Notix a chance.
We have to mention our monetization plan that can help you earn money with push notifications containing ads, only from trusted advertisers. Also our competitive prices – we managed to achieve Notix being very affordable compared to other push services.
More than that, we are proud of the fact our push notifications are very easy to create – it takes only a couple of clicks, and there's the flexible scheduling option that will make sure your audience receives alerts in the right time frame regarding their relevance.
We will end this report by saying one more thing – older is not better. Not always.
We put everything we have into this service with one mission – to make your business and your revenue grow. Test it, trust it, and the results will come. We can promise you that.