When you're in the business of advertising for websites, always working with the best services can seriously ease your work and, at the same time, help you save money. And that's exactly what we're all about, here at Notix – giving you the best services money can buy.
That's why we'll tell you everything you need to know about parallel testing your push services with Notix, in this article. Chances are you're already collecting and engaging with a database, but you're not quite happy with your reach, and implicitly lower CTR.
---
What is Notix all about
Do you often find yourself wondering: Am I getting the best deal in the market for Push Notifications? How little flexibility is too little? Wouldn't you rather: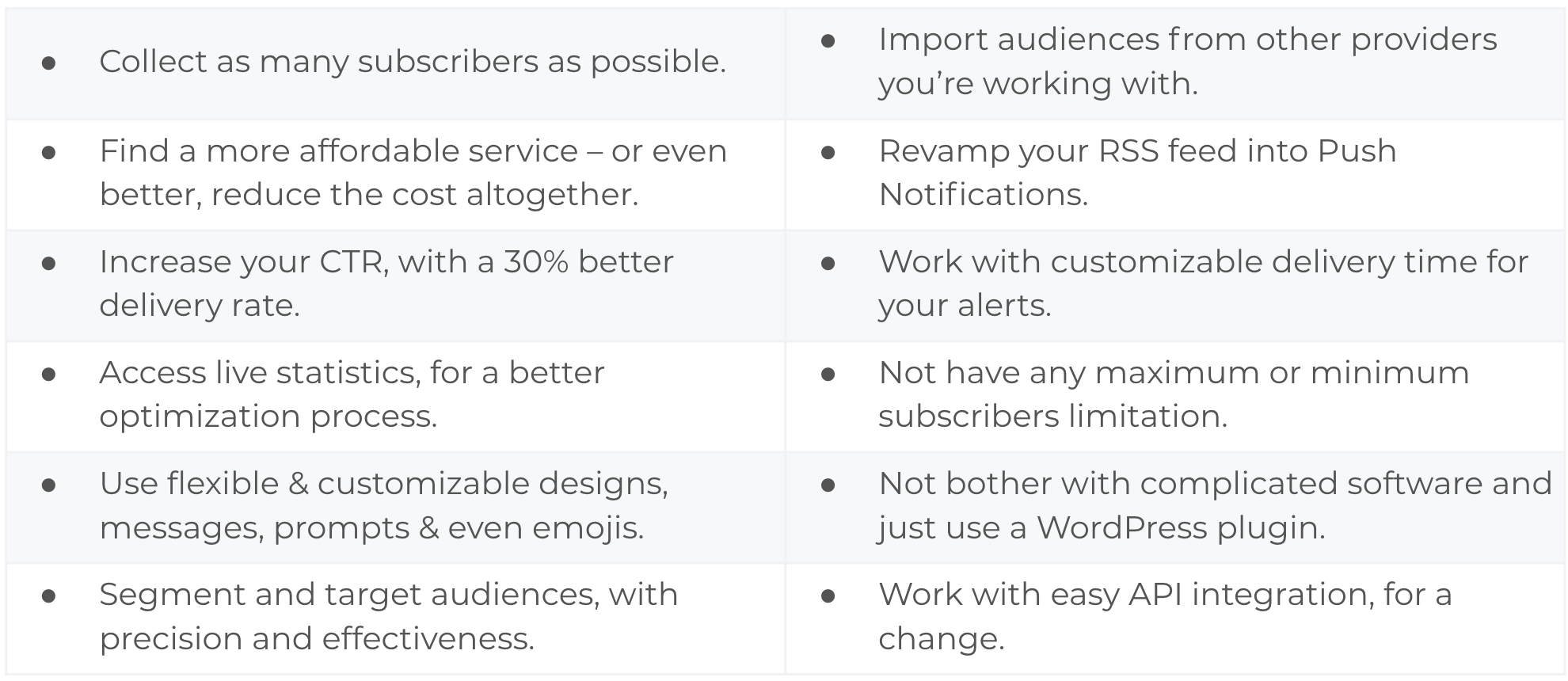 ---
Parallel Testing for Free?
With Notix, you can! Don't believe it? Test and see for yourself. Notix will effectively bring you more subscribers than any other competitor in the market.
We're positive that once you'll see the difference with your own eyes, you'll decide to fully switch to Notix.
In fact, just to make sure you're getting the best deal in the markets, you should start parallel testing your Push service with Notix today.
And what if you could do all these, still work with your old push notification service, and not be charged a dime to send Push notifications with Notix?
That's right: 1. For now, Notix is Free.
2. You can reach your audience with Notix and another provider simultaneously – with just one single subscription.
---
How can you start Parallel Testing with Notix?
Getting started with Notix and testing all the above, it's as easy as 1-2-3.
Copy the special NOTIX script
…And the special NOTIX service worker
Add them to your website/landing page
Once you are ready to start, our support team or your dedicated Notix manager can provide you with a script.
Even while you parallel test with Notix, nothing will change in your previous integration – it will still remain the main one, so will its personalized subscription prompts.
Moreover, nothing changes in the way users accept receiving push notifications from your source. They'll agree to receive them both – your old provider, and Notix – with just one click.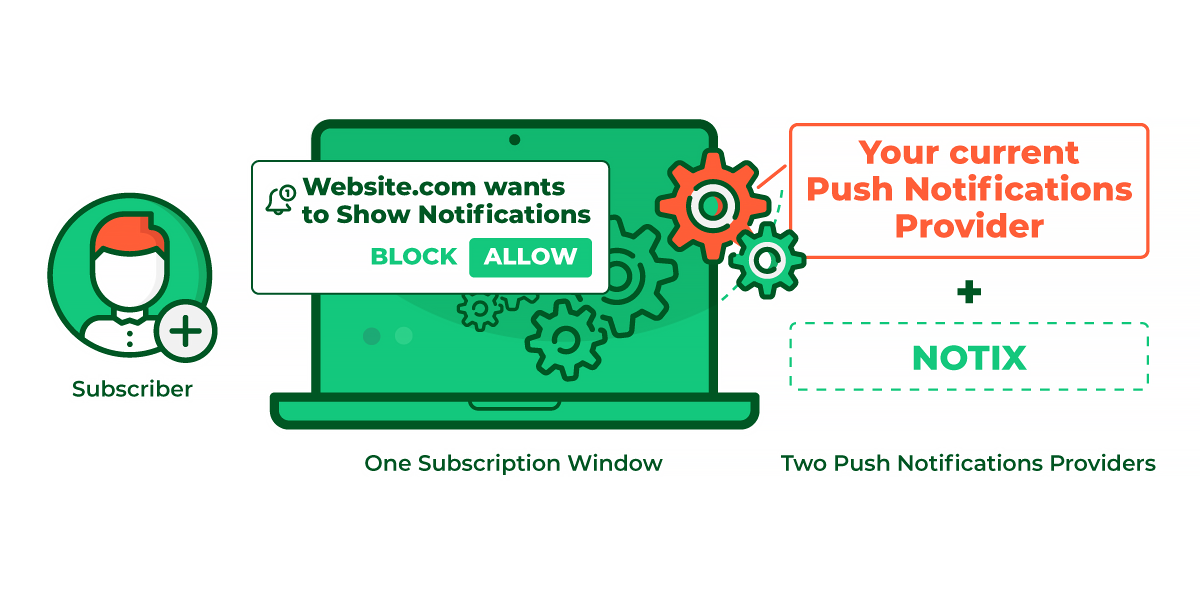 At the same time, you'll be able to visualize the same subscribers in both dashboards simultaneously, allowing you to start using all the Notix features on them.
Try adding your new collected subscribers to various audiences, targeting them at different times of the day, or with more diversified and targeted messages.
But keep in mind that the same way (with just one click) a user can unsubscribe from receiving Push Notifications – from both, your old provider and Notix.
---
Ready to move to Notix?
Did you already test, or simply check all the advantages, and decide you're ready to get started with Notix?
Great! Cause it couldn't be any simpler.
In fact, all you need to do is get in touch with our support team and we'll help you move all your subscribers from any other Push Service to your Notix account.
So, you don't even need to worry about starting all over and rebuilding your database. In fact, any active user that subscribed to notifications from your website can be transferred.
And it doesn't take more than just a few clicks. Just get in touch with our support team at support@notix.co and they'll give all the instructions for your database migration.