Already have a database of subscribers in another push service, but want to keep working with them in Notix from now on? This is possible with a database migration.
Below you will find a short description of the process and answers to Frequently Asked Questions on this matter.
---
So how to initiate the subscribers' migration?
Moving subscribers to Notix is easy. And our team will be happy to guide you, just contact us by email – support@notix.co.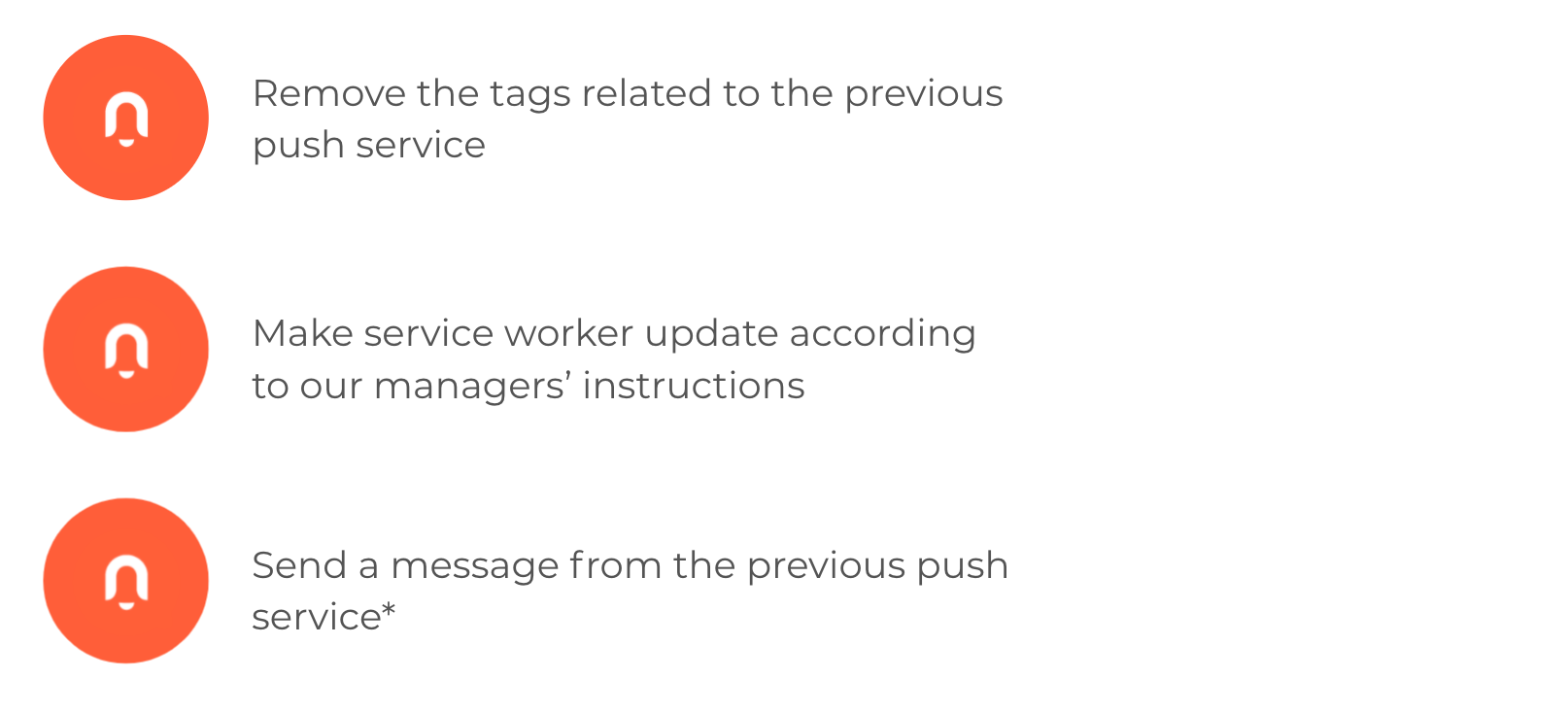 *If you have issues at any stage of the process, say, it's impossible to send a message – please get in touch with Notix managers. Our experts will suggest the best strategy of database migration designed specifically for your case.
And that's it. All technical work is done by the Notix scripts, you just need to make a small preparation.
---
And now, let's get down to questions:
Will users have to subscribe to my site again?
No, the database migration doesn't require anything like that. Your subscribers already have permission to display notifications in their browsers, so nothing will change for them. They won't experience any inconveniences while moving from one service to another.
Also, even if your database is extensive, you can still transfer it rapidly. There is no need to build it all over again or wait for too long.
---
Can I give you a CSV subscribers list to move the database?
When a user gives permission to receive notifications from a particular domain, the service worker file is uploaded into their browser.
Service worker – what is it?
Service worker is the small JS file that ensures push subscribers collection and push notifications delivery. Usually uploaded into the domain root directory.
Hence, subscriptions are controlled by the browser, service worker, and settings of the domain. They are not assigned to some list. This is why database migration doesn't work as just a copy/paste of CSV/Excel subscribers' lists from one service to another.
---
Will I transfer all of my subscribers?
Since the database migration process is closely tied to the service worker and its updates on the website, you will transfer the freshest subscribers who revisit your website and get your messages.
Take the most active people with you and add the freshly collected ones in Notix to enjoy the best database for maximal engagement without the extra tail of inactive users.
---
How long does it take to transfer the database?
It takes about 24 hours to move your database, just make sure to select a method with sending a migration "trigger" message. As for the migration order, it depends on the users' activity and their interaction with the delivered trigger push. Those who get back to your website upon receiving this message will get migrated first.
If you feel that the migration process takes longer than expected – let us know by email – support@notix.co, and we will help you speed up the process.
---
Can I move my old subscribers and collect new ones at Notix at the same time?
Yes, you can. The process of moving the old database from any service to Notix and collection of fresh subscribers do not interfere with each other.