Previous months were all about making adjustments and creating new features to ensure that user engagement on the website continues increasing with the help of our Push service. And we believe we made some quite impressive changes.
If you are interested in finding out what's been cooking behind the scenes, here are the top five Notix push notifications features that marked the beginning of 2023.
---
1. Unsubscribe Function
This is Notix's newest feature, and it was designed with the intent to improve the user experience for subscribers and to let them feel more in control.
The fact is, unsubscription as an option isn't a new thing, but how it's done is something we paid attention to this time.
Up until now, a subscriber could revoke his permission to receive push notifications, to say, manually, by entering browser settings → finding a domain on which he subscribed → and unsubscribing in the browser settings interface.
But this takes time, and effort. So we simplified it and made it more convenient to use.
With our SDK soft unsubscribe method via link, it can all be done just by pressing one button straight on site. And the biggest benefit from the publisher's side is that they can customize the button and determine where and when it will appear.
"This feature helps improve UX for push subscribers, but it also helps marketers make their push strategy more user-friendly and transparent to users",
says Karina Arkhangelskaya, Notix Head of Project.
Know that the button doesn't really have to be designed to look like a button, it can be any other element created by the publisher, which adds to the aesthetics of the site.
---
2. API Methods
New features within API methods will make the marketer's job easier and more effective. Plus, they will improve the outcome of every push strategy for sure.
Message settings
At this point, we can say we had a pretty basic API for sending push notifications, but we upgraded it and found a way to offer our users more possibilities to manage created content.
Now, after preparing a message and releasing a notification, a Notix user can PAUSE and again START the push campaign without accessing SSP (self-service platform).
So whether it's about the strategy or the timing, or you simply want to stop for a second and assess the situation so far, the reins are in your hands.
Message statistics
When talking about push statistics within API methods, we are actually talking about time-saving.
Our Head of Project, Karina Arkhangelskaya, comments:
"When choosing API as a path contrary to SSP, the natural desire is to have as many possibilities straight in API methods to save time, which is usually spent on going to SSP to access certain information."
It means that with this API method, you can quickly get information about the number of impressions and clicks that were generated by a particular message.
Important note: As for any API methods – an API token is required and must be generated.
Audience update
Audience creation and targeting are one of the best ways to make your push strategy personalized. But what happens when users' interests change with time?
Since that's the most natural thing in the world, we dedicated ourselves to this matter and found a solution to the always-threatening problem.
Now, our API methods support the flow when there is a need to update the audience for users.
When subscribing to receive web push notifications, users have the option to choose audiences (categories) they desire and make sure their settings are saved. But we also made it possible for them to, later on, switch on or off certain categories as their preferences and interests shift.
Bear in mind: This functionality is provided only through Notix SDK – all processes related to rendering the user interface should be performed by the site owner.
"Just like with the feature of unsubscription by link, the publisher is the one to decide which site design will support these updates, we only provide the script which makes it possible technically at this API update – this way publishers have more flexibility and we do not intervene in their site design",
Karina Arkhangelskaya, Notix Head of Project, explained. 
---
3. Updated WordPress Plugin
When it comes to our beloved WP plugin, we also have news.
If you are a WordPress website owner and you still haven't installed the Notix plugin, we encourage you to do so. There are several benefits you could really rely on:
The simplicity of integration – installing the plugin is easier than copy-pasting tags and service worker
You can choose whether or not you want users to see post update – you can change this option for each post
Notix WP prevents double publication of push notifications, which often happens in some WP themes
And the newest one is:
You can send push notifications automatically for all new articles
Convenient, right?
This new feature makes sure the subscribers are notified immediately after the new article is released. So after you publish an article on your website, the push message will immediately be sent out to all your subscribers, letting them know about it.
When this new feature presented at the bottom of the main plugin page (Automatic push sending for new posts) is enabled, push notifications will fly away for each new article created on the site with the plugin installed.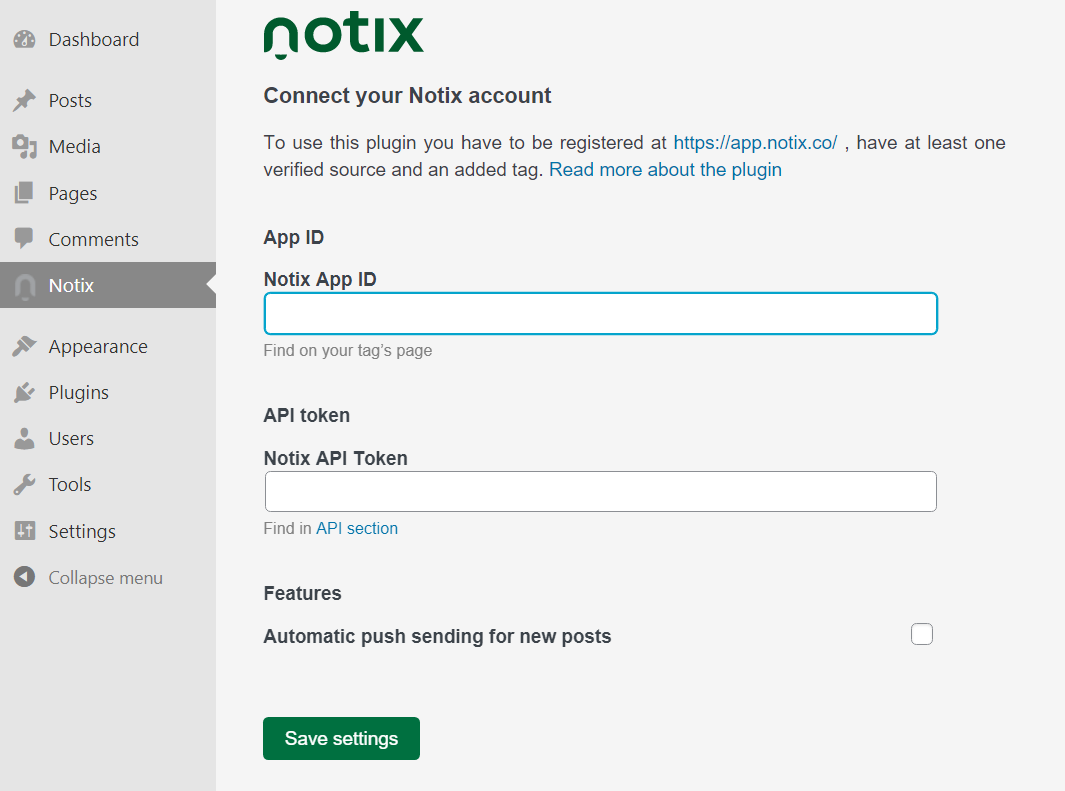 Clearly, there is always an option to send push manually by pressing the "Send push" button on the page of article creation, but this is way better, don't you think?
Note: This way, the push is created automatically, with the materials fetched from the article which was published. For instance, the title of the article becomes the title of the push. If there is a need to change the way push looks, you will need to do this through SSP (but only if the targeted URL is the same).
---
4. JS Tag Details
Here are a few words about something all the publishers and marketers will appreciate.
Callbacks
Using JavaScript callbacks during the subscription process gives site owners an insight into users' behaviors. And that type of information can be priceless.
Publishers can perform different actions based on callbacks. This is how Karina Arkhangelskaya, Notix Head of Project, explains it:
"Callbacks in a nutshell are a way for scripts to inform about the existing events. You have full flexibility on what to do with those if it's needed – make the tag perform a custom code, show pixels or metrics for passing info to external services, including Google Analytics"
To better understand what callbacks can do, go through these events that could be tracked by tags if necessary:
New visitors accepting to receive push notifications, AKA new subscribers
Visitors who didn't want to subscribe
Existing subscribers
Visitors who used a browser that's incompatible with push notifications
Visitors who neither accepted nor declined the request to receive push notifications (those who pressed "x" on the permission dialog)
Bear in mind that this is not a default feature, it requires tag updates which are described in the document we provided above.
Postback
New 2023 brought the postback as an additional option, which is especially relevant to affiliates, who run Notix on their media-buying landing pages.
From now on, Notix can do the postback if needed – pass subscription events and click ID parameters to the tracker so that you could manage subscription dynamics more effectively.
To get this done and set up the postback option, every Notix user can simply contact the support team or their personal manager.
---
5. In-App Push
Okay, this is not a fresh-from-the-oven kind of feature, but it is so very young and deserves to be mentioned one more time because of its huge importance and potential.
Recently the Notix team gave it all and made sure the Android app owners can now also use its service for in-app push notifications.
The best aspect of it all is – an in-app push can be customized just like the web push, site owners can even do the targeting from their applications.
If you need a guide on how to start using Notix within your app, here is the instruction.
But first, let us remind you about some basic things regarding in-app push:
The user can receive it even if not active in the app
The push notification will appear even if the user's screen is locked
Up until Android 12, notifications are enabled by default
It is a more reliable option than web push when letting users know about an urgent situation
Push notifications can be customized
---
Final Thoughts
We would say a productive and exciting first quarter of the year is almost behind us. We sure hope the Notix users will appreciate all the fresh options our service can provide, but if you believe there is something else we could do to improve your Notix experience, please let us know.
Our support team is always ready to jump in and answer all your questions and needs – just let them know via live chat in the dashboard or at support @ notix.co. 
And, of course…