The ever-changing marketing trends can make it hard for publishers, affiliates, as well as web and app masters to distinguish the right approach when reaching their targeted audience. However, push notifications are on a constant rising path, proving they are to be trusted and relied on. The only question now is – what's the best push notification service?
You are probably well aware of all the superpowers push notifications have, or at least we assume it since you are here, checking which push provider to turn to.
But let's catch up on the most significant advantages you can count on when implementing a push system on your website or your app.
Push notifications are the perfect tool for boosting audience engagement. They have a 50% higher open rate and a 7% higher click-through rate than email. Also, they are especially working their magic with Android users, with 81% opt-in rates.
Now, let's move on from the numbers and focus on other push benefits.
---
What push messages bring to the table?
These clean and precise alerts have the ability to increase conversion rates; segmenting your audience can be of great help here, given you will be presenting your users with content they are more likely to respond to
They can keep your audience interested with relevant offers and interest-based content
They are expected to develop and improve brand awareness among your push subscribers
Push alerts can be of great help when it comes to customer retention; in fact, push alerts can increase retention rates by three to 10 times (we know, numbers again, but it is impressive, don't you think?)
---
Push notifications basics
In order to achieve your goals defined by your push strategy, you should follow some basic instructions on how to create push alerts, and what to pay attention to.
CUSTOMIZED APPROACH
The ability to tailor each push so it fits the specific audience group is one of its greatest advantages. And it is crucial for achieving the best possible results.
What you need to do is think of the people who are on the other side of the screen, receiving push alerts. And create it in a way to communicate the message in a more personalized way. The tone of voice, the push message title, type of the image you will include, it all matters.
PUSH TIMING
The time in which your subscribers receive push notifications will greatly affect the push open rate. You don't want your message to be overlooked, which is why you need to have some push strategy in place.
When the users will engage the most depends on the exact hour of the day. According to Business of Apps, the right send time improves reaction rates by 40%. 
For instance, people are the most responsive to push during the after-work hours, and during lunch hours. But this does not apply in all niches. For media and blogging the best time is from 9 to 10 am, for social it's 12-1 pm and 7-8 pm, and for gaming niche it's 12-1 pm and 7-9 pm.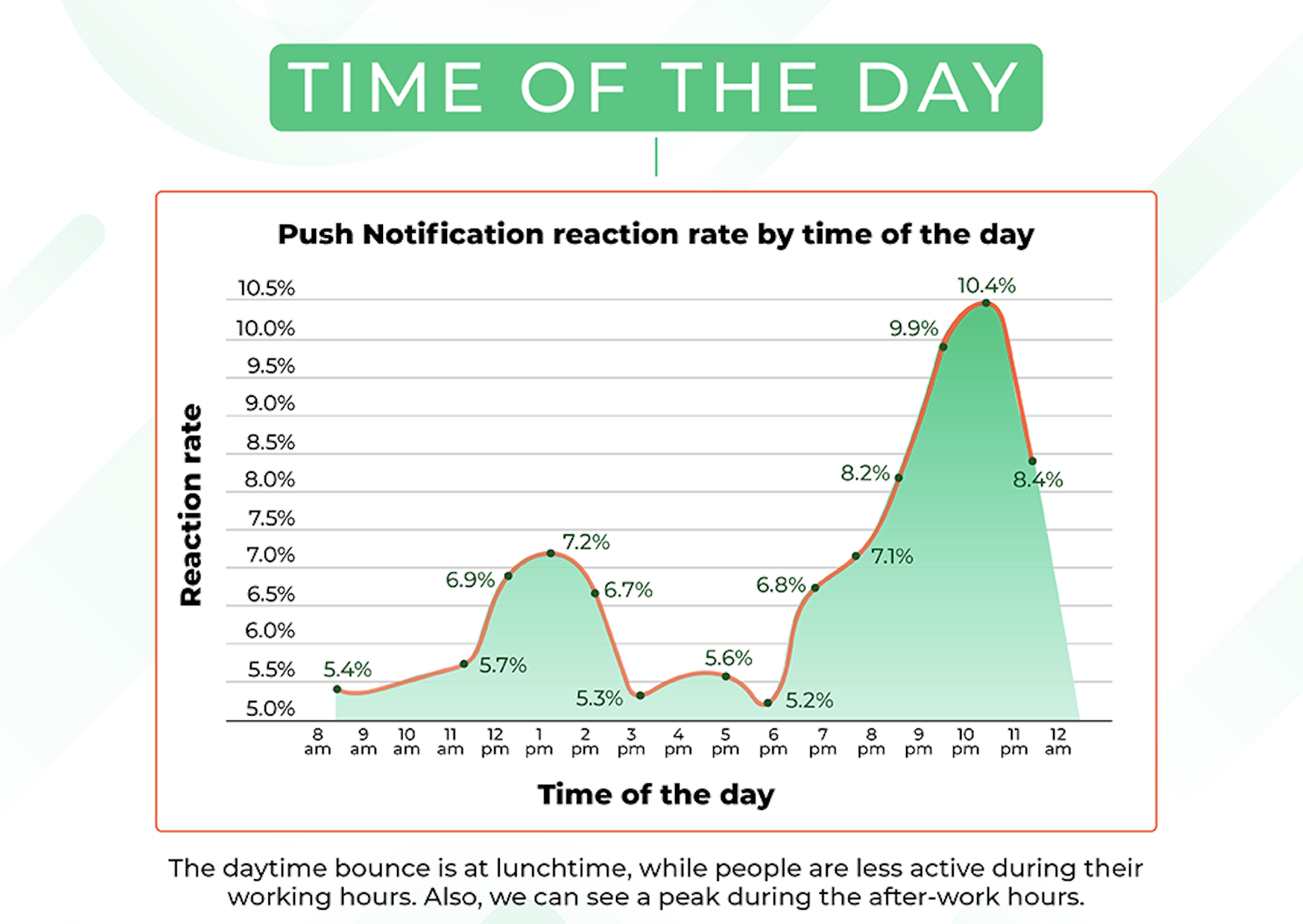 RELEVANT CONTENT
To segment your audience based on their interests is the best thing you can do for your push campaign. This will prevent your subscribers from receiving alerts on subjects and topics that are not of their concern. And therefore, improve your open and reaction rates.
The essence of push notifications is content relevancy. So our suggestion is to invest some time and think through how to place your offer or information so your subscribers find it super difficult to ignore.
Detailed push campaign launch checklist in this post →
---
Best Push Notification Services Listed
It is time to start presenting all the push providers you can trust to contribute to your marketing efforts. We made sure to showcase all the relevant data, including prices, as well as benefits they have to offer, but also to underline important shortcomings, if there are any.
Hope you're ready, here we go.
| | | |
| --- | --- | --- |
| Supports | Best for | Price |
| Web | In-app | Mobile | Any type of business | Free with monetization option |
The main reason Notix is the number one service for push notifications lies in its unique and smart technology. It is a top-quality service that guarantees 30% better subscription and delivery rates than other leading push services.
Notix relies on the Time-to-Live feature that makes sure the push message is delivered to users. If not, the message will automatically be resent over and over again until the deadline for push delivery ends.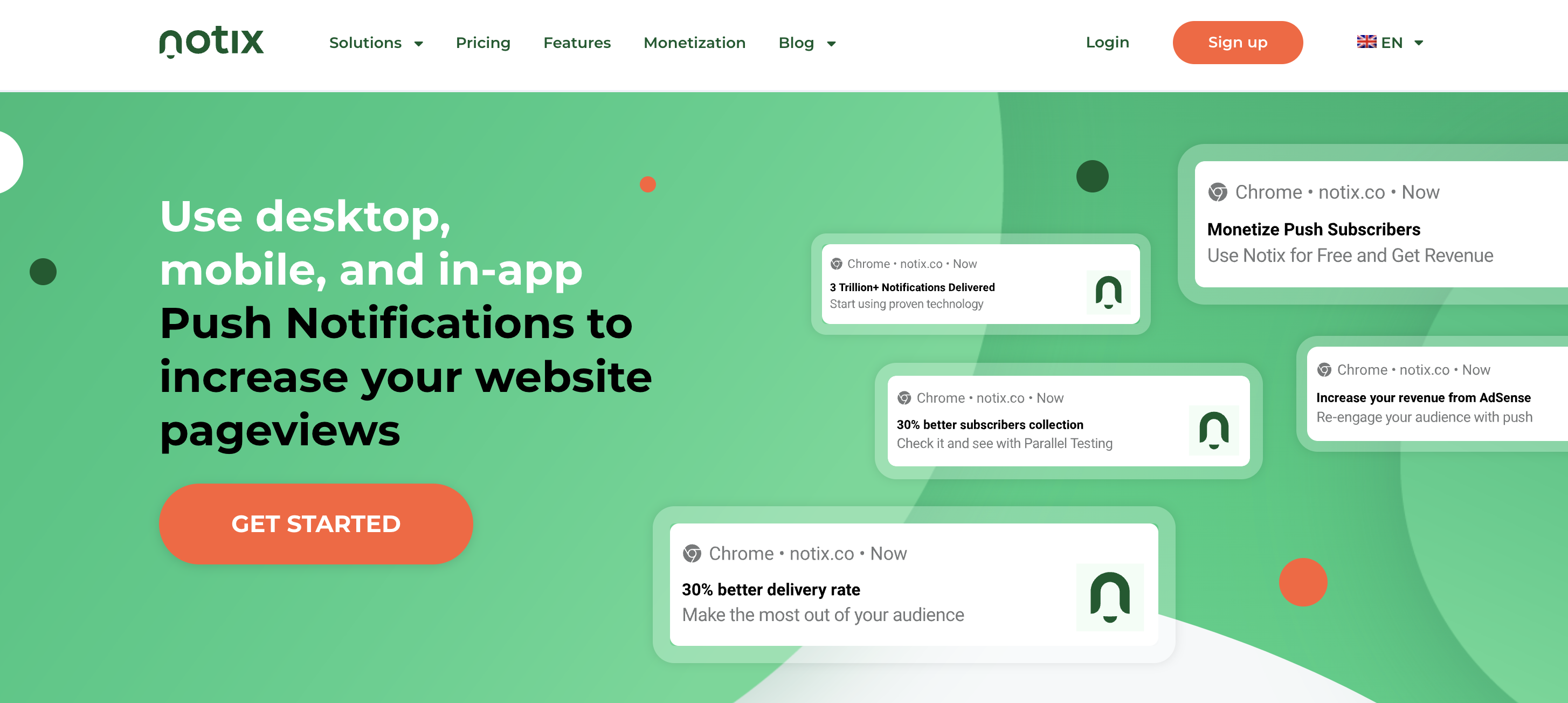 Note: Notix vouches that 100% of your notifications will be delivered to your subscribers, and on time. Which is especially important when it comes to urgent, time-sensitive messages.
They offer parallel testing completely for free, which allows you to use two services at the same time, so you can check how Notix works in practice and in real time.
Additional benefits you can count on with Notix are:
The subscriber migration – so you can keep all your active subscribers after you switch to the Notix service
User-friendly interface – their dashboard is super easy to understand and use
Customized opt-in prompt – Notix made sure you can personalize the opt-in window, which can increase the subscription rate + there's a pack of pre-made prompts you can choose from
Audience segmentation – to make sure your subscribers receive nothing but relevant information or offers of their choice
Triggered push notifications – an event-based feature that ensures sending push messages to users when they perform a certain action (login, click, purchase, etc), or where there's an absence of action (no login, no click, no purchase)
Word-Press plugin – to easily incorporate push on the WordPress website
In-app and on-site monetization plan – you can include high-quality and carefully checked ads in your push messages and earn money when your subscribers engage with this type of notifications
It's super easy to include a Notix monetization plan in your push strategy – with just two clicks, you can set up ads in push notifications. You can go with only the selected ad category, or choose all ads with the highest payouts. And you can do it on your own – on the left side of the dashboard, you will find the "Monetization" option with all the settings.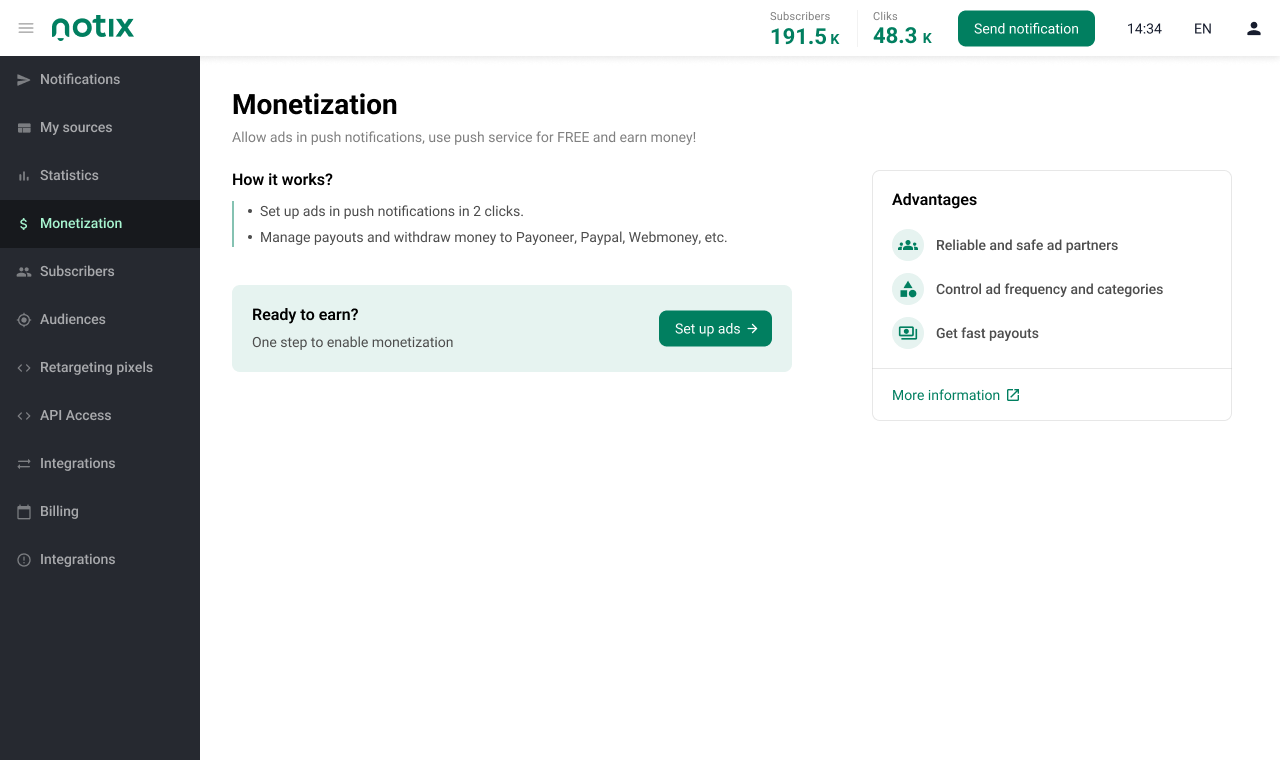 PRICING: Notix is a Free service with a monetization option.
---
Supports
Best for
Price
Web | In-app
Startups
Free / limited features
$3 per 1.000 subscribers
One Signal is a well-known push service that's considered to be very reliable. Their platform offers two push channels through which you can deliver your users a message – besides regular web push, there's also in-app push.
They allow publishers to segment their users by country, activity, language, and some other parameters, which helps with targeting, and they do have a customized approach when creating push alerts.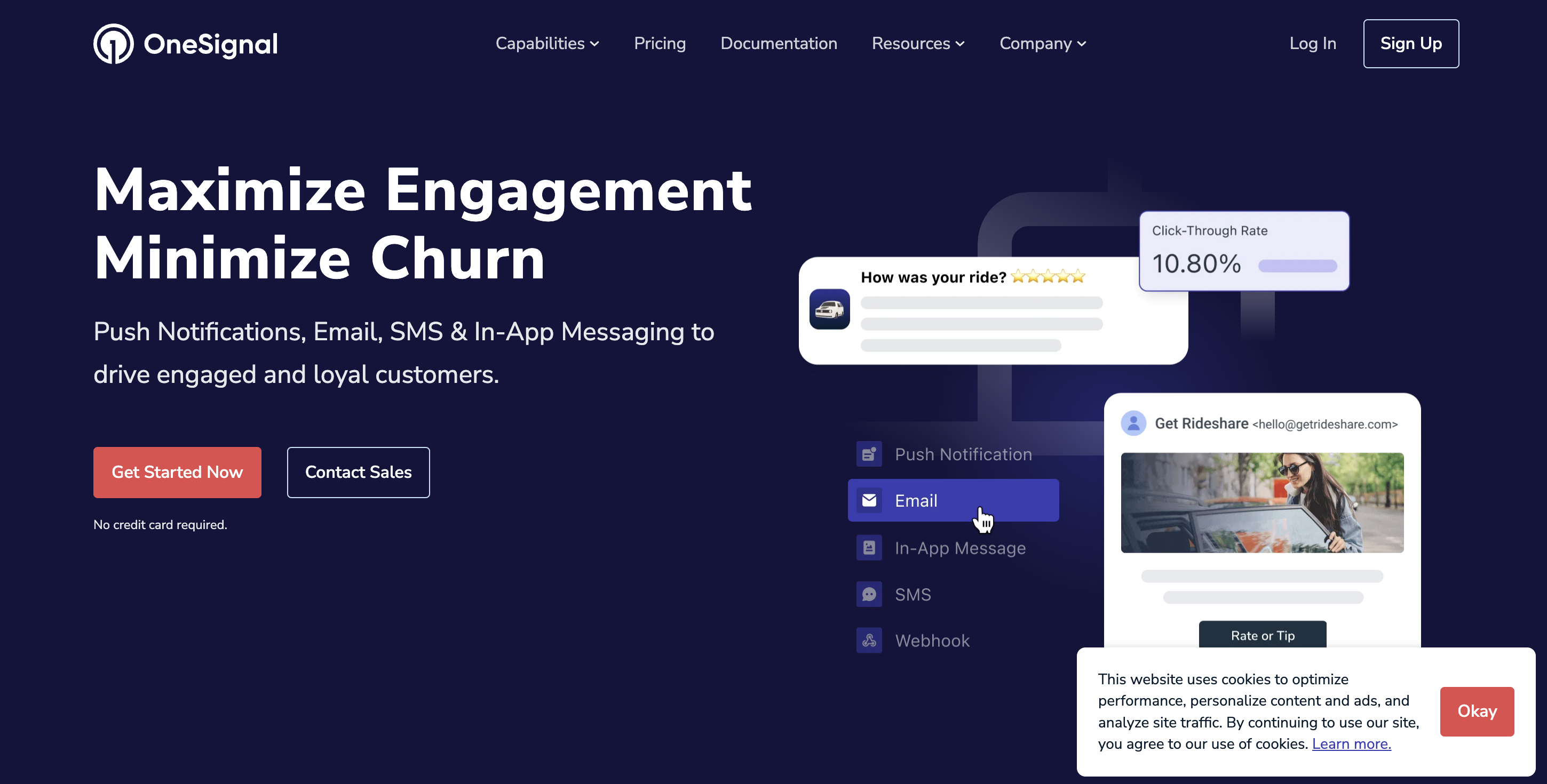 Other benefits One Signal has to offer:
A/B messages testing
Automated push notifications
Time delay for push prompts
Word-Press plugin
Real-time tracking tool
What could be a concern with this service is that in the past they shared clients' data with advertisers, even though they claim it's no longer their practice. Also, One Signal doesn't have a monetization plan in place for push.
PRICING: It's free, but with a limited number of features. In case the free package isn't enough, you have an option to pay $3 per 1.000 subscribers.
---
| | | |
| --- | --- | --- |
| Supports | Best for | Price |
| Web | Mobile | In-app | App owners | N/A |
Leanplum, now the CleverTap company, has three standard push channels, but according to the website they specialize in the in-app push. They are all about activating users with personalized engagement you can conduct through the toolkit Leanplum provides.
Their dashboard is clean and easy to navigate, and with the push notifications templates they offer, the push creation will be quick and simple. There are several optimization and targeting tools that will help reach the right audience.
You can set the push triggers based on in-app events, rely on personalization features to improve push open rate, conduct an A/B testing, optimize the push frequency and delivery time, etc.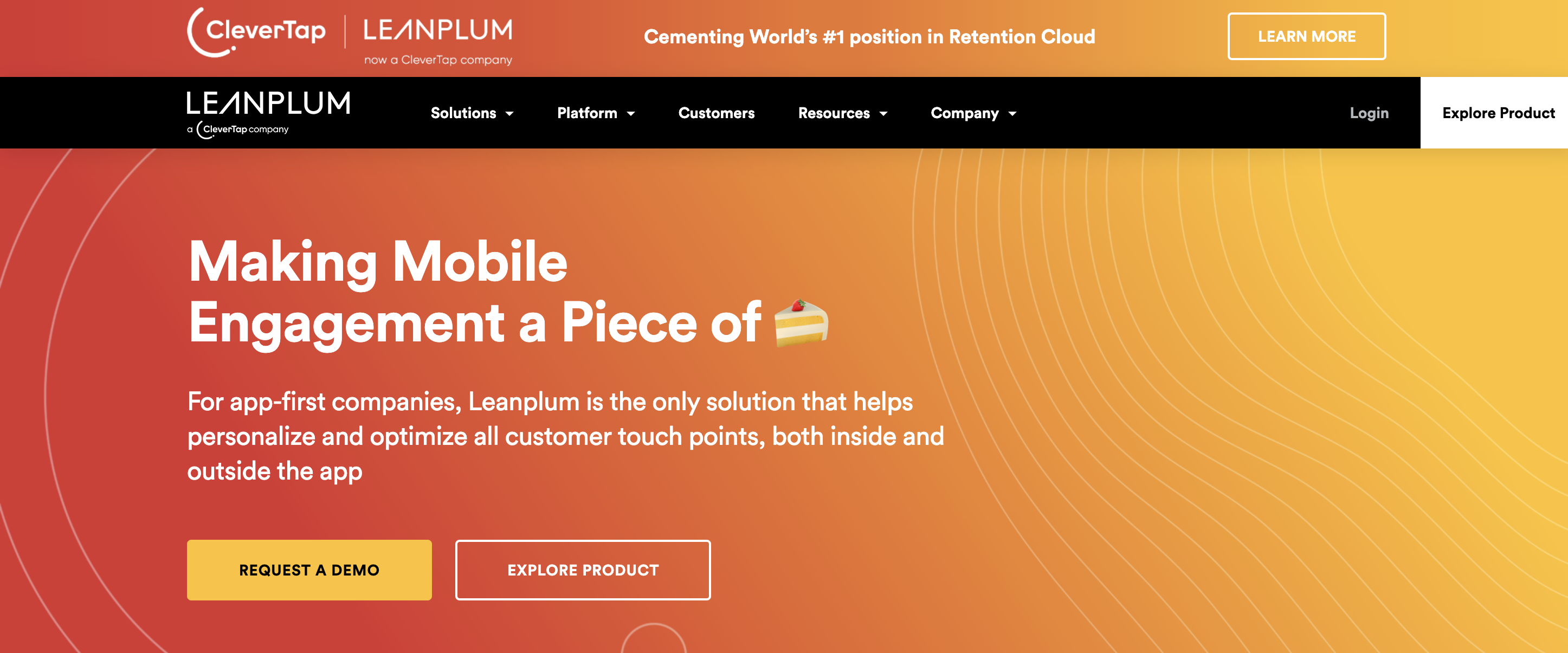 It's interesting how you can build user profiles based on their gender, behavior and in-app activity, and then create campaign audiences you can include or exclude from some push campaigns.
Finally, Leanplum has quite good reporting and analytics features that can be of help when measuring the push campaign success and developing further push strategies. It's the main reason why some define Leanplum as the best push notification service in the market.
PRICING: As for pricing, the site doesn't provide this information, but there is a free trial option.
Now, what seems to be the problem with this push provider is its UX/UI. Some of their clients report having difficulties navigating it, even though there's a quite good User guide.
---
| | | |
| --- | --- | --- |
| Supports | Best for | Price |
| In-app | Web | App owners | From $25.000 a year |
When looking for the best push notification service, you will most likely notice Airship as one of the names that stands out. They are among the leading customer engagement platforms with good push notification service.
They are focused on in-app push messages, and enable you to create and send these alerts to inform first-time app users, boost in-app purchases, or remind app users to come back to the app.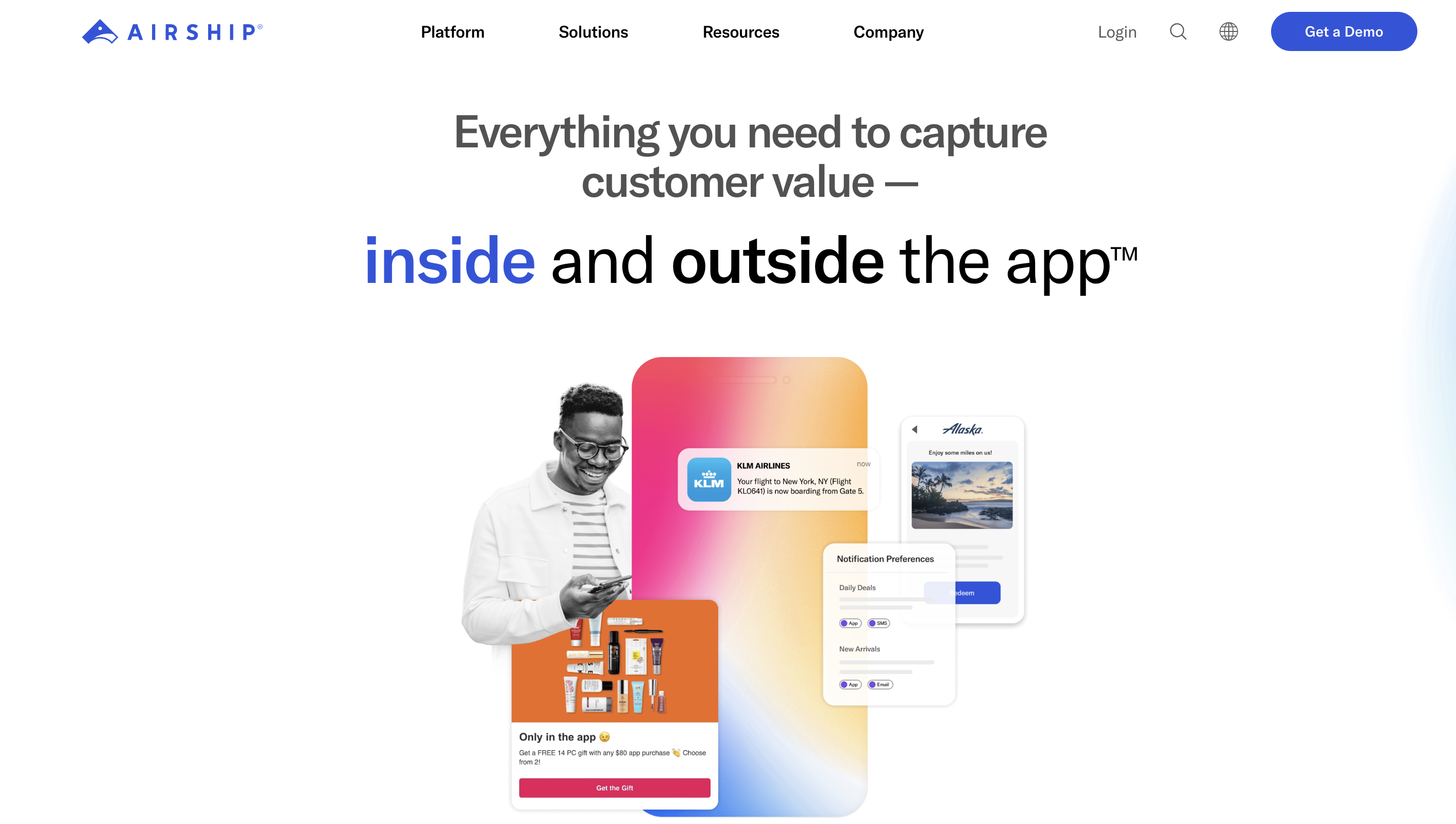 There are automated notifications you can send to your subscribers based on their location or gender, for instance, and Airship's Predictive AI can help you predict the right time to send the message.
Among other benefits, there are audience segmentation, analytics and data reporting, tailoring push campaigns on the basis of operating systems, etc. But what's especially interesting is the Airship Preference Center that allows users to choose when, how, and where they would like to be communicated with.
PRICING: Airship is considered to be one of the most expensive push services. Their yearly plan starts from $25.000.
---
| | | |
| --- | --- | --- |
| Supports | Best for | Price |
| Web | Mobile | E-commerce sites | N/A |
Even though WebEngage is mainly a platform focused on eCommerce features, they do offer web and mobile push among other channels publishers can use for boosting engagement with their audience.
WebEngage dashboard is super easy to use, it even includes a drag-and-drop editor for faster push creation, as well as its own gallery of templates. But of course, you can use your own as well.
You can choose between a 1-step opt-in, or a 2-step opt-in flow that allows a more personal approach for higher subscription rates. Based on profile information and users' behavioral data, the platform will segment all your subscribers, and their customer data platform will allow you to tailor customized notifications.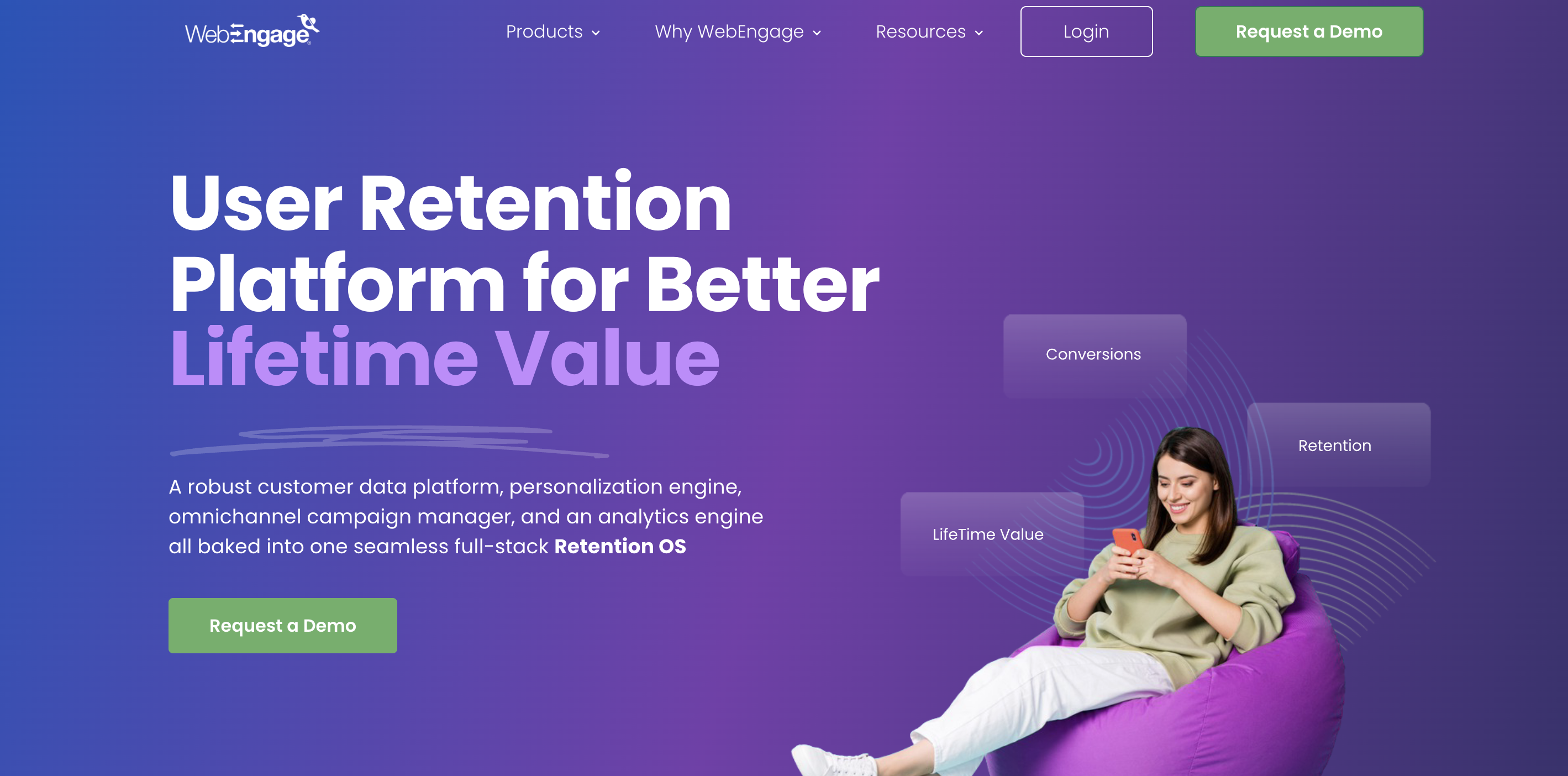 WebEngage is compatible with all operating systems – iOS, Android, and Windows, and every browser – Chrome, Safari, Firefox, Opera, and Edge.
Another benefit is that you can conduct an A/B testing for different variations of push messages before launching your campaign. And while we are on the subject, there are different types of push campaigns you can create – triggering, recurring, transactional, etc.
On the downside, it looks like there's a lack of customer support after the integration. Also, based on customer reviews, the segmentation process takes more time than usual.
PRICING: There's no pricing information on the site, so you'll have to contact the service and ask for this information.
---
| | | |
| --- | --- | --- |
| Supports | Best for | Price |
| Web | In-app | Small businesses | $7 a month for 1.000 subscribers |
Here's another mobile push notifications provider that can help with establishing an open channel of communication with your audience. What they are offering is rich media messaging to try and make your alerts and offers more appealing to subscribers.
What we like about PushWoosh is their automatic multi-language system that makes sure each subscriber gets a push notification in their native language. That's probably their strongest feature.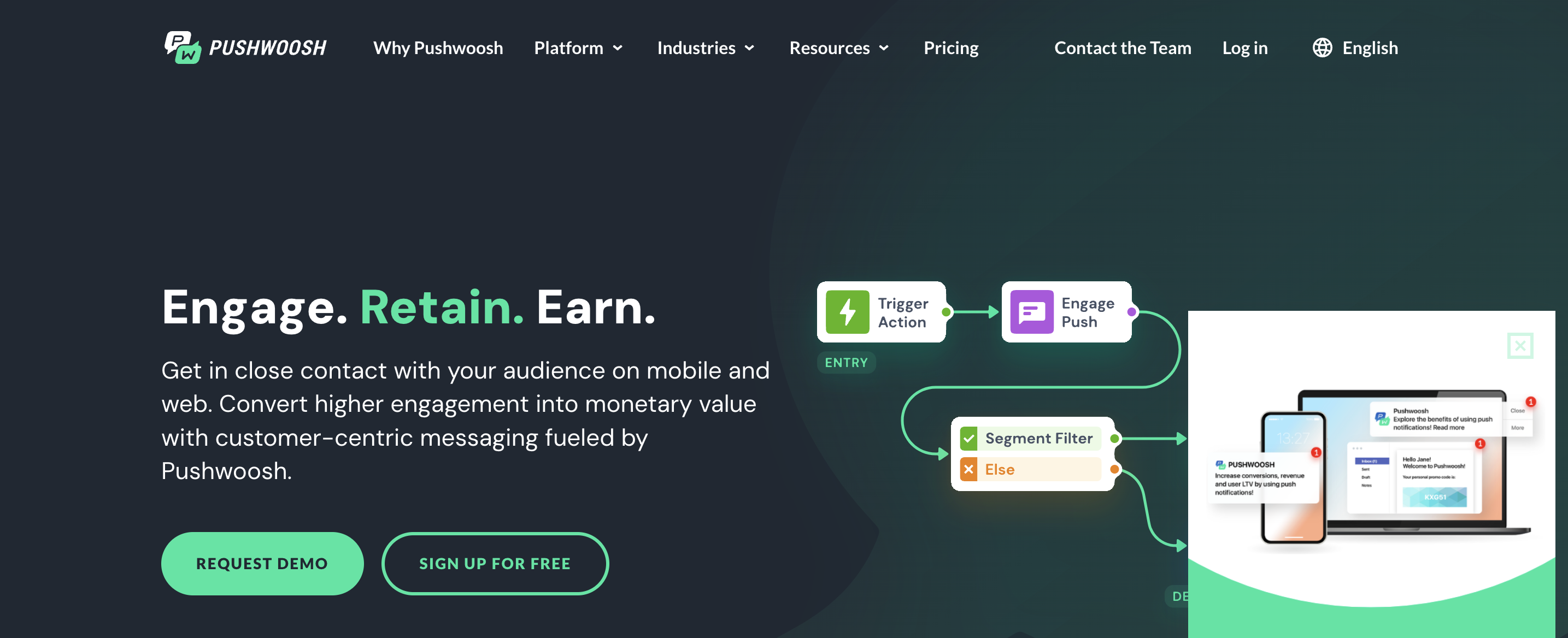 You can also create personalized push campaigns, by using subscribers' information and placing it in the message. Then there's audience segmentation, as well as A/B testing, push frequency optimization, and some other tools and options that pretty much every provider that's considered to be the best push notification service has to offer.
Every PushWoosh customer will be able to stay on top of its push campaign, thanks to real-time analytics, so you will be able to modify campaigns on the go. And given there are push templates, it will be quick and easy to prepare messages with new content.
PRICING: For the first 1.000 subscribers you will have to pay $7 a month for the unlimited number of push messages. For each additional 2.000 subscribers, there's an additional $5 charge a month.
---
| | | |
| --- | --- | --- |
| Supports | Best for | Price |
| Web | In-app | B2B marketers | N/A |
Here's another name that's fighting for the title of best push notification service. And they do deserve to be considered, given they have some big company names on the list of their clients, like Samsung, Nestle, Vodafone, etc.
Moengage offers both web and in-app push notifications, among other communication channels. What's specific about Moengage is their AI-powered segmentation tool that divides users into groups based on their behavior. Which helps later on, when creating personalized notifications.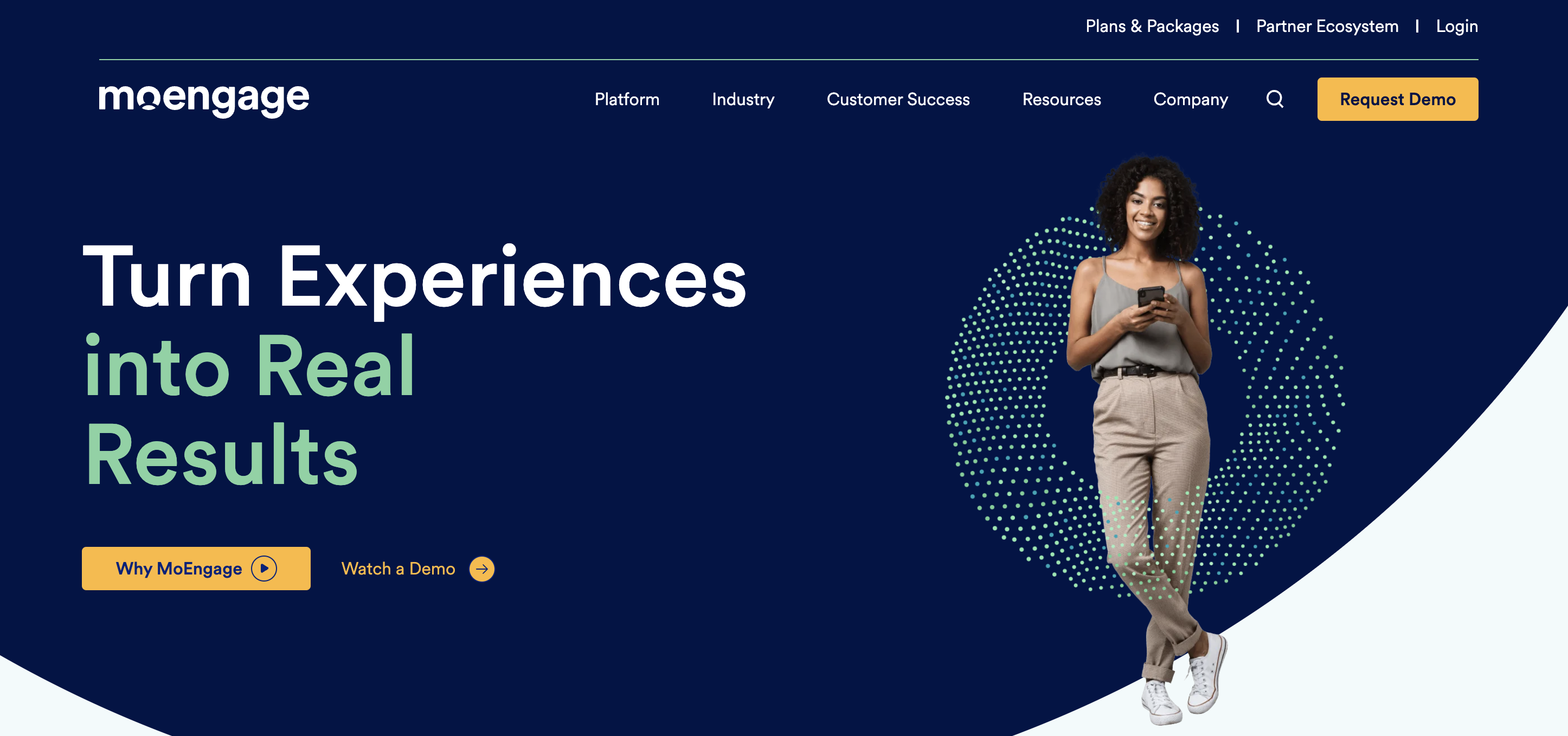 Moengage has rich push notifications and event-triggered notifications is their offer, which means you will be able to include media in your push alerts and make sure the system automatically sends messages to subscribers in case some specific event occurs.
On the benefits side, there's a feature called Push Amplification+ that makes sure subscribers receive push notifications regardless of network restrictions. With that, you can improve delivery rates.
PRICING: Again, Moengage pricing charts are unknown, so you will need to request a demo to get information, but it seems like a free trial is an option.
---
Supports
Best for
Price
Web
E-commerce sites
Free for 500 impressions
$19 for 10.000 impressions per month
If you are looking for the best push notification service for eCommerce, then PushOwl is the one to bear in mind. It's a push provider developed specifically for this type of websites.
It's actually targeting Shopify web stores, claiming they can quickly engage with their visitors and convert them into customers with push.
After the users subscribe, they will be divided into groups, based on audience segmentation. They will then start receiving relevant push alerts that will take them directly to your store.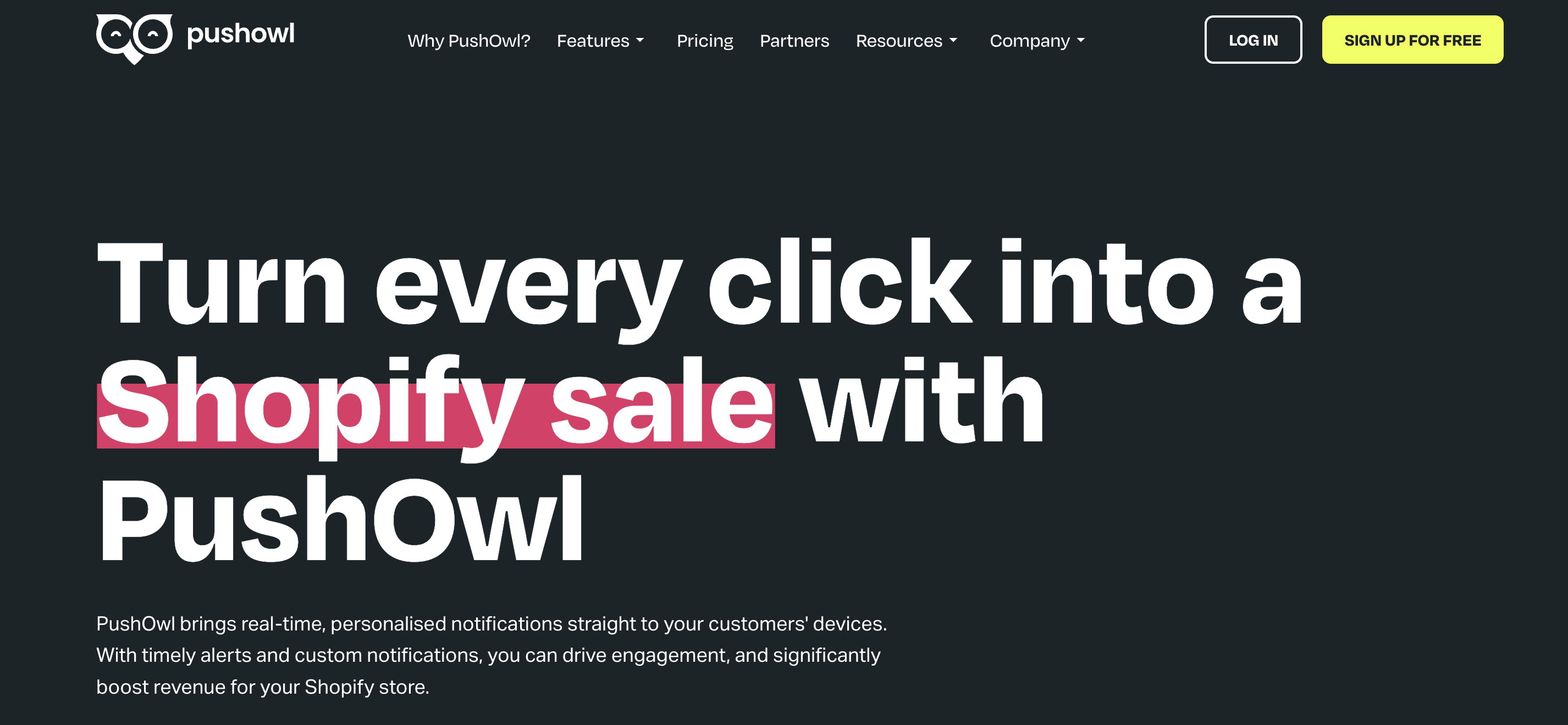 PushOwl promises super quick integration, multi-lingual support, a smooth opt-in process for your visitors, automated messages, and regular reports so you can optimize your push campaign.
The fact is, at PushOwl everything is designed to fit eCommerce sites. So there is a ready-made automation for flash sales, cart abandonment alerts, price drops, and back-in-stock alerts.
PRICING: The service is free up to 500 impressions a month. After that, you will have to pay $19 for 10.000 impressions a month, or $79 for 25.000 impressions.
The service doesn't showcase the charge for the number of subscribers, so it's impossible to predict expenses as the subscriber base grows. Especially when it comes to automated push mailings. This is the shortcoming of the service, as we see it.
---
Supports
Best for
Price
Web | In-app | Messenger
Media websites
Free version with monetization option
Paid plan from $85 to $975 a month
Besides classic web push and app push, iZooto offers its clients the so-called Messenger push, which has the ability to fix your Facebook reach and bypass engagement issues most publishers have on this social media.
Audience segmentation based on location, device type, subscription date, and users interest should help with getting higher CTRs. But they also rely on Kepler AI to segment the audience based on previously read articles, which is a step forward in the segmentation approach.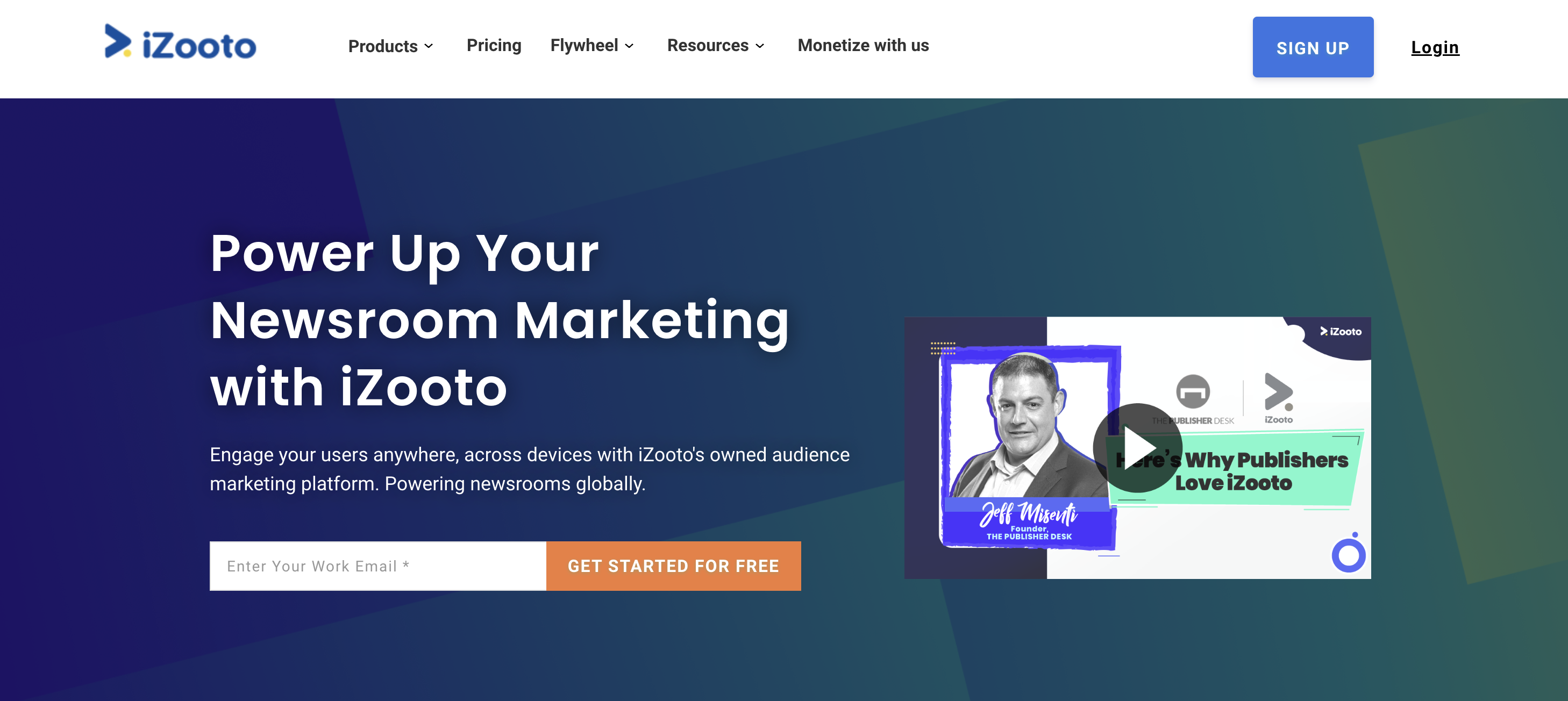 What we like about them, and the reason why they are considered to be the best push notification service, or at least one of them, is the fact that iZooto includes a CTA in all of their push messages. But also, they have an option for the system to notify subscribers if they close the tab and there's an unfinished story. This way, push notifications can lure the user back to the publisher's website.
It supports a wide range of browsers and devices, allows customization of all parts of push messages, and offers multi-language support. Another cool feature is a personalized inbox on your website where subscribers can see all push messages previously delivered to them – just in case they missed some interesting articles.
On the downside, even though there is a monetization plan in place, it's not easy to switch on it as it is at Notix. It's available only for clients with monthly traffic of at least 300.000 visitors, and you will have to prove this by attaching a screenshot from Google Analytics. Also, you need to send a request by email, and you cannot control the frequency of push messages containing ads, nor choose ads verticals.
PRICING: There is a free version of this push service, but also a paid one that goes from $85 to $250 a month.
---
Supports
Best for
Price
In-app
Startups
Free 6-month trial
$0,025 per recipient a month
Another one to be considered as the best push notification service is Catapush – an in-app push delivery platform that makes sure you communicate your message on time with your subscribers, and guarantees push delivery.
Their push system is based on XMPP protocol that's independent of Apple and Android push notifications services. This is how they are sure the messages will reach users' devices, and as they claim, two times faster.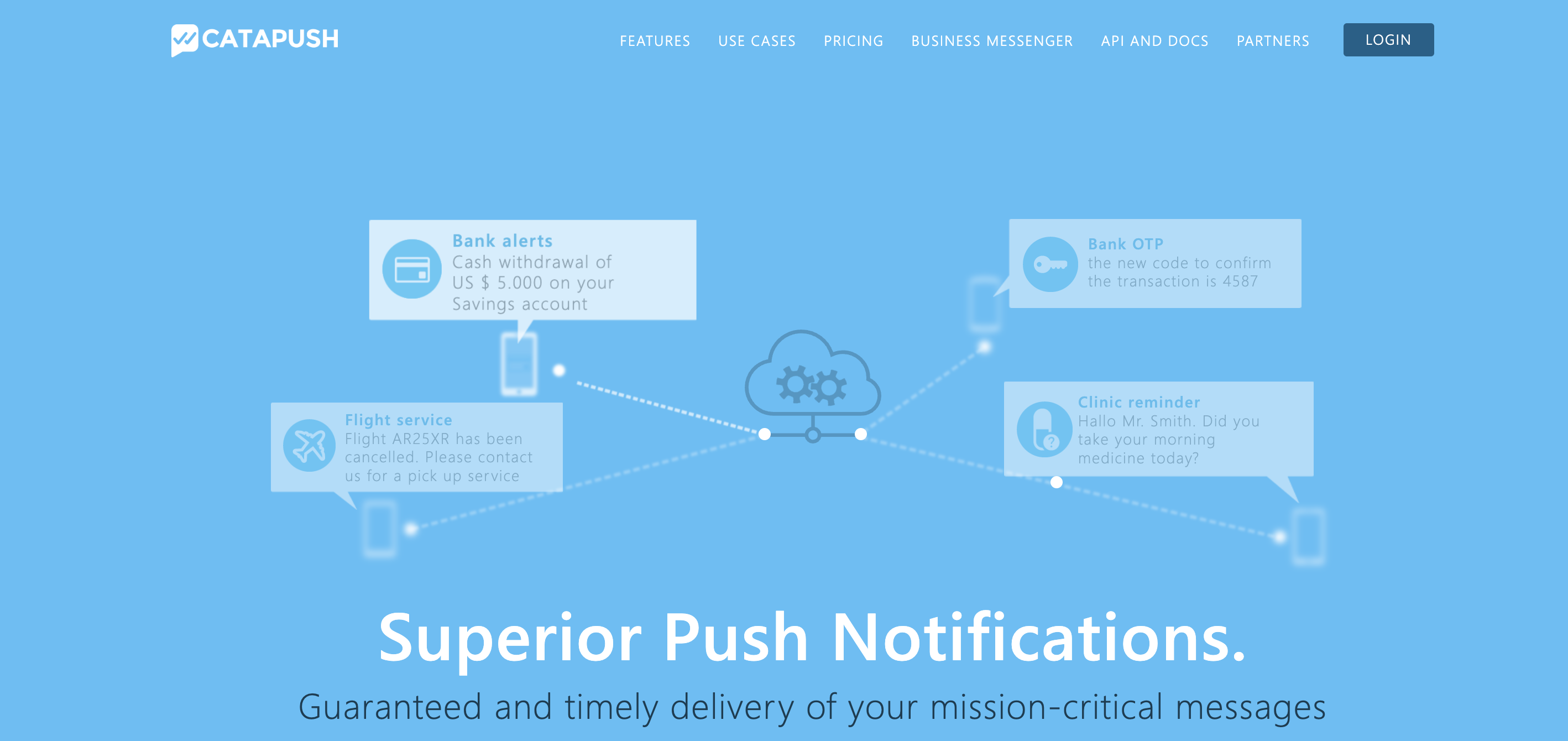 Also, they have a cool feature that can track the push message delivery status, and tell if the notification has been delivered and clicked on. Thanks to this option, you can improve your engagement strategy.
You can personalize the notifications, choose push type, and format, and customize the content. But what's particularly interesting is their 2-way service that allows users to reply to push. Which means you will have an open communications channel with your audience, literally.
PRICING: You will get a 6-month free trial for up to 100 recipients. The next step is their Pro plan which charges $0,025 per recipient, for a month (for an unlimited number of push notifications).
---
Supports
Best for
Price
Web | Mobile
Small businesses
Free up to 30.000 subscribers with limited functionality
$30 up to 100.000 with limited functionality
When talking about Truepush, you should know it is a service that's very easy to integrate, and its dashboard is quite simple to comprehend. As expected, you can segment your subscribers based on five criteria, and launch push campaigns so they target a specific group of people.
Depending on how users behave on your website, you can set the triggered push messages, include segments, and use template messages to send alerts.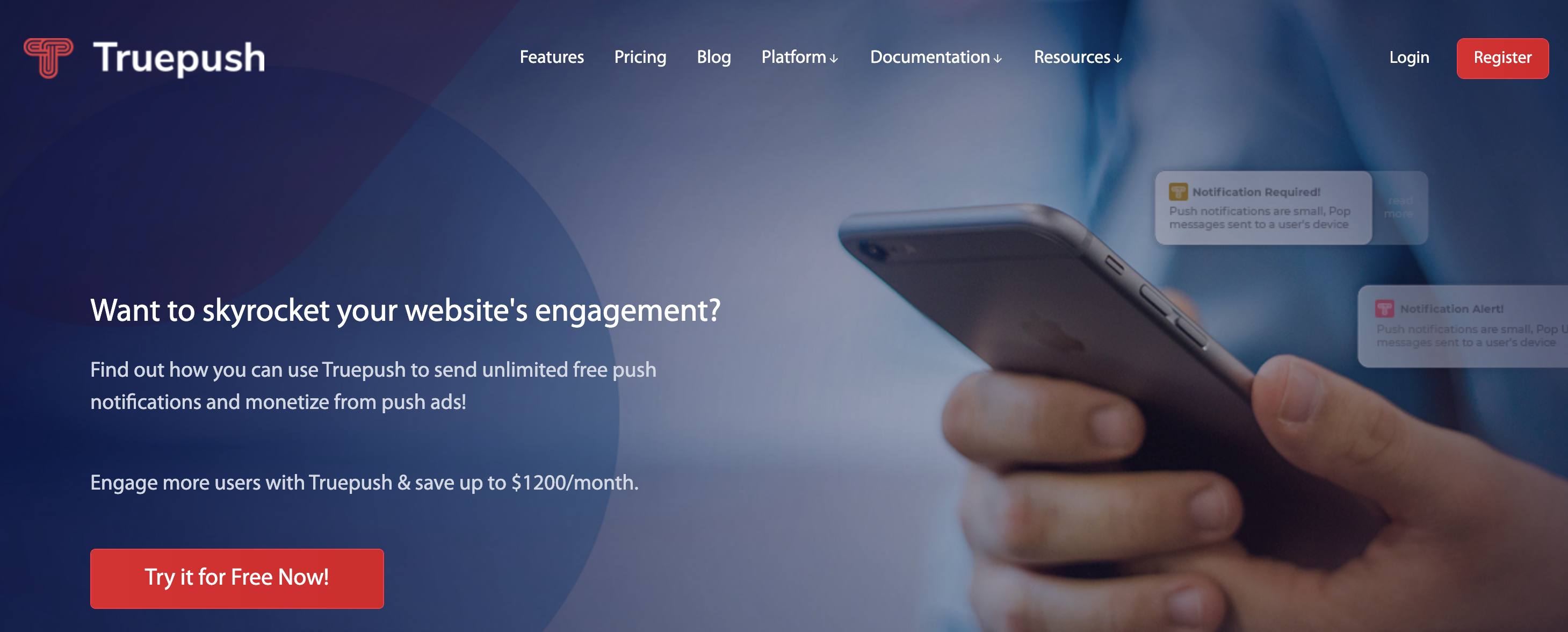 The service claims they have a reliable migration process, so you can shift your subscribers from the existing push platform to Truepush, but your existing subscribers will have to visit the website once in order to be moved to this push provider.
They do have a monetization plan ready for their clients, but the condition is to have 30.000 subscribers, and 10 push campaigns a day, where two of them will contain ads.
PRICING: Truepush is free for up to 30.000 subscribers, and their paid plan is $30 a month for up to 100.000 subscribers.
---
Supports
Best for
Price
Web
Small businesses
Free up to 10.000 subscribers
Paid plan from $29 to $99 up to 150.000
The last one we enlisted as the best push notification service is Webpushr – a still-growing push provider that only has web push in its offer. However, the service is supported on all popular browsers – Chrome, Firefox, Safari, Opera and Internet Explorer.
What they position as their benefits are custom opt-in prompts, in-browser messaging – which makes push notifications always available on your website for all visitors to view, and quick and easy setup.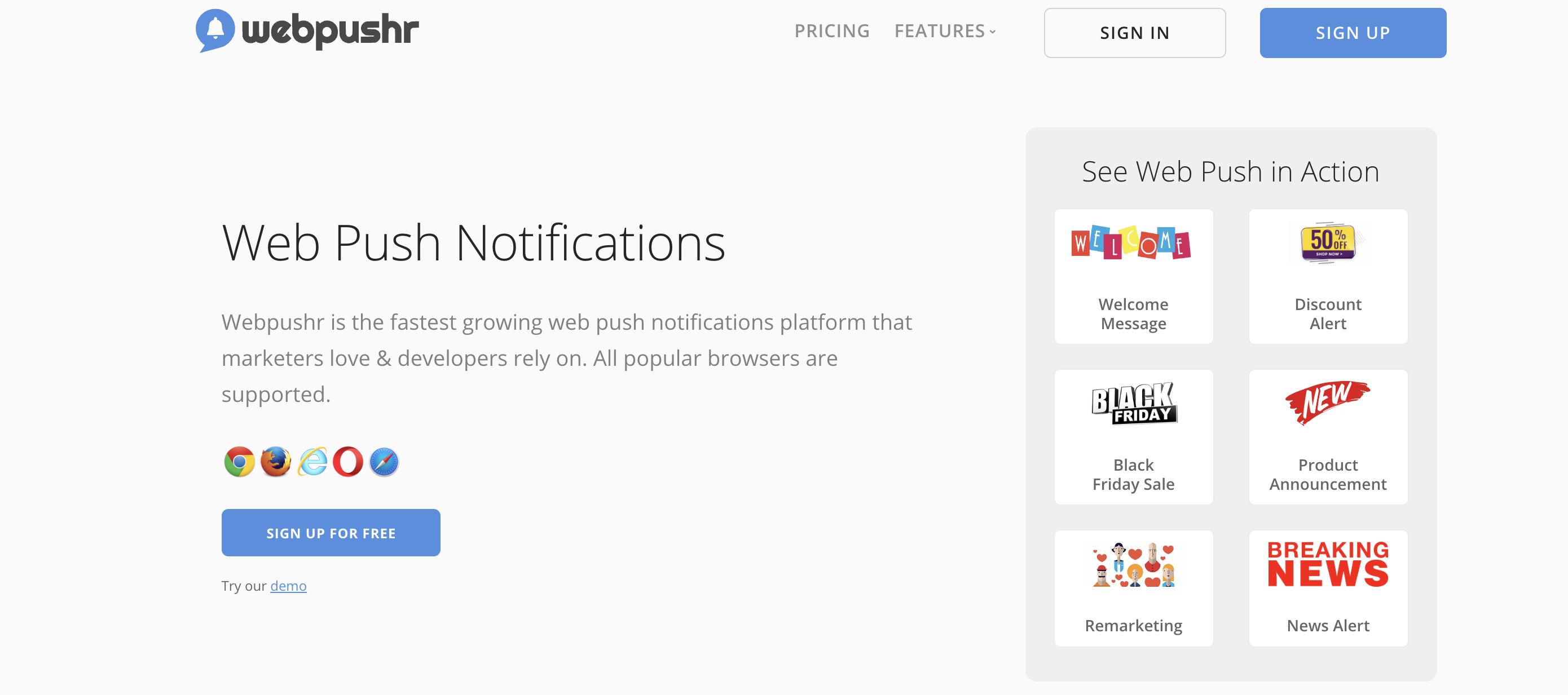 Also, as the majority of push platforms, they also have audience segmentation, and allow you, for example, to target users who previously visited a certain page or bought a certain product. So it's good for eCommerce sites.
But they are especially proud of their analytics that present visualization of the entire opt-in funnel. And there's an easy subscriber migration that doesn't need any manual work – it will be done automatically once the integration is done.
PRICING: The service is free up to 10.000 subscribers. There are also three paid plans – Individual – $29 up to 50.000 subscribers, Startup – $49 up to 100.000 subscribers, and Growth – $99 up to 150.000 subscribers.
---
Best Push Notification Service Checklist
There's no doubt that push notifications are a powerful tool. But making the right choice when deciding on push service is the thing that can make or break your push strategy.
As you can see, every push provider has some unique features and is developed with specific clients in mind. Just make sure to cover all your bases regarding your needs when the push system is in place, and that you have full support of the push service, ready to help your goals get achieved.
To finalize, here's a small check-list of necessary features one should look for when choosing the best push notification service:
Web, mobile, and in-app push formats
RSS Feed
Parallel testing
Database migration
API integration
A/B testing
Real-time tracking tool
Audience segmentation
Customizable push messages and opt-in prompt
Targeting options
Triggered push messages
Content recommendations
Service support