What if you have millions of active users? Imagine the level of engagement you can reach with the right strategy.
However, sometimes you feel your enormous subscriber base could be much more active than it is — and, after all, bring you bigger earnings. Maybe it's high time you reconsider your strategy and implement something new?
This was the request we got from Contteudo, a Brazilian media group. What did Notix do to help them get the most out of their million audiences?
We shared it in this very case study.
---
Contteudo's Story
Contteudo is a big Brazilian publisher targeting Portuguese speakers and owning more than 20 content websites on a numerous range of topics — from cooking recipes to romantic quotes.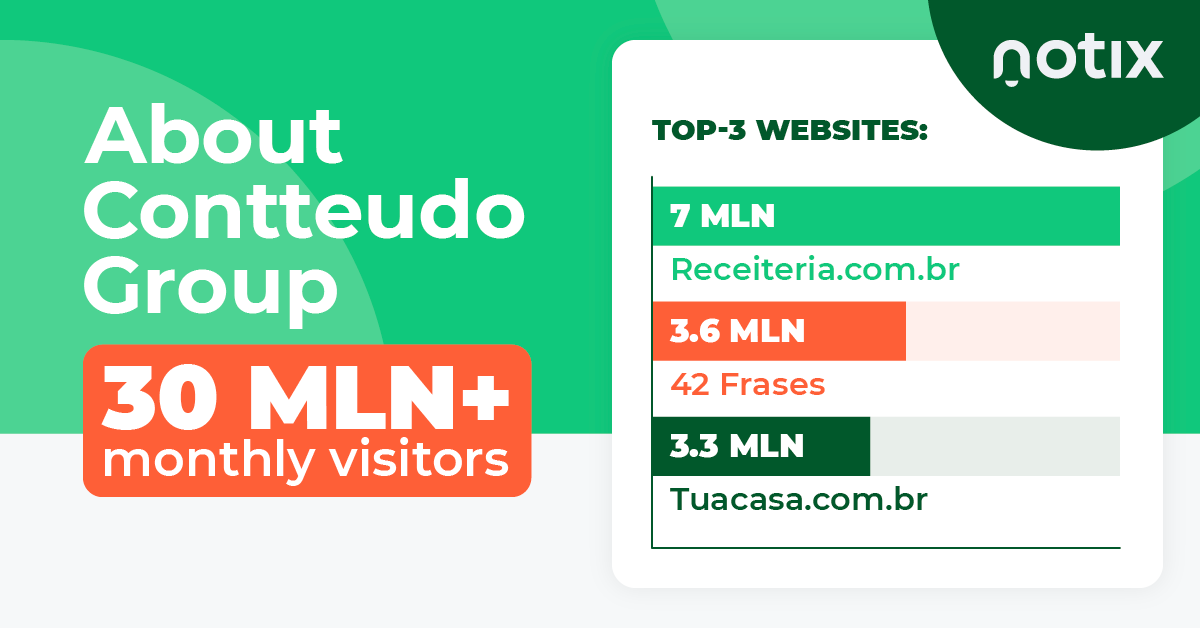 When Contteudo came to Notix, they had already been using push notifications for 4 years with another provider. However, the problem was the cost didn't meet the end efficiency: the level of audience engagement was significantly lower than Contteudo expected.
So, they started looking for alternatives, and Notix was ready to change the game. Contteudo integrated 17 of their sites with Notix, and we began working.
---
What We Did Together?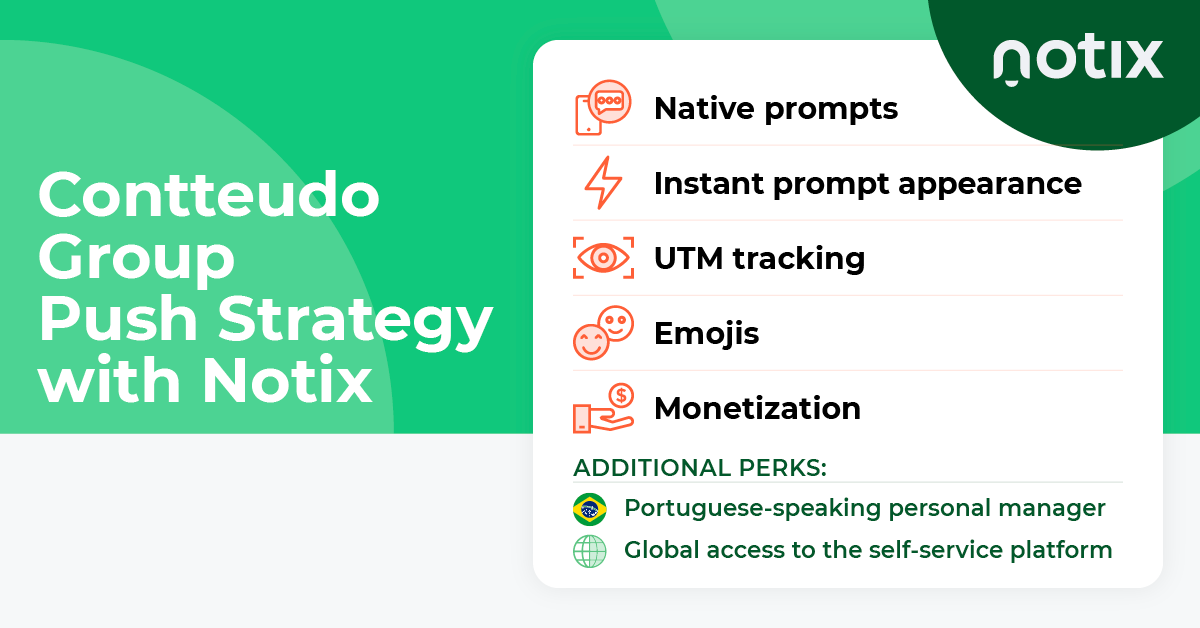 ---
Totally Updated the Subscriber Base
Contteudo had a pretty large subscriber base, but these subscribers did not seem to be engaged enough. Thus, the first move we decided to make was to start from scratch and collect new subscribers.
With Notix technologies, it's possible to create a large database of active subs very quickly, so we were not afraid of this fresh start. After 2 months, Contteudo collected 3,4 mln subscribers — and they willingly interacted with push notifications: the number of clicks grew, too.
Still, it was only the first step.
---
Created a Working Push Notification Strategy
To keep subscribers engaged and subscription rates grow, Contteudo developed a strategy that quickly proved to be effective. Here are the Notix features they used for it:
Prompt Choice. Notix has four opt-in request options — and Contteudo uses a Native prompt. This is a one-step opt-in request that allows collecting as many subscribers as possible.
Opt-in Request Delay Settings. It's possible to set a delay before you show your prompt to a user. In Contteudo's case, the best solution was an immediate request: it also has a great impact on subscriber base growth.
Push Notification Scheduling. Contteudo editorial teams prepare a content engagement plan ahead. To follow it flawlessly, they schedule all planned messages for every upcoming week via the Notix self-service platform. This tool allows setting a specific date and time for every message.
Emojis. Notix push notifications support emojis, which are proven to boost engagement rates. Contteudo made the most out of this simple feature, adding emojis to push titles.
Here are some push examples: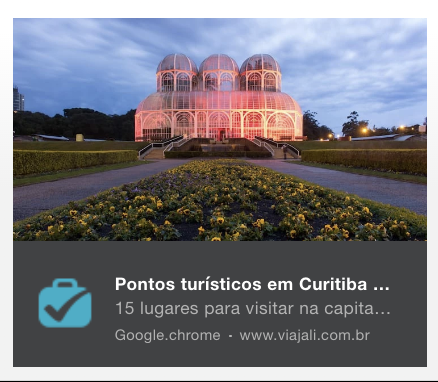 Besides, Contteudo added the Notix UTM mark to push notifications: this allowed for convenient tracking of returning traffic in Google Analytics.
---
Added Monetization
Notix Monetization Plan implies that your subscribers receive ad messages among your push notifications, and you get paid for it, while Notix services become free for you. You can choose how often you send these ads and the offer niches.
Contteudo opted for this Monetization plan, and here is how it works:
Contteudo started earning from its subscribers and doesn't pay for Notix services anymore. It turned push notifications from a cost to a revenue center for the business
In order not to distract users from the main content, it was decided to have only 1 brand safe push a day.
All push alerts with ads always come with a [Ad] mark so that everything is transparent for users.
The stats show that ads do not affect the main goal, which is bringing users back to sites by sending them notifications with their own publisher content.
Here is an example of an ad push notification:

Tip from Notix: you can opt for our Monetization Plan right from your account.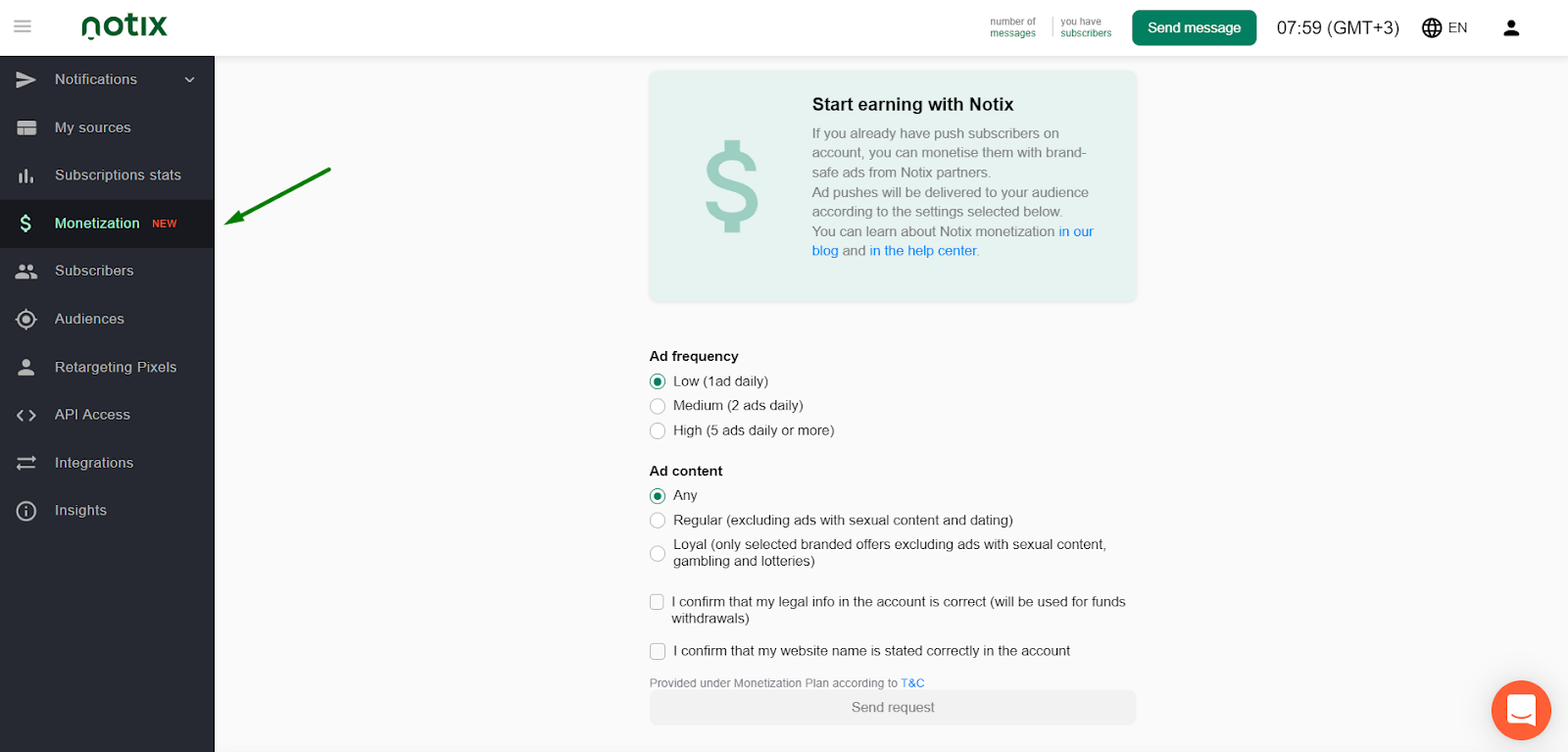 ---
Created a Convenient Workflow
To make partners' lives easier, we always do our best to stay personal and meet their particular needs. Here is what Conttuedo found especially convenient for their workflow:
Portuguese-speaking personal manager for quick and easy support;
Global access possibility for the editorial team
Convenient self-service platform with intuitive navigation
---
The Results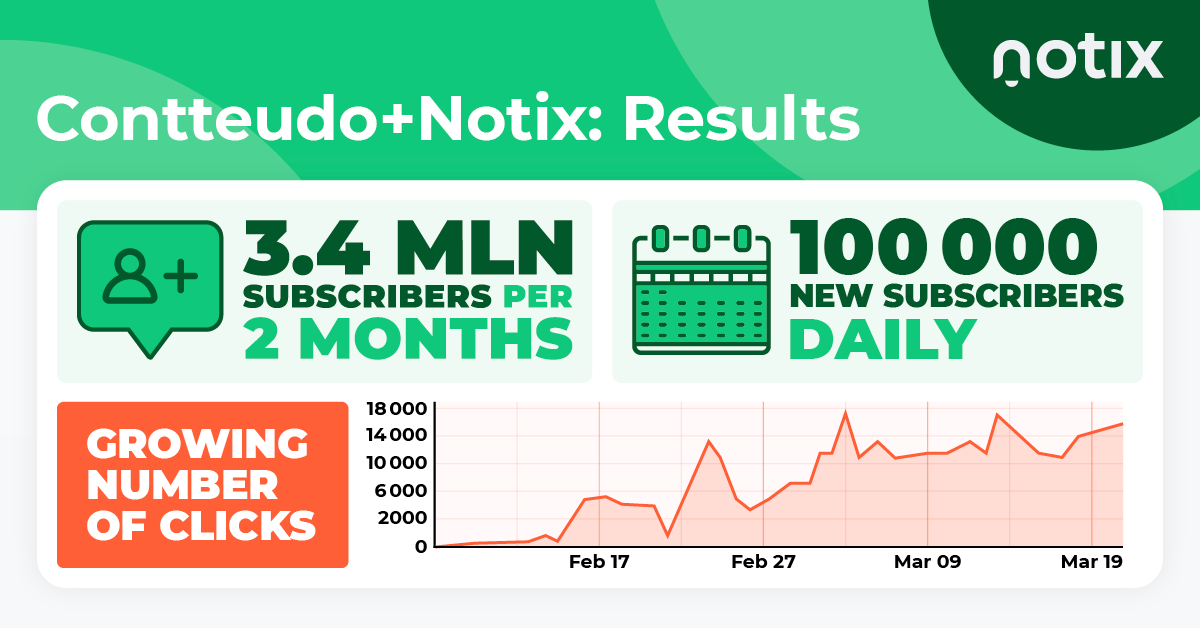 Conttuedo joined Notix in February 2023 — and here is what they got in approximately 2 months:
Collected 3,4 mln subscribers in 2 months to have a fresh start with a new and engaged audience.
Around 100k new subscribers are added to the database daily.
According to Conttuedo's feedback, even this smaller database collected in a couple of months is already as efficient as the one they had for years before: subscribers with Notix are really active.
Amount of clicks (which means additional engaged websites visits generated through the platform) is growing on a daily basis despite the monetization plan in place.
---
What Does Our Client Say?
Denis Rigotti, COO at Contteudo
The entire negotiation and onboarding process took place in a very clear, agile, and objective manner. In our case, it was a technology supplier change process, and we found in Notix exactly what we were looking for in the other supplier. In addition, Notix proved to be very flexible in delivering some points outside the initial scope, but which were important to us. And finally, today we have at Notix a delivery performance (clicks) very close to what we had with the other provider, but with a much smaller base, that is, today we have a real number of active subscribers.
---
To Sum Up
We provided Contteudo with a convenient service, local support of a dedicated manager in the region speaking Portuguese, and offered to earn with push notifications along with engaging users with their own content of websites. And we can do this for you, too!
Our combination of top-notch technologies and customer service is what we always offer to every partner — so you are welcome to join Notix and enjoy higher user retention, subscription, and engagement rates.