The essence of any business talk is money.
However, it's not always about profit rates and revenue. For many business owners, the main parameter is ROI (return on investment) and how fast you can get to it. So let's focus on that this time around. And let's see whether or not monetization via Notix push notifications service can, by all means, be that extra factor that will lead to a more exponential ROI rise.
---
What do we mean by push subscribers monetization with Notix?
When talking about your business making money through Notix service, we refer to website owners monetizing their audience, i.e. push subscribers. Push notifications are the channel through which important messages can be sent from marketers and site owners to their subscribers. And these messages can contain ads as means of monetization.
Now bear in mind that Notix is an ad-free service by default, which means ads will become part of push notifications only if the client wants to.
Monetization is Notix's additional feature that's completely on a voluntary basis. And it allows its clients to earn money instead of paying for the service.
---
How does monetization with push ads work?
The process is simple.
With the Notix monetization plan, your subscribers will start getting push notifications containing ads from our partners. And whenever they engage by interacting with ads, you earn money.
The best part is – you don't have to pay for this monetization service, or more precisely, you will be getting all of the functionality of the engagement tools for free.
That's right. This Notix service will be provided for free in case you decide to allow our advertising partners to reach your audience through push notifications.
Your subscribers will still be able to receive regular push notifications from you, alongside push notifications containing ads. This will allow you to stay in touch with your audience, but also to get revenue.
So there it is – an answer to the title question, and we haven't even managed to steal your full attention yet. Yes, monetization through Notix push ads obviously can be a way to increase ROI. But don't worry, we have plenty more to cover and discuss.
There's a cherry on top of this cake, just wait for the final part.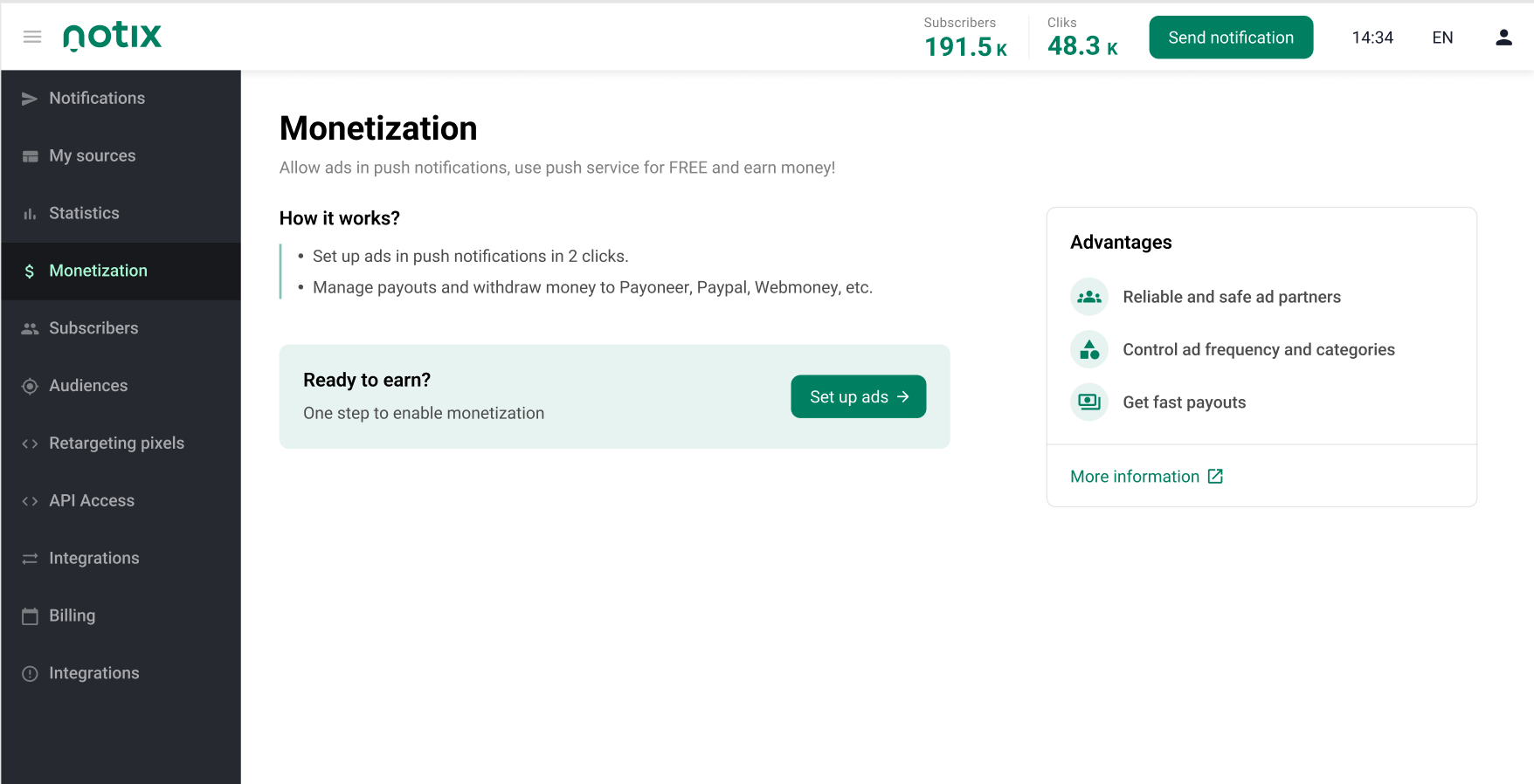 Note: It's very easy to enable monetization. All you have to do is visit Notix dashboard, go to the Monetization section, select ad frequency and ad content, and click on Send request button.
---
Can push subscriber monetization hurt the user experience?
To wonder if suddenly appearing ads from you can confuse your subscribers or, more importantly, create a negative impression on them is normal. One of the biggest concerns site owners and marketers showcased is tied to the question of user experience (UX). Will it be harmed by push notifications containing ads?
We can assure you that won't be the case, and this is why:
Your subscribers will be getting only relevant ads thanks to AI algorithm
All ads come from trusted Notix partners, and they are brand safe and user-friendly
You can choose ad categories you want your subscribers to receive
You have the right to change ad frequency
The fact is, even with push notifications that are coming from you as ad placement, you are still in control. It is your audience, after all.
So you will be in a position to decide how often you want your subscribers to be delivered with ad messages, and from what niche, and all that without having to worry about their safety or the legitimacy of the ads.
---
Benefits of Notix monetization
When talking about why one should decide to use the Notix monetization plan, we can give several answers. But let's start with the most obvious one:
#1 Additional income
With Notix monetization, you will earn more money. Your audience will remain engaged, and you will obtain a new revenue stream from your subscribers – so it is a win-win situation, really.
However, in order to increase ROI through Notix monetization, you need stable and fresh traffic. Notix production team explains that fresh traffic converts better than the one from users who are subscribed for a long time already, and therefore leads to higher CPM.
If there is no fresh traffic from targeted GEO after a while there is a risk the subscribers base will start developing some push fatigue. You will be still earning, but the income will be lower.
#2 Reliable ad partners
This one here is super important.
The fact is you have probably invested your time, money, and great effort in creating a sustainable subscriber base, and you don't want to easily jeopardize that. On the contrary.
Notix partners only with brand-safe and reliable advertisers, so the content your audience will be exposed to will not, for sure, be inappropriate and harmful.
#3 Control over ad frequency and add categories
The fact you are the one deciding on how often your subscribers will be getting push ads, and from which category is a real advantage. It allows site owners to stay in charge. But also it says a lot about Notix staying on top of keeping its clients happy.
Here is the list of ad categories you can choose from:
| | | | |
| --- | --- | --- | --- |
| Business | Dating and relationships | Sports | Lifestyle |
| Finance | Beauty | Entertainment | Health |
| IT | Fashion and style | Gambling | Gossips |
| Auto | Travel | Religion | Food |
| News | Environment | Education | Family and children |
| Politics | Pets | Music | Home and garden |
Remaining this control allows you to make sure your subscribers continue to engage with your push notifications just like before, regardless of the ads. Because they won't be intrusive and irrelevant.
Note: In any point of time publishers can send to their managers or support team a request on which ad category they would like to remove or include in their push notifications.
#4 Fast payouts
And finally, the sweetest part.
The whole monetization system works like a charm. After a client finishes up with settings and puts the monetization plan in action, they can simply lay back and wait for the payout to come – biweekly, or even weekly, depending on the payment method.
---
Monetization in action: Case study No. 1
Remember we promised you something sweet at the finish line?
Here it is – an actual case study that will showcase everything we previously talked about.
Client name:
Super Vasco
Monetization platform: Notix
Type of monetization: Web monetization
Total number of subscribers: 33.000
So, we are presenting you a Brazilian website dedicated to Vasco da Gama sports club from Rio de Janeiro, with 6.8 million monthly active users.
Their monetization plan through Notix started in January 2023, and pretty quickly, they reached and crossed the 30.000 subscribers the Notix plan defined as a limit for their free push service.
Right after we integrated and started sending push notifications to their subscribed audience, they almost instantly got thousands of new subscribers, which is proof that even when you are already affirmed and successful, the Notix push platform can still bring your numbers up. Significantly.

Actually, the client decided to combine Notix monetization with their own content strategy within which they were sending their offers to potential subscribers – just one brand-safe push a day, and that's it!
After they joined the Notix team, they started talking and consulting with our local business development manager in Brazil – Derick Freitas, and together they made it happen.
Gradually and constantly, their database was growing, despite the monetization process in the back and the presence of ads in push notifications delivered to their audience. This leads us to proof number 2, showing how monetization isn't harming the UX.
The fact is – monetization wasn't interfering with the client's major content strategy – distribution of their new site articles through pushes.
Active plan: 4-5 push notifications with their daily content (automated through RSS) + 1 ad push
And voila!