There is a Push for pretty much every occasion. But are Push Notifications enough when it comes to the performance of your campaigns? Join us in discovering the best means of communication to reach your target audience, based on your business's main needs for communication.
There are many ways to communicate with your audience, and each has its pluses and minuses. But here at Notix we focus on offering you the best solution for Push Notifications, in particular.
Let's find the best solution to engage, or even re-engage your audience, without having to go through the 'trial and error' step, between Push, Email, and SMS.
Which do you think is the best between email, SMS, and Push Notifications? Or could there be more?
To better understand this, we must first start from the very basic notions. So, what exactly is…
---
The eMail – official, or hyper-creative, or announced in advance
Email, as you probably already know, is one of the oldest means of marketing communication. A fun and very interesting fact about them is that emails were in use before the internet, by about 30 or 20 years.
That is because the system they are based on is the SMTP or Simple Mail Protocol, which is at its core a Push mechanism.
Many years have passed, and emails advanced with the many technological breakthroughs. Nowadays, they are one of the official channels that companies use to keep in touch with their customers.
You can send pretty much any format, in the body of the email or as an attachment, as long as you stick within your providers' max limitation (between 20-25MB). And you've got a lot of space to get creative – between the subject line of max to 65 characters (45 or 30 if you're targeting mobile users), a hidden text of the same length, spacey body, signature and attachments.
However, a real downside of sending emails is that people don't really bother to read them, which makes them have only a 16.97% open-rate.
Also, oftentimes they either end up in the spam folder or get deleted from the start. They used to be really attractive and interesting a while back, and probably there still are some new tech-moms that continue forwarding them.
But that's where emails pretty much draw a line. Unless we're not talking about something super important (employment letter, contracts, official docs), that users are expecting and want to devour, or safe keep.
Otherwise, the Bin is where they'll end – unopened, unread, unclicked on.
---
The SMS – out of sight, out of mind
The name is an acronym of Short Message Service. And you probably forgot how long it's been from back when you had to empty your list, to receive more of them. From that time until today, these short messages now feature emojis and links, however, they continue to be limited to a maximum of 160 characters.
SMS are mobile and network bound, and get stored in the phone's memory. Once you delete them, they're gone forever, and no one thought to include a search bar for them so it's pretty hard to find any.
A great feature that SMS has is that annoying notification bullet that appears on most devices and probably one of the main reasons why they have such an amazing open rate – 98%.
The top of the screen push-like feature that allows you to see the main info also adds to the equation, making them one of the favorite means of marketing communication. However, studies have shown that SMS has a much greater impact when used for local businesses, that allow you to reach your customers on the spot, rather than on a longer-term.
Much like emails nowadays, marketing text messages can be affected by 'advertising blindness'. That involuntary action of ignoring a message, email, or ad.
---
The Push Notification – fast out of sight, printed in your mind
The native looks that Push notifications have, make them immune to the advertising blindness for the time being.
Push Notifications are also more casual alerts, often mistaken for system notifications as they show up on the top of your phone's screen or the bottom right corner of your desktop, prompting users to take action.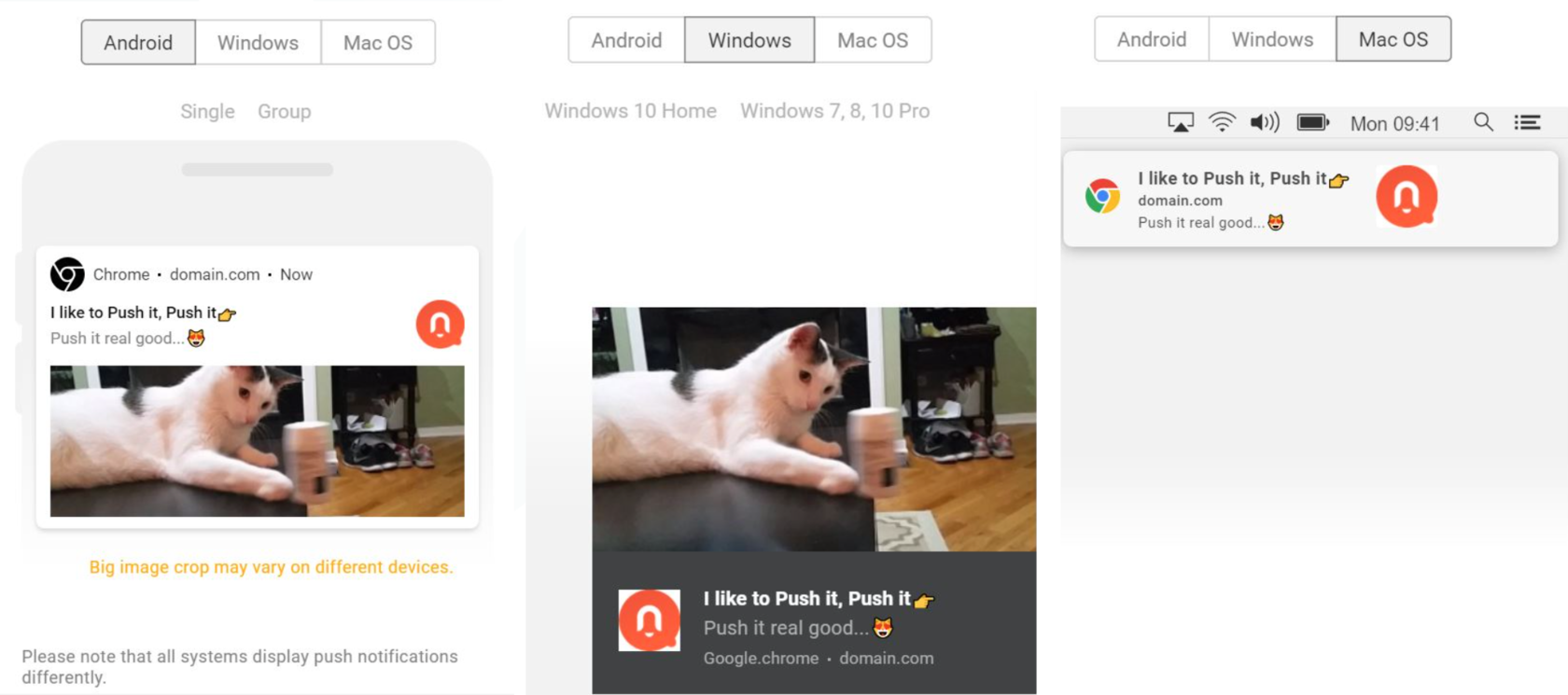 For this reason, often mechanically, users tend to immediately react to Push Notifications knowing that they'll be forever gone once closed – creating this way, the sense of urgency.
Moreover, even if they look just as system messages, Push notifications are not misleading. And what's even more, these alerts react as friendly invites for the user to take a specific action.
Although they're just as short as a text message, you can also send images with them, aside from links and emojis.
Yes, they're internet-bound. Yes, they have an amazing engagement rate – 90%, and an outstanding re-conversion rate – going as high as 81% on certain niches.
No, sending Push Notifications won't cost you an arm and a leg. In fact, for the time being, you can send them to as many users, absolutely for free here at Notix.
And even if some would say that Push can be intrusive or behave like the so hated pop-up ads, keep in mind that users have the possibility to opt-out of receiving them at any moment – however, less is more.
So you should always focus on delivering these texts with a well-defined goal in mind, as for example an abandoned cart reminder, or an urgent flash-sale, and even scarce or exclusive stocks.
In addition, being highly customizable, you can make sure that your Push perfectly matches your users' tastes, in such a way as not to bother or spam them.
To better depict all the differences, let's make a comparison between Push and SMS or Email.
---
Push vs eMail
Pros: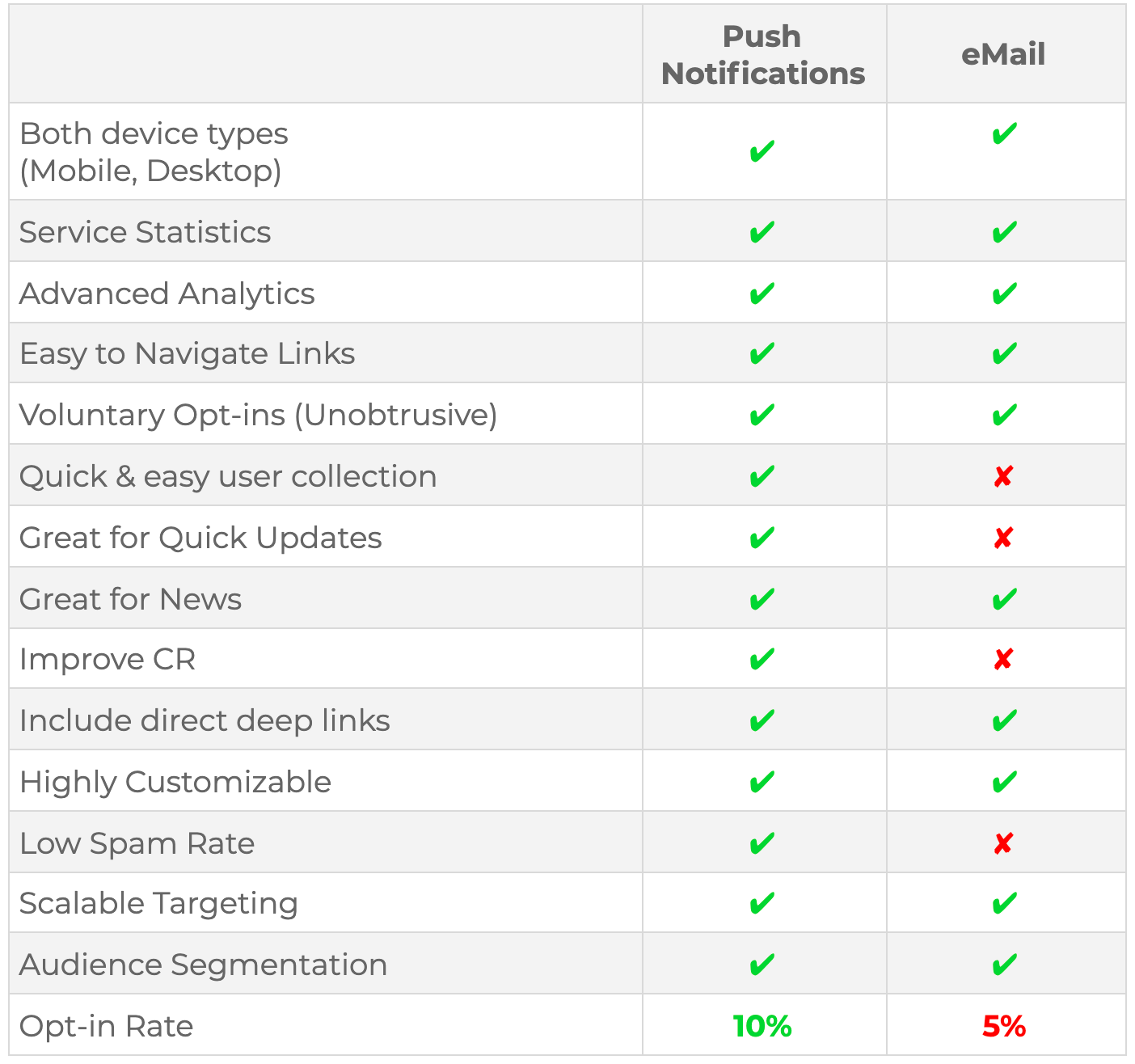 Cons: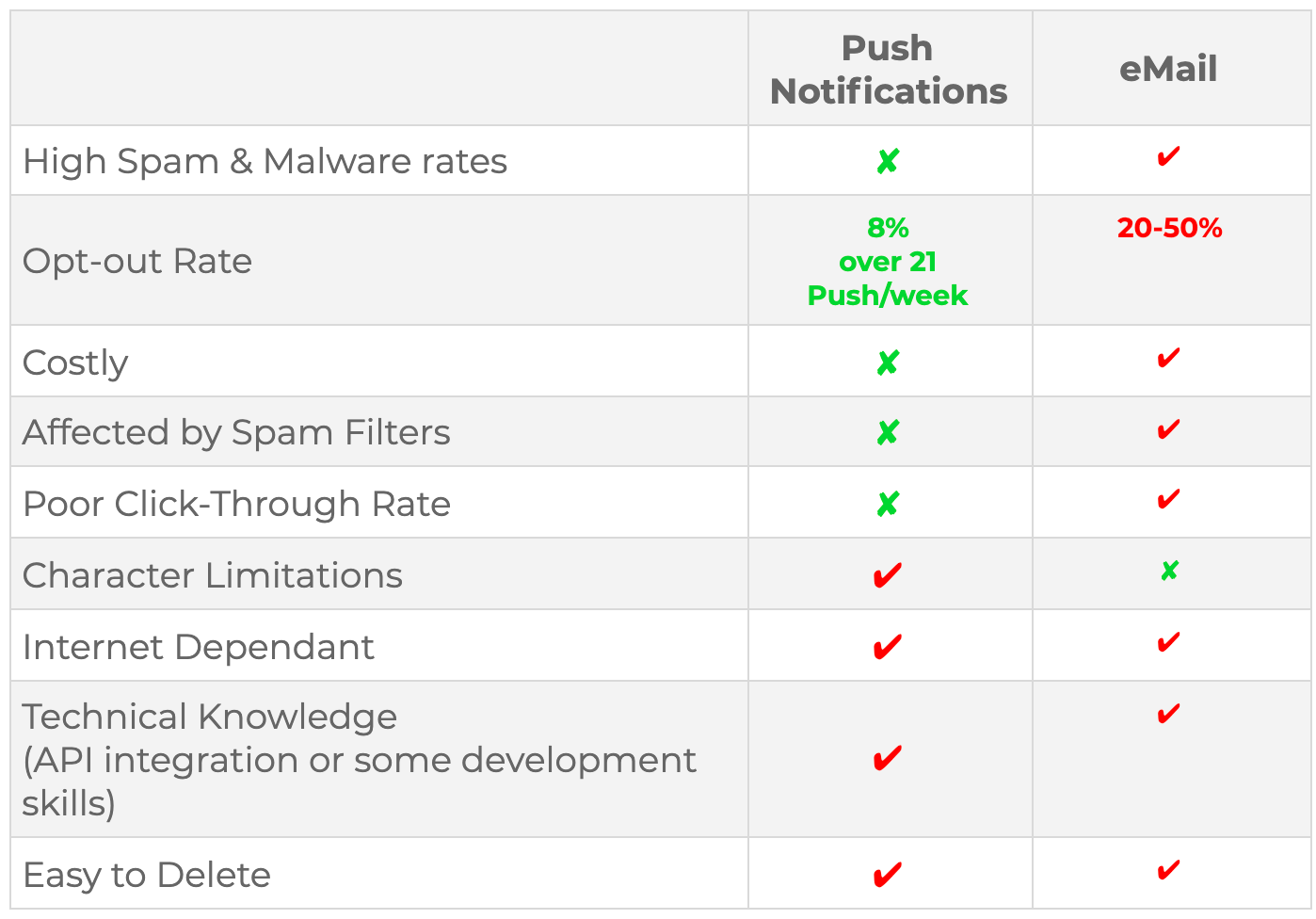 There are many obvious differences between Push and email. For starters, the obvious length, or the receptiveness of the receiver.
The price is also something to be taken into consideration, as is the effectiveness of these two means of communication.
But an essential thing you shouldn't forget is the purpose of each. Because sure, with both we want customers to acknowledge something and take action.
But while one might be less formal, spur more urgency, and effectively push people to take action, the second is the complete opposite.
And this is the great thing about them. Push and emails complete each other.
---
Push vs SMS
Pros: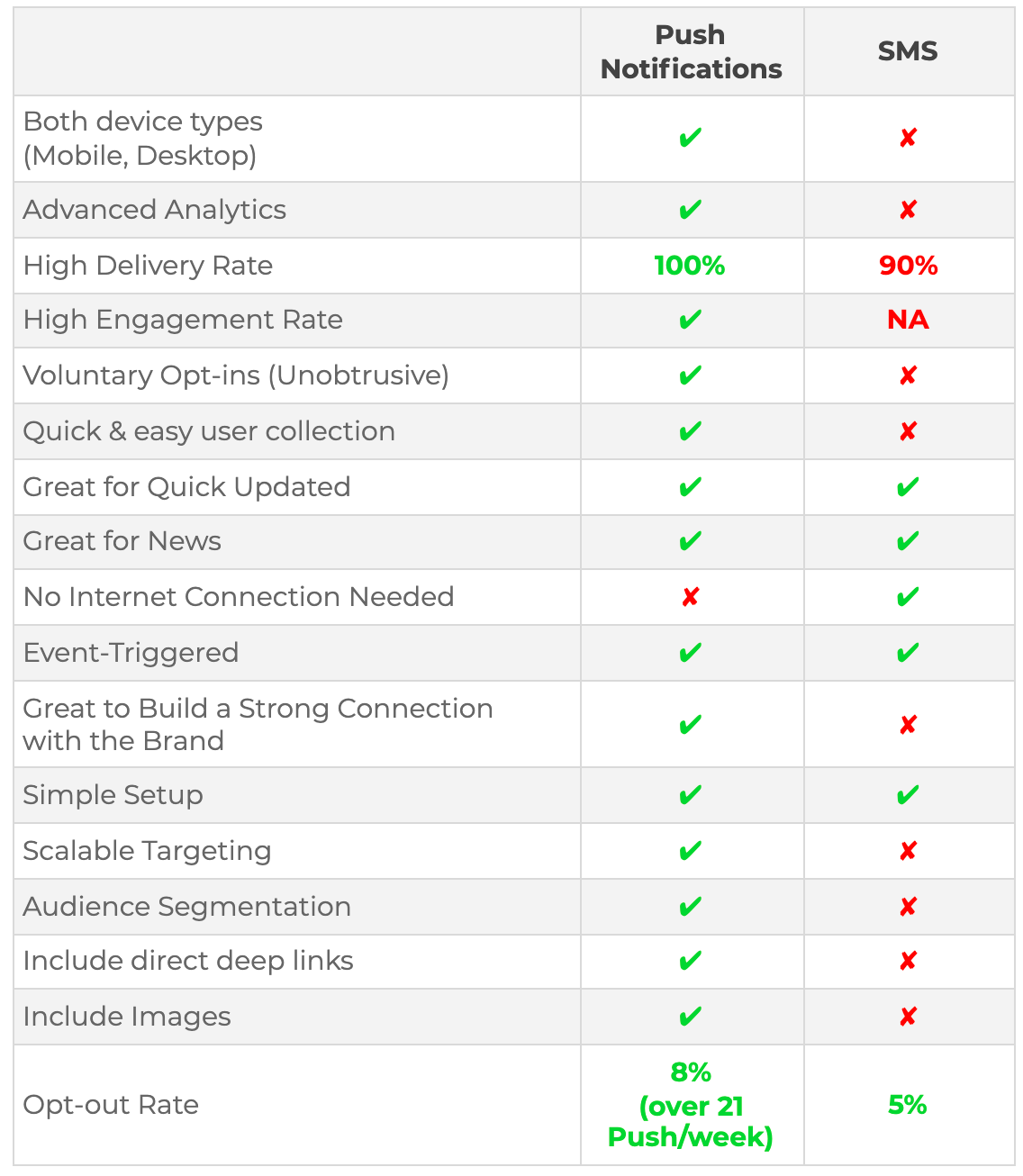 Cons: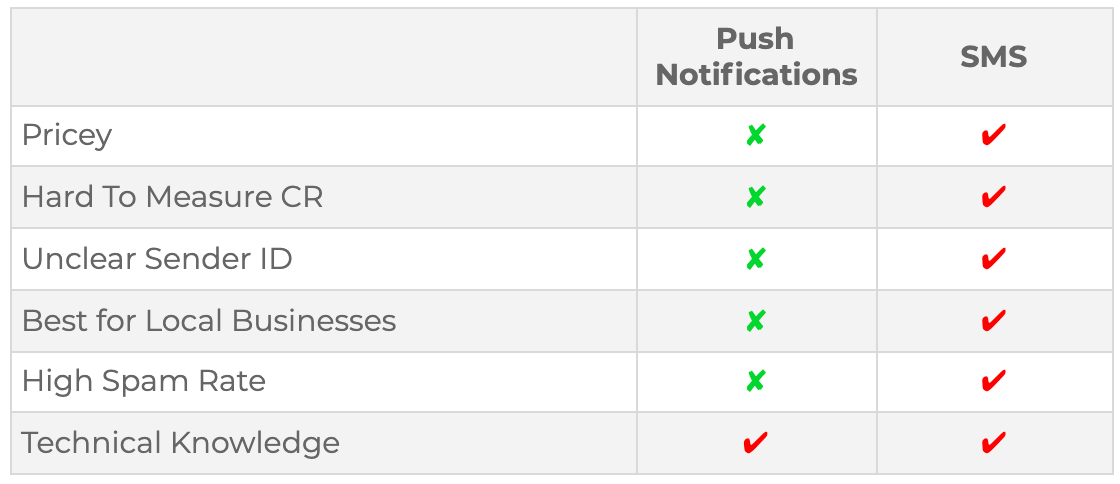 They're both short, but while one can be kept and re-read, the other is gone forever once you close it, making the need to react a lot more urgent.
However, the main difference is that with Push you get to gather important campaign data, like the engagement, CTR or CR. Whereas with SMS you can also tell the delivery rate.
This way, it's pretty complicated scaling or optimizing your SMS Campaigns. However, this doesn't mean that you can't combine them to use the best results.
---
Final Thoughts
While there are obvious differences and plenty of reasons for choosing one over the other, the facts speak for themselves.
And as with any other means of mass communication, your best choice is to mix and match to get the best possible outcome.
Come up with a strong Strategy of providing useful information for all your users, 360°. Stay careful not to smuggle and push them away.
Instead, make sure to provide for all their needs, with the right method.
For more assistance and information, visit our Help Center and feel free to contact us by email.
And if you haven't tried Push Notifications with your marketing strategy so far, this is your chance do to it absolutely free of charge: