There are 4 types of product marketing strategies – Single, Multi, Cross, and Omnichannel. And these can also be used as stages to help grow your marketing, and not spend a lot of money from the start.
As you might expect, they all depend on the number of channels and the way that you decide to advertise on them. And when we say channels, what we mean is: website, e-commerce store, email, SMS, app, brick-and-mortar store, leaflets, and everything else you use to engage with your users.
However, as you probably guessed, it's very important to note that not everyone needs all of these steps. So let's zoom in on these 4 categories, to help you find the best solution for your website.
---
Finding the right strategy for you
Using Omnichannel, Multi-channel, Cross-channel, or Single marketing is a choice. And you should make it based on the type of website that you (want to) run. But obviously, everything starts with the center part of your money-making machine.
And from case to case this can either be the user, or the business. Based on this important detail, you can define whether or not you need one strategy, or the other. More on this, below.
---
Single Channel
This is the simplest marketing strategy, as it only involves one distribution channel. Be it an online store, a website, a social media channel, direct messaging, or any other type of app.
The reasons many online marketers choose this model are its reduced costs, and the added ease. No matter if we're talking about ease of managing your communications, providing full consistency, or needing less structural support (in systems, analytics, even customer assistance).
Pros:
The most affordable option
Easy to manage
Requires reduced human resources
Great for narrow and specific targeting
Cons:
Limited reach
Missed selling opportunities
Not keeping up with technological advancement
Such a marketing strategy can only be primarily built around the business, instead of the consumer. Which however makes it a favorite model among its target audience. It can be useful for example with: Instagram stores, neighborhood brick-and-mortar stores, traditional farmers-market stands, etc.
But even these channels are nowadays looking for more expansion strategies.
---
How can you use Push and Single Channel Marketing
As the name implies, there is no way to integrate Push within this strategy. But you can create a hybrid plan. If you're using a website or an app, you can continue working with just this single delivery point. While also adding an extra service to your mix – Push Notifications.
You're probably using the Single Channel strategy as you're at the beginning. So the most important aspect of your new journey would be to increase awareness. The beauty of push is that they can fast and highly effectively tease users of important releases. For example: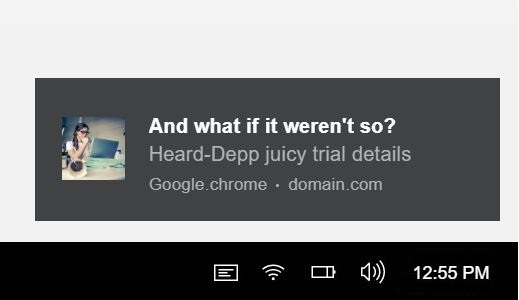 ---
Multichannel
This is the next level. Multi-channel comes to contradict almost everything that makes single-channel work. Except for it being a business-centered marketing model, as well. This strategy counts on multiple channels for expanded reach.
A multi-channel strategy aims to connect only the channels which are relevant to the target audience. So here you might find various online and offline mediums.
Yet, each of these channels can have its own content, as they work as semi-separate entities – or individual marketing communication channels.
These channels don't communicate with one another. And their main goals are to make the website/business look good, reach as many people as possible, and gain traction in the industry.
Pros:
Covers all or most of the relevant channels for the target audience
Availability everywhere the customer might engage
Narrow your targeting and get more leads
Get better feedback from your target audience
Cons:
Doesn't keep a connection in between channels so users end up seeing the same content, or discrepancies
No transparency
Independently functioning
Created around the company
Focused on reaching more people
More general, and less connected
Involves more than one independently functioning communication channel
More costly and time consuming
This type of strategy can be particularly useful for websites providing universally-needed services. Be it DIY or how-to websites, and maybe even cleaners and phone enhancing apps, converters, and so on.
---
Add some Push to your Multi-channel
These small notifications can be easily integrated into your multi-channel, middle of the funnel process. Just as well as you could use Push for the top and bottom of the funnel strategies. The most important part right now – improve your engagement rate much faster.
And Push Notifications can pull this like no other marketing channel better – with a 90% engagement rate. Here's what you could try: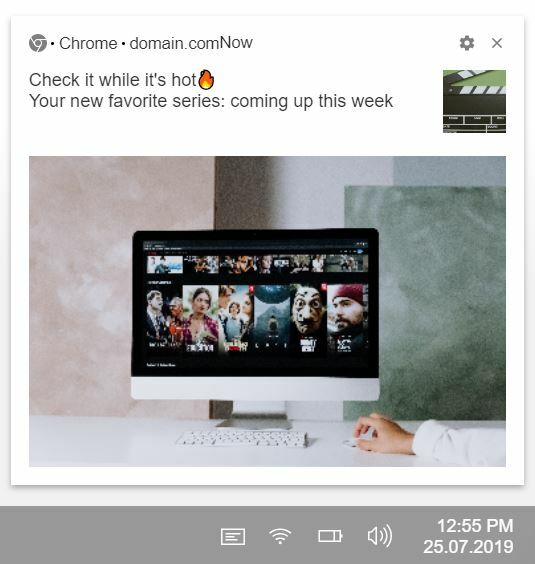 ---
Cross-Channel
The Cross-Channel marketing approach is built on various channels, as well. However, different from Multi-channel, this strategy is set from the start with well-defined goals. So that each section can fully function for the well-being of the bigger plan, or the whole and singular communication purpose.
In other words, each channel is used to further build and push users down the funnel. But also to deliver inter-connected messages that would make users' experience simpler. This marketing strategy involves both online and offline channels.
Pros:
Covers all the relevant channels for the target audience
Works as a whole – every channel has a complimentary message to the rest of the ensemble
It can be a client or company-centric
Helps your website gather more attention
Allows users to engage through their favorite medium or touch point
It's a pretty low-cost marketing type – It follows the most cost-effective channels for each targeting option
Main goal – a smooth customer experience
Cons:
There is a lot of data to process, from different sources (which might be hard to put together)
It requires very close cooperation with the point of sale (if the sale is implied)
Based on your end-goals, the messages can also be more diversified, and customized for the target audience (not ensuring full consistency)
Since this model can be both client and company focused, it can easily be used by smaller, medium, and larger websites equally.
However, you will need to do some thorough research in order to establish which channels are the most cost-effective and goal-oriented for you.
---
The beauty of Cross and Push Notifications
As you're getting closer to the bottom of the funnel, and the golden-goose of user journey it is by now becoming very important to get more quality, and better engagement. And how does Push help you get that? By returning lost contacts: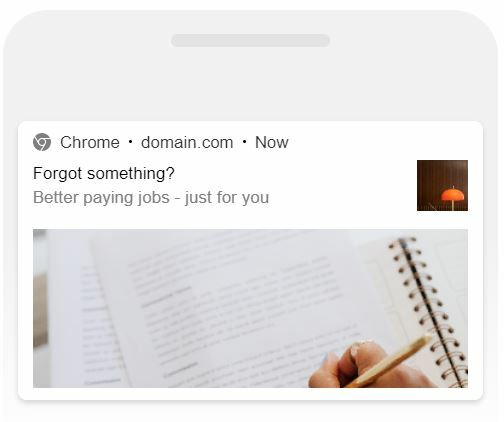 ---
Omnichannel
This type of marketing strategy is what every global brand aims for. It includes absolutely all the channels while maintaining full transparency and interactive communication in between one another.
This is the mecca of marketing strategies. Omnichannel marketing is also known as holistic marketing, and it's not a coincidence we used 'mecca' by comparison. In fact, the term holistic itself derives from both holy and holographic representations – the experience of navigating your website, as entering a temple. 
The idea is for example to enter brick-and-mortar stores and identify with every single element of it: the smell, the light, the feel of the fabric. The customers live and breathe by how the brand dictates. Or the website. But most importantly – the website is 100% client-centered to gain this level of dedication.
Think: Channel, Starbucks, Disney, Virgin Atlantic, or any other big or luxurious brand. And yes, they actually have a characteristic smell to them (including new-car scented odorizers). As these brands invest big-bucks in sensory marketing.
Pros:
Covers all the online and offline channels
There is perfect communication in between channels
Focus on the client, and provide personalized services
Improved customer lifetime value
Increase in sales
Better customer experience and data flow
The best connection with the customer
Cons:
Might lead to weak ROI
High costs
More online competition
Online open communications with the users at all times
Multiple subscriptions required
More human resources and money to handle all the channels and third parties
The belief nowadays is that every marketing goal should be omnichannel oriented. However, based on your target audience this couldn't be further from the truth.
In fact, you might end up spending huge amounts of money, for channels that gain absolutely no traction. So stick with the classic, test, and only invest in what works for your website.
---
What does Push bring to Omnichannel?
As you might've guessed by now, Push notifications bring the beauty of fitting everywhere in your user-journey. And what do you need when running Omnichannel marketing? To be everywhere, at every moment, all the way.
And being able to custom target and trigger Push based on the user's custom-set interests, and location:

---
How does push fit in the bigger marketing strategy?
No matter the strategy that best satisfies your audience, you can also add Push Notifications into the mix. Mostly because Push Notifications can only add to your marketing strategy, when used properly. As we have seen on countless other occasions.
And here are the main benefits that the Notix Push Notifications can bring to your communication strategy, whether that is Multi, Cross, or Omnichannel:
Increased pageview and ad engagement
Higher revenue due to the increased ad view
A higher and steady traffic flow
Establishing a trustworthy and highly-qualitative website
Maintaining an effective UX
Ease of use
Great user re-engagement tool
Increased website monetization
As push can't be your single channel, whether you opt for one or the other channel based marketing strategies, you can definitely benefit from the high-engagement that Push Notifications bring to the table.
---
Long story short
The fact is, there's no one size that fits all when it comes to marketing strategy. Especially not if you're offering your goods or services for audiences coming from various backgrounds. Or on platforms that attract completely different age and interest groups.
And to figure all this up you'll need to thoroughly analyze your website audiences. If you perfectly segmented your various websites, social media, emails, and all other audiences into fully functioning slices, you're better off sticking with multichannel or even cross-channel marketing.
For one, to avoid investing in channels that are not performing, or to invest in them better. And you might end up saving some money, by not spending on non-converting channels.
And to spice off your marketing strategy, Notix's Push Notifications are a great channel option to add. Moreover, these alerts can cost you close to nothing, if not actually nothing. 
What you'll get extra is an upgrade in your marketing, the way you work with your users, better engagement, lower abandonment rate… Plus all the other benefits we've listed above.
Just start planning with your budget in mind, then narrow it down to your target audience. And if no strategy manages to get you closer to your goals just go for a hybrid, combining the best of all worlds.