Traveling, Beauty, Health, Fashion, DIY, Entertainment, Cooking… You can find literally tons of content for those viewers who are interested to see how other people live. And all of these categories are united under the notion of Lifestyle niche.
What's that in general? How to approach it? And the most important: how to make your Push strategy for Lifestyle website work? Notix answers these and other related questions.
---
Audiences segmentation and extra-value
No doubt that Push notifications are a powerful tool for user engagement, but if you didn't use them for your Lifestyle website before, make sure to have a plan of action. It's super important to understand how to add this channel to your current marketing strategy and make everything work smoothly.
As an option, the first step here might be targeting and audience segmentation, which can easily be done with Notix tools.
Segmentation by content types
Lifestyle websites usually have different sections that correspond to users' core interests. Say, you may have Health, Celebrities, Events, Fashion, Trends, Diet, etc. Your visitors might be interested in different topics, so you can give them freedom to choose whatever they want right in an opt-in window: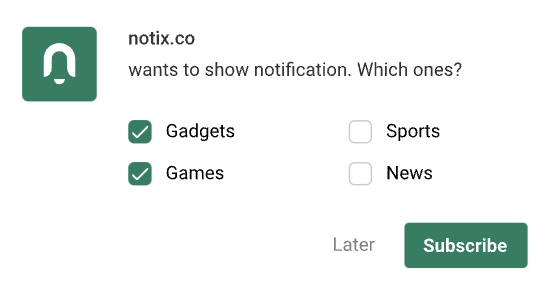 By segmenting users and then customizing notifications for each category, you deliver specific content users are interested in, which can be a great way to boost engagement. Easy and efficient!
Another way to segment: We also have a Retargeting Pixel feature that counts visits to various sections of your website for each user. With this tool, you enable automatic segmentation based on users' previous actions.
Segmentation by demographics
Once you enable Targeting in your Notix account, you will be able to set various targeting specifications.

This includes targeting by last visit (and sending customized messages, like "Long time no see" or "Welcome back"), location (country, region, city), device (OS, mobile/desktop, browser).
As practice and experience of our partners show, the more precise you are with segmentation, the more chances you have to boost engagement. This comes at no surprise, since people react to something relevant to their interests more eagerly.
---
Special attention to content
So, is your Lifestyle website globally aimed at happy living achieved through sports, good habits, and self-care practices? Reflect this idea in your push notifications!
Make your copy sound friendly, affirmative, and empowering to let readers know how serious you are about the lifestyle you stand for. Such a tone definitely impacts users' decisions and motivates them to act. Example: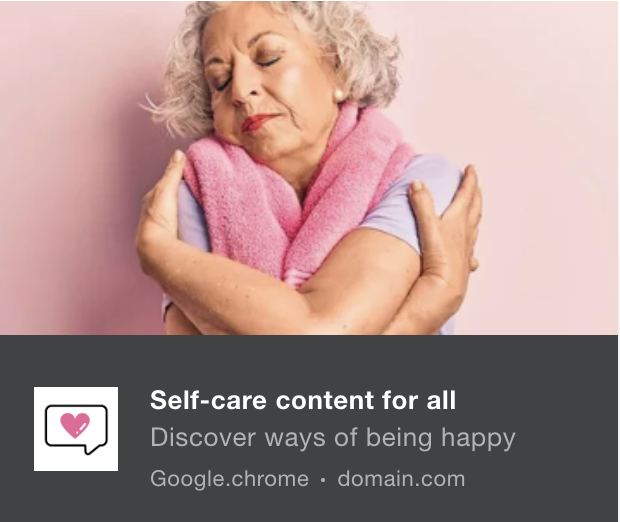 By the way, don't neglect the power of emojis that can make your content more "humane" and eye-catching, plus – save some space for more characters to write, like this: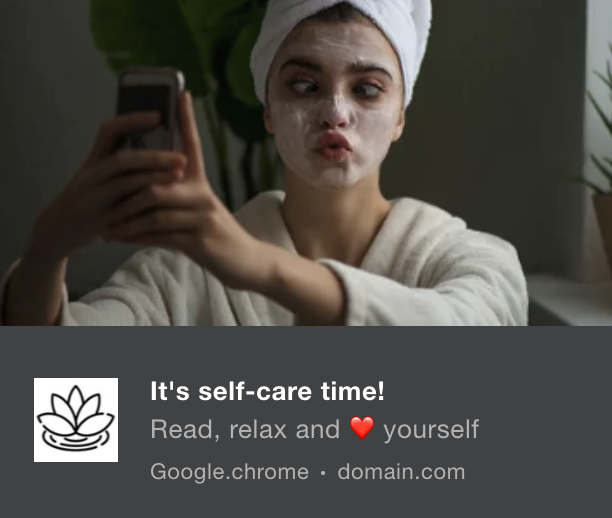 ---
Right frequency and timing
Overdoing with Push notifications frequency can cost you subscribers, while wrong timing can ruin your engagement (different audience segments may be active at different times of the day). Don't underestimate scheduling!
To understand which timing works best for your campaign, you need testing, of course. When analyzing your statistics, pay attention to the unsubscribed users and CTR. Less clicks and more unsubscriptions might be the sign that you need to change the number of notifications you send. You can do it all with Notix, of course.
All of your campaign data can be easily accessed via Notix account. Sign up and see!
If you need an advice for newcomers regarding timing, we can suggest the following hours:
1 PM – 2 PM local time (especially, for content about healthy nutrition, since it's lunchtime)
7 PM – 12 PM local time (after-work hours)
Frequency: it's important to avoid being spammy, so Notix suggests sending up to 2-3 notifications per week for general categories. If you also present something like niche news and burning trends, you can deliver corresponding notifications whenever they are appropriate.
Mind local time zones and do some testing to see which days and hours bring you the best click rate.
---
Mindful analysis
Last but not least, checking stats and using them to optimize your campaign is your way to better performance. Notix encourages you to review stats right at your account, here:
As you can see, all the important parameters are listed in the table: CTR, number of clicks and impressions, targetings, etc.
If you need more advanced stats, you can also track impressions/clicks per hour to see if your chosen schedule is efficient.
---
Conclusion
So, basically, working with Lifestyle websites is about right targeting and thoughtful segmentation, engaging images and copies for your Push notifications, right timing, and careful analysis. Testing your creatives, scheduling, and adjusting campaign settings is a long, but right way to desired results.
And Notix can help you on all stages of the process. Our high-tech SAAS platform has numerous flexible tools to help you gain more traffic and boost user engagement. Try it out and see for yourself!
If you have any questions, feel free to contact us via email: support@notix.co.