When you're doing your best, but not getting the results that you expect, that's a sign that something isn't working. And that is when you're mostly in need of a change. It can be a change of pace, a change of strategy, or a change of partners. Or maybe you just need better services.
Continue reading to see how our Push Notification service helped one webmaster increase the percentage of returning users, which is now 10% of their entire traffic.
---
The Client
Golden Communication SRL that owns Beautydea.it and Ticonsiglio.com is an online editorial services company, specialized in communication and web-marketing. Among the many services they provide you will find: creating and managing websites, developing editorial content, and launching web-advertising campaigns.
Aside from helping their clients generate organic traffic, Golden Communication SRL also develops integrated communication projects, including handling social profiles and photographic projects for the web.
---
The Problem
In May they approached Notix to test an alternative Push Notification service, when their current provider failed to deliver the expected results. Beautydea.it and Ticonsiglio.com needed an effective Push Notification provider that could outperform their current service which was only reaching 30% of their subscriber base. In addition they wanted to integrate their RSS feed with Push Notification.
Golden Communications' main concern was their future pricing considering that the previous Push notification service wasn't delivering any good results. So they needed to upgrade their services for two of their websites – Beautydea.it and Ticonsiglio.com.
Although the websites have two very distinct topics – fashion and beauty and the recruitment and training sectors respectively, we followed the same strategy on both of them.
---
The Notix Strategy
What we proposed to the client was our branded, free of charge service, that was allowing them to transfer their subscribers to us. To speed up the process, the client immediately proceeded with the migration of its subscribers from the other service, removing the scripts of the previous provider.
Along with moving their most active subscribers from the previous service, they also started collecting fresh users' data-base. The effectiveness of our service and the witty setups, allowed them to target the users with the right information, at the right time.
Also, with Notix they could reach their users by sending them the latest news from the portals using the automated RSS feeds and Integromat integrations. This way increasing the effectiveness of the Push Notifications, as compared with the services he was receiving previously.
---
Beautydea.it and Notix's Push Notifications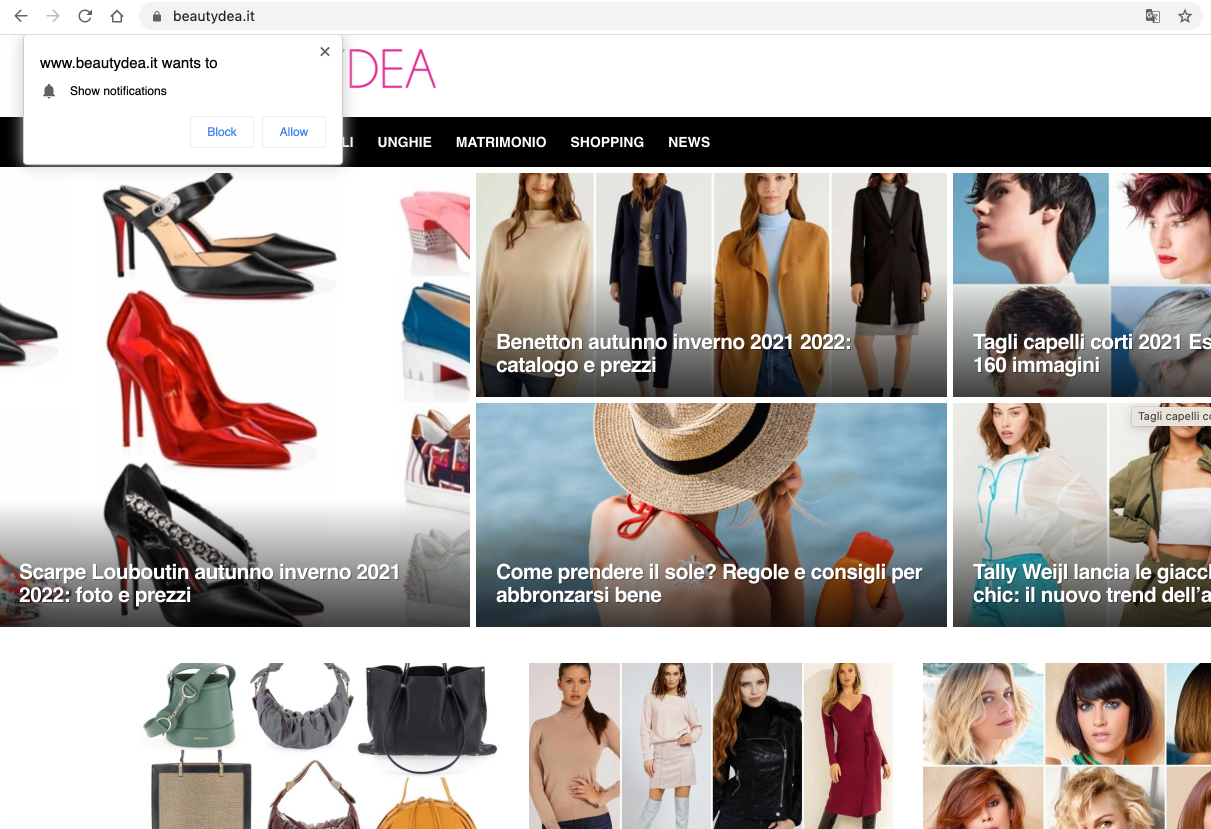 The first website that Golden Communications SRL decided to boost using our services to gather returning users was a fashion and beauty website – Beautydea.it. The main topics that they cover are beauty, fashion, hairdos, nail styles, tattoos, and weddings.
The website also includes a shopping section where they offer various discounts and rants on where to get the latest beauty products from. In fact, here are some of the push notifications that they have sent using our service:

Beautydea.it sent branded notifications, calling their users to action with their vivid images, next to short and punchy content.

And although the Push notifications on MacOS don't include a banner image format, they opted for the logo to remain visible when informing their clients about the latest added content. Keeping their notifications branded, added to their brand awareness and helped their clients recognize their messages and authority.
---
TiConsiglio.com and Notix's Push Notifications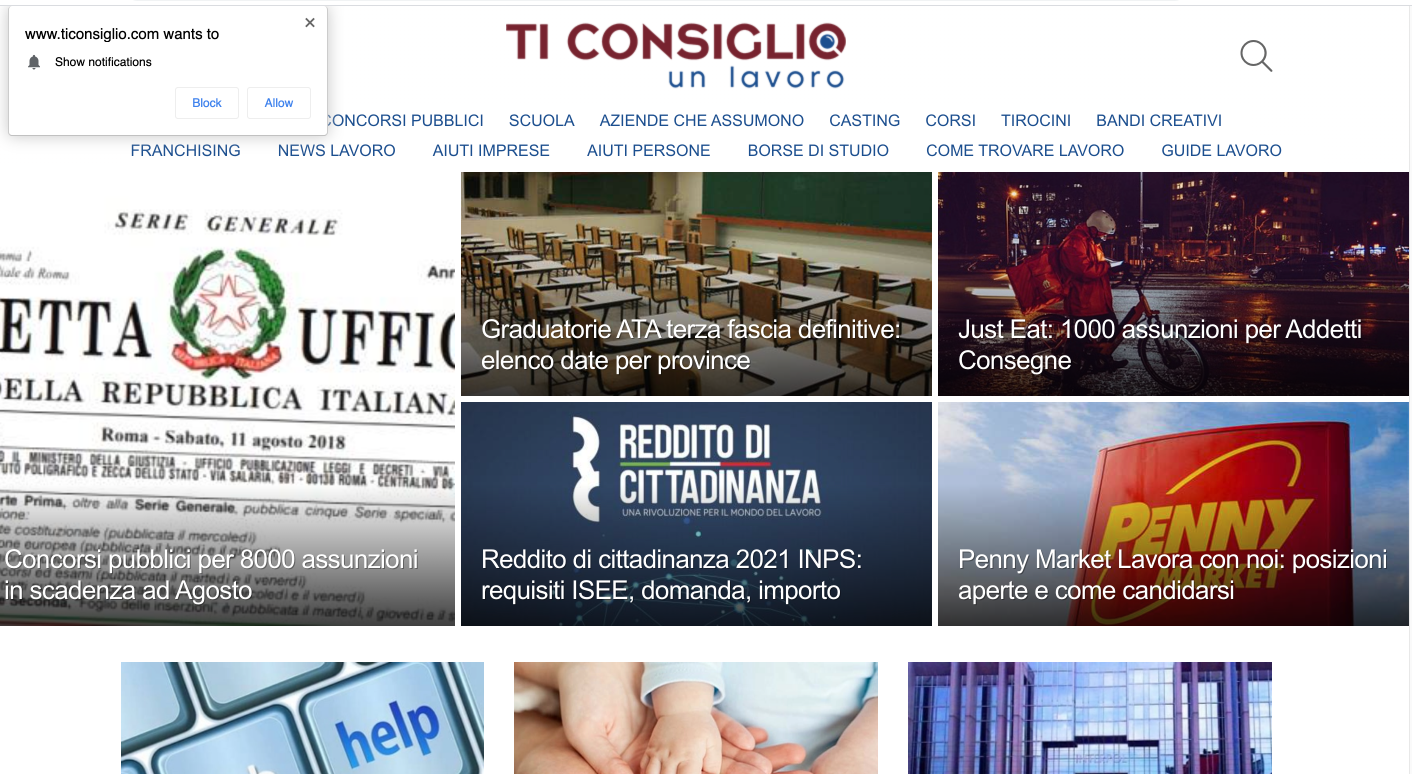 The second website that Golden Communication SRL decided would benefit from working with Notix's Push Notifications is focused on providing insightful information on the workforce sector. They promote work offers, public contests, courses, agencies looking for employees, castings, work contests, internships, creative jobs, but also information for companies.
Here are some of the Push Notifications that they decided to send using our service:

Even with these two Push Notifications we see two powerful images, depicting two of the largest Italian organizations, a reputable bank and the workforce logo. Both pieces of news refer to important work opportunities, and manage to attract users who are in search of a job thanks to their topics.
Ticonsiglio.com also went for an all device type targeting, so they also send the Notix Push Notifications to MacOS users as well.

Understanding the need of education and finding a proper job, for the MacOS notifications they used the RSS feed. In this case, the images, title, and Push description are being taken automatically from the website.
---
Returning users flood Golden Communication SRL thanks to Notix
Using our service as a user engagement and re-engagement tool, the company managed to achieve very good results. They converted their subscribers into brand ambassadors, having them interact with the website's content.
But the cherry on top of the cake was the success that the Notix Push Notifications managed to bring, in re-engaging their long-lost users. Now, 10% of the entire website traffic consists of returning users for both the websites that switched to Notix. All thanks to our highly engaging Push Notifications.
What did the trick was the branded and quality content they were pushing through the Notix notifications. This way they managed to transform push subscribers into a revenue stream, while also engaging them and having them interact with the website content.
Thanks to the flexible Push notifications setups, users that were only familiar with the two websites now understand the brands, their importance, and feel the need to connect with them on a more personal level. As a result, the two websites now enjoy increased revenues, more visibility, higher user return rate, along with happier, more responsive users.
Ready to do the same for your website? Let's get in touch.