Let's begin with simple stats: most Notix customers (60%) are news websites. Thanks to it, we are pretty well–aware of how news user engagement and push campaigns work. Although it's hard to roll out a universal cut-copy-paste strategy, we gathered some best practices that may help. As a cherry on the pie, we will show you an example of a strategy that made a hit for one of our customers. Well, less talk — more action — let's immediately dive into a deal.
---
What is special about news website user engagement?
Pretty obviously, news websites are about the latest events. The main threat of its content is time sensitivity. All articles, videos, and images related to news don't last long: most of them stay red hot for no more than a single day. So, the main monetization aspect here is to bring up more and more news constantly to maintain traffic volume.
The number of visits to a news website depends on two primary factors:
How often do you post news;
How many big events are there in the world today;
How quickly do you post the latest news.
Besides, traffic may vary within the whole day: for instance, most people check out what's new out there in the morning while going to work and during lunchtime.

And, of course, you can boost your site's visits with push notifications: just let people know you have something new, and they will rush to see it outright. Or not — so let's look at what in your push campaign can really engage readers and create more website visits.
---
What to keep in mind when creating a strategy
Although your final decision on a strategy obviously stays up to you, there are things you need to mind anyway. In short, you are supposed to decide on what to send, who you send it to, and how often you do it. Without further ado: here are the main aspects you need to think through.
Segmenting the audience and picking the right content
Sending the same messages to all of your subscribers is not usually the best way to go. To target the right people and get higher conversions, track what particular users like to read and how they behave on your website. For instance, if you highlight all the latest world news, you can segment subscribers by topics, like politics, stars, novelties, science, etc.
With Notix, you can do it with the Retargeting Pixels tool. It works simply: you add a pixel on a particular page and it will separate users into various categories, depending on what they watched on this page. You can read about Retargeting Pixels in more detail here.
Besides, your pushes might differ depending on users' age, GEO, or device: for example, a new macOS release has a higher chance of attracting a Mac user than anyone else.
---
Try testing various segmentation solutions to compare stats. Notix.co platform allows you to create user groups and collect various metrics on each.
Some publishers go further and allow users to select what they want to get manually. For instance, here is how you can do it at New York Times app:
You can do exactly the same thing with Notix with the Categories checkbox opt-in prompt and let your subscribers select what they want to get alerts about. We shared all details of check box subscriptions here: How to create custom audiences with a tag categories check box subscription prompt.
---
Trying out RSS Feeds
RSS feeds notifications are a very common thing among various popular news websites, including the NY Times. The thing is, you send a push that leads not to a particular article but to a newsfeed instead. Here is what it might look like:
Of course, you should personalize feeds, too, and include the best suggestions based on users' interests. To do it, Notix customers often combine RSS feed automation and targeting by the audience.
Suppose you have several feeds for different categories: Celebrities, Politics, Health, and Science. If you set the RSS feed automation and targeting by the audience, for, say, Health, Notix will send alerts on the Health feed updates exclusively to the interested users.
---
Counting the number of notifications
When you want to deliver the breaking news faster than your competitors, push notifications are obviously the best option. However, if you publish, say, 20 news items daily and notify about each via a push message, you will most likely drive your users nuts. The thing is to walk a line between keeping a subscriber engaged but not piling them with tons of alerts.
Let statistics help you. For instance, the BusinessOfApps last year's research showed that 15 alerts from media sources a day are the edge; when you cross it, the unsubscription rate immediately blasts off.
The safest solution might be sending up to 3 notifications a day plus extra pushes for urgent or extraordinary events.
Mind the GEO, too. For instance, a survey among US smartphone users showed that 42% of respondents don't turn off their notifications forever but just change some settings when they find the number of pushes excessive. Still, the second popular answer is disabling pushes from an app that becomes annoying: this is what 39% of the respondents do. Notix allows you to make updates even more targeted and separate push notifications by region or city:
---
Choosing the right time
It's essential both when you send feed notifications or some pieces of news separately. Researches show that most people read the news in the morning and during lunchtime, but the peak hours start after work: about 6-7 p.m. It can still differ from audience to audience, but a general recipe here is the following:
The best news notification times are 9 a.m.-10 a.m., 1 p.m. — 2 p.m., and 9 p.m. — 10 p.m.
Obviously, testing is still required, but you can take these numbers as your сut-off point. Mind the CTR and unsubscribed users: if you start getting fewer clicks and more unsubscriptions, it might be a sign to change the number of alerts.
Notix allows you to schedule push alerts, so once you determine when you want to send regular news digests, you can simply set the right timing in your account. 
---
Working on creatives
While creatives (text, image, or both) mean much for advertising and promotion, they don't work the same way in the news segment. First, you don't have much flexibility when choosing images: it's always a relevant image depicting what happened. So, much depends on the exact event: how exciting or important it is. Another essential thing is a headline you insert in your push notification.
Copy plays a key role for push notification creatives, and your website reporters must know all ins and outs of catchy headlines, says Karina Arkhangelskaya, Notix Head of Project.
However, your stretch of the imagination is also a bit limited here. Karina says most newsmakers simply add a headline to the push message. So, make sure your website content writers know how to create catchy headlines and engage the audience with a couple of words. If they do just fine, you can use the Notix's Fast Push Creation feature: it will automatically turn the news item headline into a push notification's heading.
A final tip: mind how your headline will look for a user. A part of it may be cut in a ready creative, so don't forget to check the previews and see if they are engaging enough. For instance, here is how you can accidentally spoil the whole message:
---
Creating an additional hook
News traffic is infamously unstable. It can reach dizzying heights during big events like the World Cup or, say, the Covid-19 pandemic outburst. However, it may significantly decline if there is nothing really special happening worldwide or in particular GEOs. So, news publishers need to scramble to keep their sites profitable.
One of the solutions is to add some extra entertaining content, not related to the news.
Salon.com, for instance, added a new vertical to engage more users and publish content with a longer lifespan. In Salon's case, this vertical was food, and it included various recipes, food guides, and news related to eateries. The Food tab now takes its place alongside News and Politics, Culture, Science, and Health and perfectly fits in — at least, it does bring conversions.
Such an approach can help you find new subscribers, create new audiences, and retarget them with a specific push campaign.
---
Checking stats
Although you may think you tuned everything perfectly, you need to track what is happening with your strategy and adjust it if you think you can have better results. With Notix, you can do it very conveniently at your account: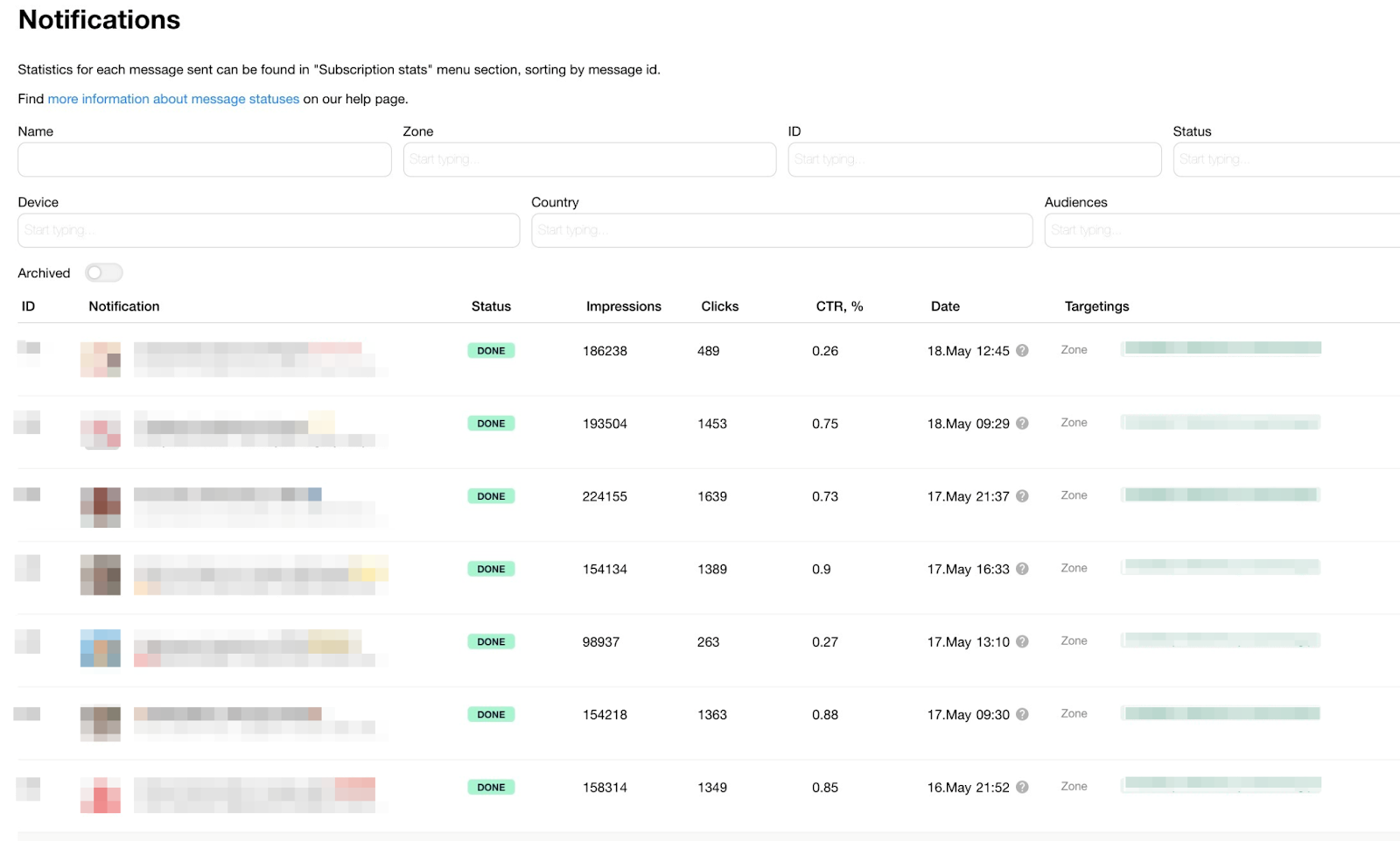 Stats in your account clearly show you the overall number of impressions, clicks, and CTR rates for every campaign depending on its targetings.
You can go further and explore more advanced stats. For instance, Notix can track impressions and clicks per hour, so you can be aware of the exact time when you get the most (or the fewest) clicks: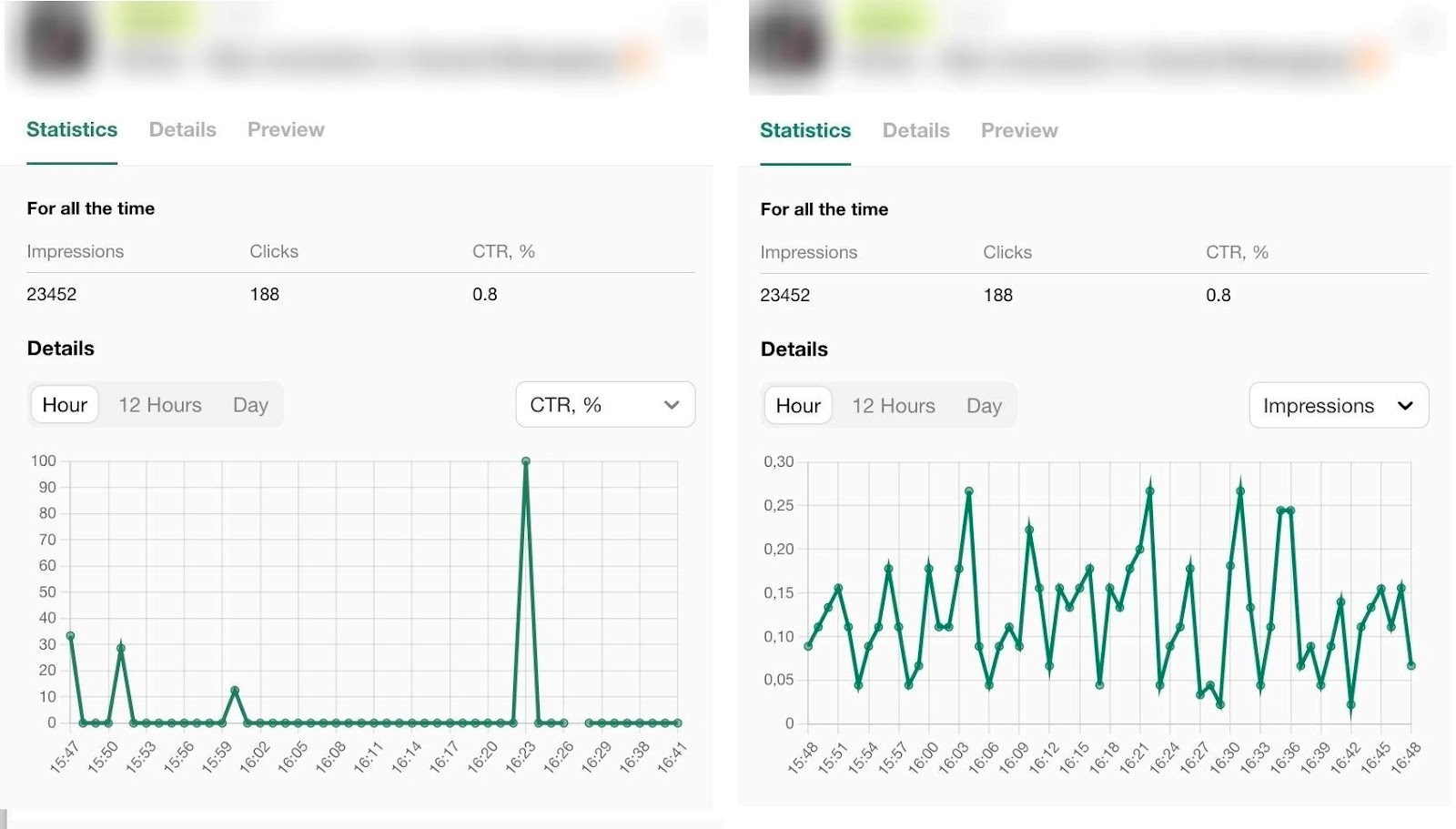 ---
Bonus block: a strategy example that will most likely work
One of Notix's customers, the Gandul network that embraces several Romanian online newspapers, shared its approach to the push notification strategy. You can read it in detail here, and we will overview their experience as a working option that you can test, too!
Step 1: Testing. At first, Gandul integrated only part of their sites with Notix. When they started seeing it worked fine, they added more websites from the network.
Step 2: Working on creatives. Gandul websites took much care to work on how push messages will look. They made their messages personalized and added images to pushes, making them stand out.
Step 3: Sending the latest news. Delivering the freshest news, just published on a site, became the most engaging option for Gandul users.
Step 4: Monetizing. Getting profit from a news website is pretty hard and unstable, as you already know. Gandul decided to opt for Notix monetization and collect additional revenues. It works like this: you apply for monetization at support@notix.co, and your users start seeing ads from Notix's partners. A bonus: all Notix services become free for customers on the Monetization plan, no matter how many subscribers you have. You can see all pricing plans here.
---
To sum up
Before making any final conclusions, we skimmed through all the existing stats for news websites again. It proved our initial take on the user engagement approach: there is no master key, so you try, you learn, and you adapt.
Overall, the main idea behind Notix as a SAAS platform is to provide publishers with a flexible tool. You are free to use the tool as you wish: by your team's efforts or via the smart automation settings Notix offers. So, the best thing about gaining traffic with Notix is that you can kick around with various strategies and change them easily. Just try!
If you have any questions, feel free to contact us via email: support@notix.co.