Push Notifications work. And if you're here, you either already know this, want to start using them, or you're looking for excuses not to. But, with Notix you won't find any. Don't believe it? Test everything absolutely for free and see for yourself just how great these Web Push Notifications work.
Of course, we've checked, our users checked, and we're sure that even competitors checked as well. And the results speak for themselves. We mean, how could it be any different? In the end, these little alerts are based on Google's Cloud Messaging technology.
---
What this means for you, as a webmaster
Web Push Notifications are based on two APIs, as Google explains it. First, the Notification API allows the browser to display system notifications to the user. The second, the Push API enables a service worker to handle Push Messages from a server, even if the browser isn't being used.
Push establishes a server-to-client kind of communication, where the Notification and Push APIs are built on top of the Service Worker (sw.) API. All the communication is done in the background by the sw. and the end-user receives your Push Notification. In simple words, with Notix's Push Notifications, you're getting an easy and safe technology (created by Google itself), which allows you to re-engage with your users.
---
Google Chrome's Updates
Google is the main browser in the world, with more than 2.65 billion users. Its market share surged between 2009 and 2021 by 60.35%, and it's three times larger than that of its main competitor, Safari. The browser offers over 137,000 extensions, and most of its mobile platform uploads were made from iOS devices (8 million), in January 2021.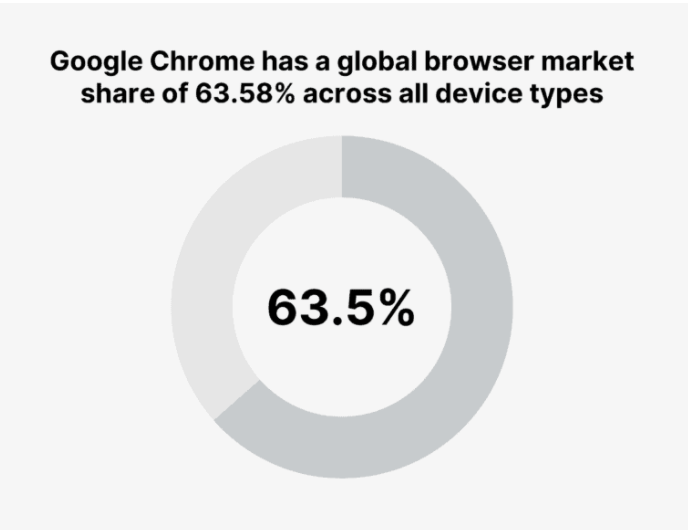 Image source: backlinko

It should come as no surprise that its main goal is to perform better and protect the end-user. For this reason, Google has issued a system update, on July 14, 2020 – Chrome 84, which requires the end-user's approval to receive push notifications from specific websites.
The whole point of these updates that Google is making is to ensure that websites aren't sending users malware, fraudulent content, spam, or any other form of malicious content.
Sure, sometimes Google updates its Chrome browser in a way that actually supports and helps webmasters. And then there are the other times, when it feels like it's out to get you, and stop you from hardly making any profit.
One of the updates that could be useful for webmasters is the Chrome 90 version. However, the only new thing it brings is that your website will load as HTTPS by default.
This way, if your website is secured, end-users will be automatically taken to your secured website. In addition, it's also meant to improve the end-user's privacy and your website loading speed. Here's how it looks, in an illustration extracted from Google Chrome 90's video explanation: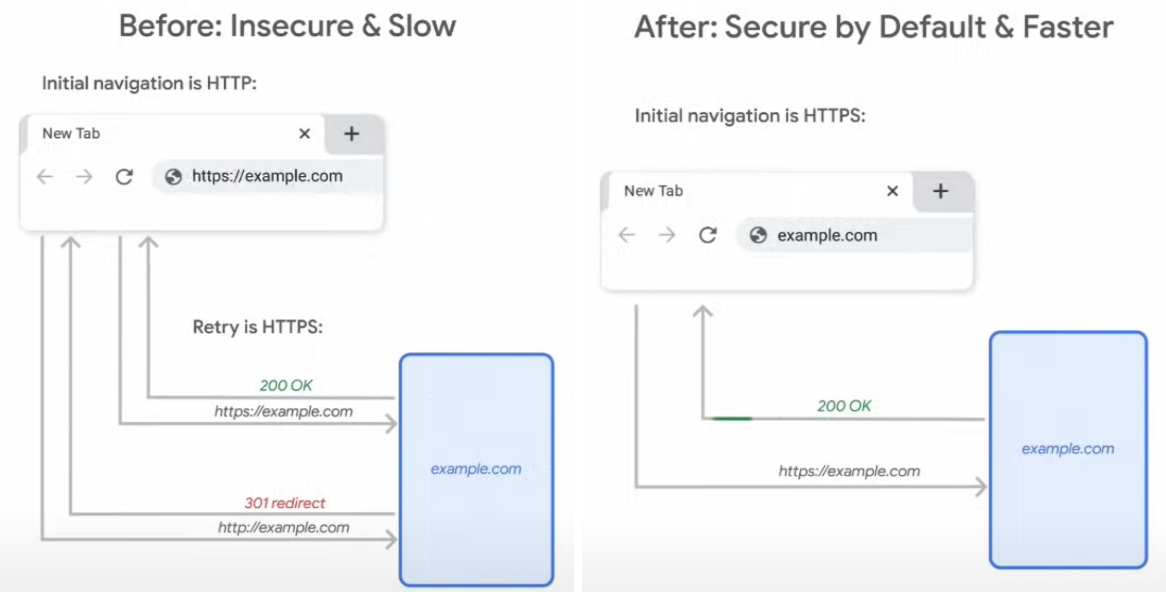 The Chrome 90 update could only bother unsecured websites, as it will force them to change or face a slight delay. The delay is caused by the mechanism behind the update since users will go on the unsecured domain only in the absence of a secured one.
Since we saw that Chrome 90 doesn't really present any big disadvantages for Web Push Users, it's time we approached the elephant in the room – Chrome 86. We know it's there, it exists, it impacts webmasters just like you, but this doesn't mean that Web Push is dead.
---
Google Chrome 84 and 86 Updates
The user comes first. And that is exactly why Google launches new updates, to make their life easier. More often than not, these updates affect webmasters just like you. And this is the case with the relatively new Chrome 86.
This update was designed to work against websites that send malware or unwanted software through their Push Notifications – called Abusive Web Push Notifications. After Chrome 84 brought more restrictions for Push Notifications, by sanctioning or blocking notification popups on spammy websites, Chrome 86 is aimed at tightening the protective measures.
Chrome 86 update – Protection against bad content, spam, fraud or malware that could end up on the end-users' device once he clicks on an Abusive Web Push link.
---
What does Google see as malware?
To put it in simple words, any content, software, or mobile app that is 'designed to harm a computer, mobile device, its software, or users' is interpreted as malware by Google.
Such content acts maliciously, in the sense that 'it can install software (more specifically harmful software – viruses, trojans) as Google puts it, or malicious links. For this reason, Chrome might often see your downloadable files as malware.
However, this is not the worst thing that the Chrome 86 new enforcement brought. So there's more?
Yes. Chrome 86 automatically blocks notifications requests from websites that use web notifications that mimic system messages. Again, this change is supposed to protect users against Push that might send links containing malware or try to obtain the end-user's sensitive data or login credentials.
So, any push that might try to download or upload files in/from the receiver's device, is seen as an attempt to trick users into accepting the notification permission for malicious purposes. As a result, Google will flag the website as malicious or sending messages that contain abusive content. In consequence, the notification permission request for the said website will be blocked.
In simple words, every website that will get on Google's radar this way won't be able to send the push notification prompt, to ask users to allow web push notifications. However, it's not a rule that once your website is flagged as involved in sending fraudulent messages, your push prompts will be blocked.
---
How does Google Check Web Push Notifications?
In order to verify Web Push Notifications, Google is using automated web crawling services that occasionally subscribe to website push notifications requests.
Once they detect your website might be sending 'fishy' notifications, they will send you an email, 30 days before blocking your notifications. They consider suspicious any push notification that includes links that send fake messages, phishing, or malware.
---
Finding and fixing a Chrome 86 Abusive Notification Report
During the 30 day period you can resolve the issues you'll find in the Abusive Notifications Report from Google's Search Console. Then you can check their guide on how to fix abusive notifications, and request a new review of your website. What they propose as a quick fix is to remove the suspicious push, and ask for a new review.
Only if you don't solve the issue in time, will your users receive the Permission Prompt warning that the notifications are blocked and request them to continue blocking the Push from your websites. They look just like your classic prompt push, showing in your upper right corner on desktop and the bottom of your screen, on mobile devices.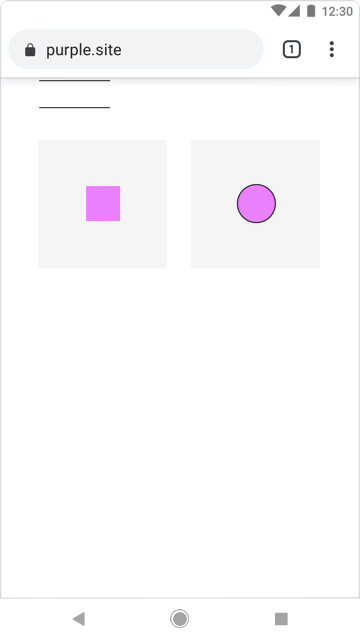 Gif source: Blog Chromium

As you can see in the Gif above, the Permission Prompt looks very much like the regular Web Push Notification Prompt, which the end-users have now seen ever since Google launched the Chrome 84 update.
---
Google Chrome 80 Update
The update that really scared every Push notification user, was the update that was rolled out back in February 2020. Everybody thought that Push Notifications will be gone once and forever. However, this didn't happen. The only change that the 80th update that Google made, was to silence notifications.
There were many solutions to Chrome 80's quiet notification, like adding opt-in prompts (which now are the norm) that would show up before google's prompt for the quiet notification. In addition, even if you ended up on their quiet prompt list, you could simply ask to be unenrolled once you improved your opt-in rate.
However, to double on the solutions, with Notix you can also use our categories check-box prompt. This allows you to create a 2 step opt-in prompt, by adding a tick-box. This way, even if users from your collected audience would decline to receive the push, it won't be registered as a domain decline, helping you avoid getting on the quiet prompt list.
---
Google's stand on third party cookies
Sometimes, Google does something useful for webmasters. And their latest decision was to delay blocking third-party cookies, until 2023. This means that if you use cookies, you can still enjoy all the data gathered this way for another year more than it was initially announced. Google took this decision, although many other browsers have already implemented blocks.
Google motivated their decision by allowing them more time to work with regulators in an attempt to find a safe alternative for third-party cookies, that advertisers could continue relying on.
---
How Notix prepares for Google Chrome Updates
Notix, as a self-serve platform, doesn't moderate the content being sent over to the end-user. However, as our client, you have agreed not to engage in any fraudulent activity. Alternatively, you risk having your account suspended or closed, and being banned from working with us.
As for the updates, know that our developer's team is testing all the Google Chrome versions to find new ways to improve our services. In addition, we are also constantly screening for any updates, to maintain our Push Notification functioning at the highest levels and improve our technology to keep up with any upcoming changes.
We do it all so that you can continue enjoying our Web Push Notification services, being reassured that should anything change, you're working with a partner that knows how to best protect your interests.