When you work with very time-sensitive content, there's no excuse for a push notification to arrive late. Today, we will look at how Notix deals with quick and accurate delivery — with notifications scheduling and the Time-To-Live feature.
To demonstrate all this, we will share the experience of FaniPogody, the Polish weather information service. It tried Notix as an alternative to its previous provider, chose to stay, and got +20% subscriber base per 6 months — and.
So, let's go straight to the details.
---
About Fani Pogody
Fani Pogody provides its users with weather information in Poland: current weather, long-term forecasts, and weather maps. They came to us in July 2022 with 3+ million active users, approximately 400k active subscribers — and a ready push notifications strategy built with another provider.
The main reason to try Notix was to compare it with the existing service and see if it helps decrease delivery time, increase engagement, and grow retention rates. Besides, Fani Pogody wanted to make their billing more flexible.
---
What Fani Pogody Did With Notix?
As Fani Pogody already had a subscriber base and a certain strategy, they had a little left to do.
First, it was necessary to set a Notix subscription prompt. Fani Pogody chose the Customized Slider: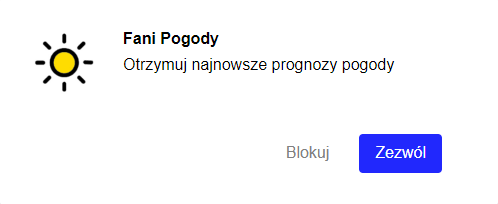 2. To keep the promise given in the prompt, Fani Pogody added scheduling and Time-to-Live settings.
What is it?
Weather reports are very time-sensitive: who needs a forecast for a day after lunch? So, there are two essential points. The first is to deliver all the notifications as quickly as possible. The second is to stop trying to reach a user who didn't receive an alert after a particular time.
Thus, Notix scheduling and TTL (Time-To-Live) became the key functionality for Fani Pogody. How does it work?
Scheduling allows you to send notifications on a particular date and time and thus keep them actual and useful:

Time-To-Live is a kind of add-on to scheduling. Suppose some of your subscribers were offline and didn't get a notification at the scheduled time — say, 12 a.m. Notix smart system will keep trying to deliver it again after 12 a.m. — but will stop doing it after the timespan you set under the TTL tab:

3. Billing and communication. This was not about push strategy, but payments and customer service are still an important part of a contract, right? Fani Pogody wanted to make quick and convenient monthly payments and be always in touch with a Notix manager.
At Notix, we offer monthly card payments that you can make within a few clicks in your personal account. And, we provided Fani Pogody with a personal manager, available 24/7 and ready to help with any questions, from settings to strategies.
After everything was set up, FaniPogody started collecting new subscribers and sending them push notifications like these: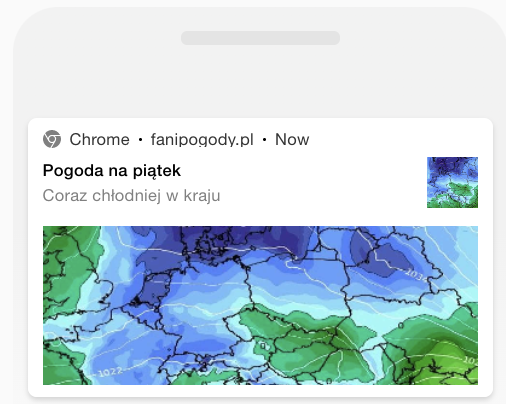 ---
What Did We Reach Together?
After the very first month, FaniPogody saw very inspiring results and decided to stay with Notix. Here we'll share what they achieved within five months of cooperation with us:
The push subscriber base has increased to 20%: there are 560k subscribers now
The retention rate grew, too: now it was 20k daily returning users — 20% of the total website traffic count
The engagement rate also got a boost: +2,3% to CTR
To sum up: subscribers receive quick and timely alerts, and FaniPogody has a convenient payment schedule and constant metrics growth.
Want the same? We are looking forward to seeing you at Notix!