This post is written by Felipe Noronha, a digital entrepreneur from Brazil and a leading specialist with 10 years of experience in media buying. He's a recognized content creator in the field of CPA marketing, a proud founding member of CPA FIix, the very first CPA marketing forum in Brazil, and the owner of a communication channel that has reached millions of views, making a significant impact on learning professionals.
We all know push notifications have a huge potential to increase your traffic and your CTRs. There's no question about it. We can even prove it with a whole bunch of case studies presenting great results with the Notix push service.
Push messages are reaching their audience and doing their magic on both desktop and mobile devices. Push has a 50% higher opening rate than email marketing, and around 70% of users consider push notifications to be useful.
As SignHouse reports, people receive an average of 12 push notifications a day, or 330 a month, and Business of Apps shows that the overall push notifications opt-in rate is 60%, which is not bad, especially considering the opt-in rate on Android devices is 81%.
But something else was on our minds lately.
Recently we conducted research to find out the latest tendencies websites have when trying to keep their audience engaged through push notifications. We wanted to know what strategies and tactics they use with the push system in order to attract new readers and generate more pageviews.
Here's what we did.
---
First step: Choosing websites to subscribe to push
Our idea was to choose one or more websites that are well-known within their niche, both on a global and local level. So we started browsing through Google, looking for websites that actually have push notifications as part of their marketing strategy.
At the end of the road, we subscribed to receive push messages from:
one huge global news website
two gaming websites, where one is also an e-commerce platform
one website from the entertainment industry, also worldly famous
one classic e-commerce site
two culinary blogs
two websites based on food-delivery services
two websites from a finance niche
two astrology sites
one huge fashion website
one streaming platform
one business news website
While doing so, searching for adequate websites and paying close attention to which one of them does have push notifications implemented, we came to the:
Conclusion No. 1 – In pretty much all cases, the very first push notification window was presented right away, almost immediately after we got on the website's landing page. That's the window where you are being asked whether or not you are willing to accept receiving push notifications.
This tells us that the majority of websites, no matter the content type, have pretty much the same push strategy in place. Only in two cases we actually needed to spend some time on a website, look around a bit, and click on an article or site category to get this message.
Usually, websites want to make each visit count, so they try to subscribe a 100% of their audience by sending the opt-in prompt right away, just in case they decide to leave sooner than expected.
---
Eagle eye: Keeping a close watch on our notification center
At this point, we had to wait for push notifications to start coming our way.
We wanted to see how often each of these websites will send push, at one point, with what information, how the push will be presented, will there be images, what tone of voice will messages be based on, etc.
In a couple of days, we got to our:
Conclusion No. 2 – Not all websites we subscribed to actually sent push. Several of them never did. Moreover, in two cases it happened that after we got back to the website, we were again presented with the opt-in prompt. And that's after we had already accepted getting these messages.
It can happen that users are presented with a customized opt-in prompt, but also with the following native subscription box. And if they only click "Allow" on the customized one but not on the native prompt, the permission was not actually given for push messages to start coming.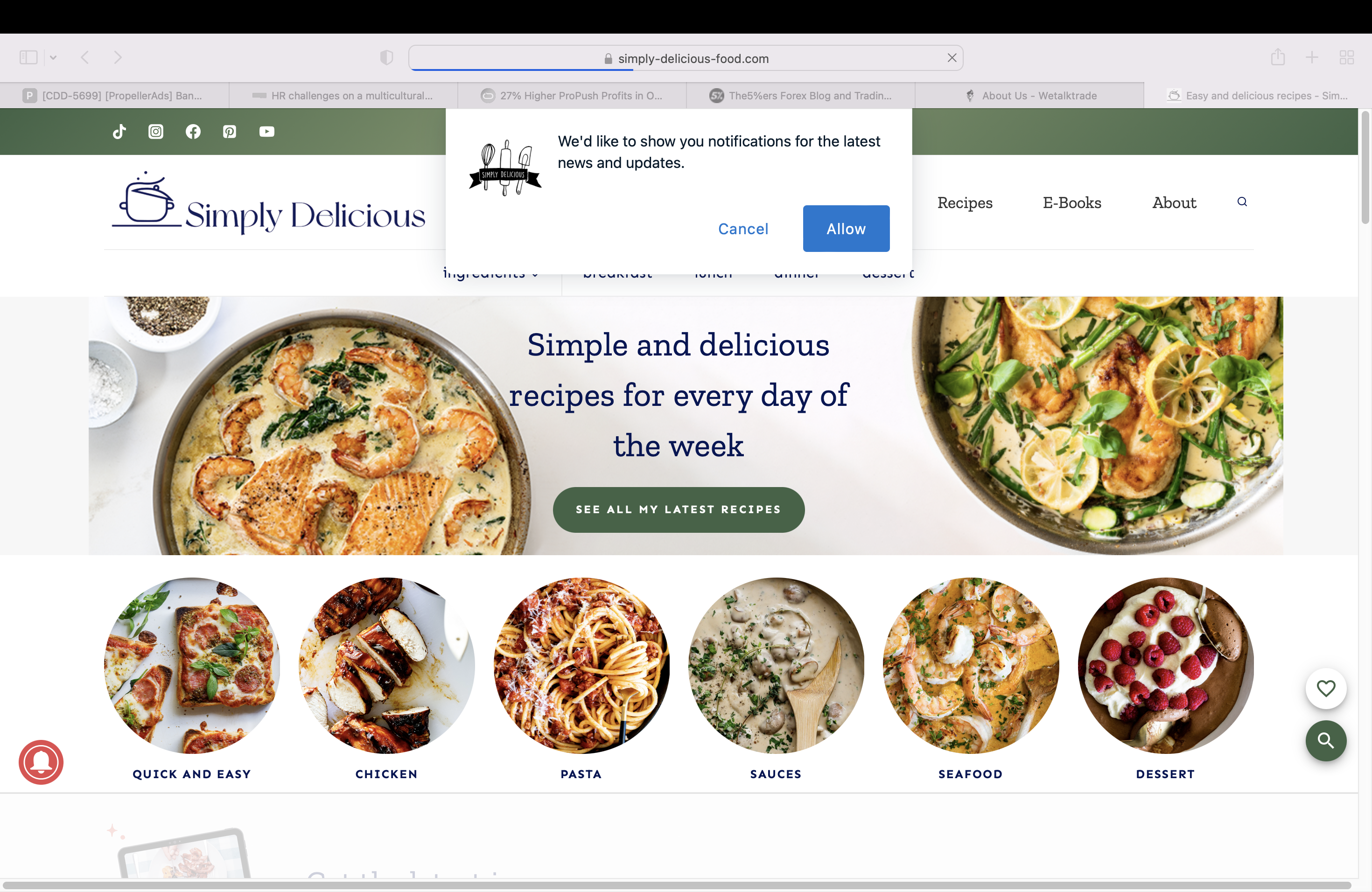 However, in these mentioned cases, that never happened. There was only one opt-in prompt, the acceptance was made, but push notifications were never sent.
So obviously, not all push notification services work. Notix, however, will always make sure you have a campaign plan in place and push messages scheduled for a specific time and date. No omissions here.
After this, we noticed another thing.
Conclusion No. 3 – Even though both websites and their apps had the push notification system in place (we subscribed to receive push from both, separately, whenever there was an app), actual messages started coming only on our mobile devices and from apps. That was the situation with a great number of cases. 
So In-app notifications took the lead, apparently. This is not strange, given some research shows that In-app push notifications have up to three times higher open rates than regular push messages. 
It makes sense to target mobile device owners, since people are more responsive on their mobile phones, and spend way more time on it. But excluding desktop users is not the best idea. If we look at the market share for July 2023, it's clear that desktop still has 42%, which is not little nor insignificant.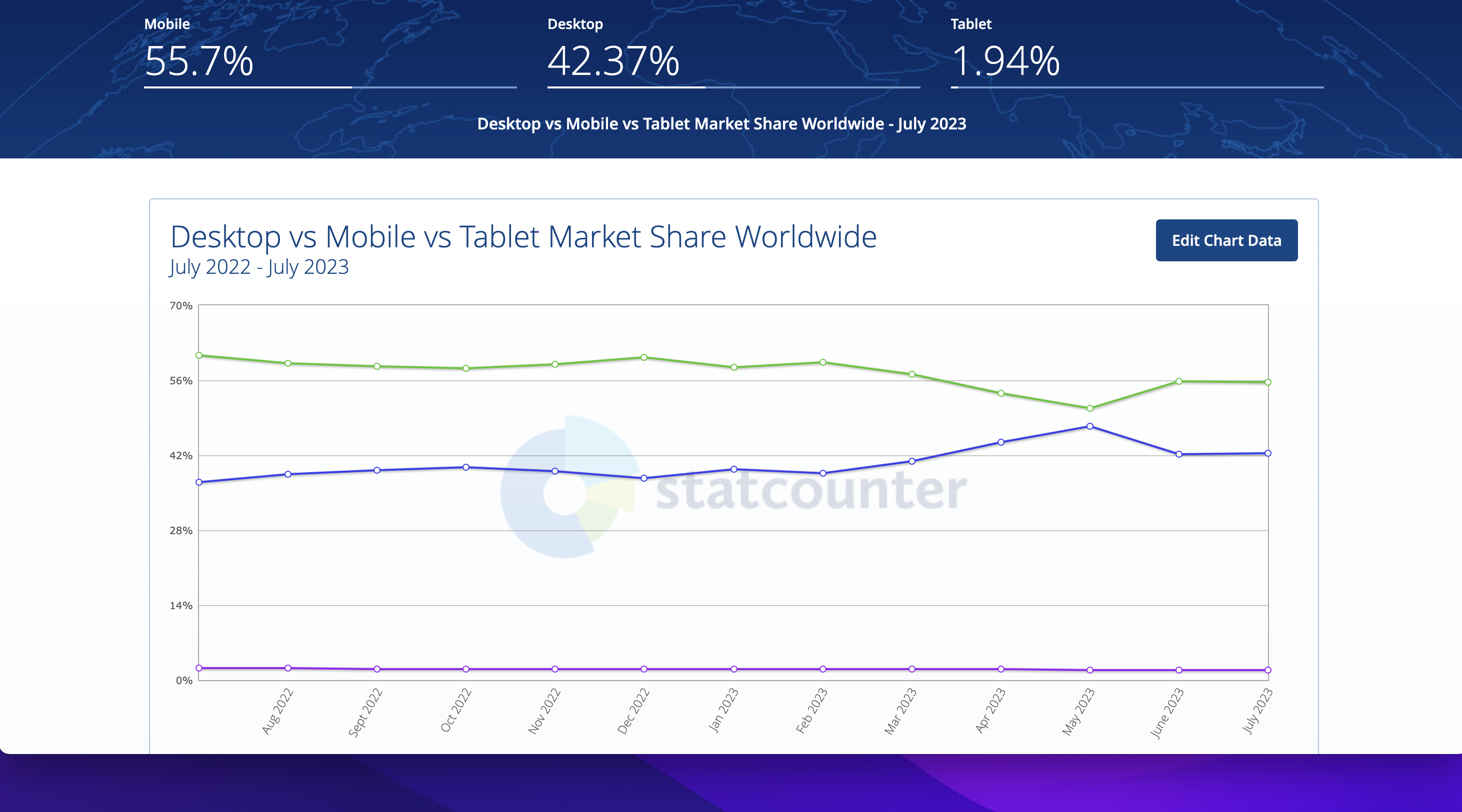 ---
Scanning: Message, Frequency, Timing
Now let's analyze the push messages we were receiving during this time, and how they impacted our user behavior.
As expected, the News website (Associated Press) was the most up-to-date. When push notifications from them started coming, they never stopped. In the beginning, those were always breaking news, which was highlighted in the message title, but in a few days, the app started sending diversified news messages. The description was always the very beginning of the news you can continue reading after pressing on a message, and the image was always the same – media initials.
We were getting around 5-6 push notifications daily, sometimes even two in a row, but what's interesting is that it took 5 whole days for these messages to start coming our way, after we subscribed (it's possible this was part of a push strategy). After they did, they became a constant in our Notification center.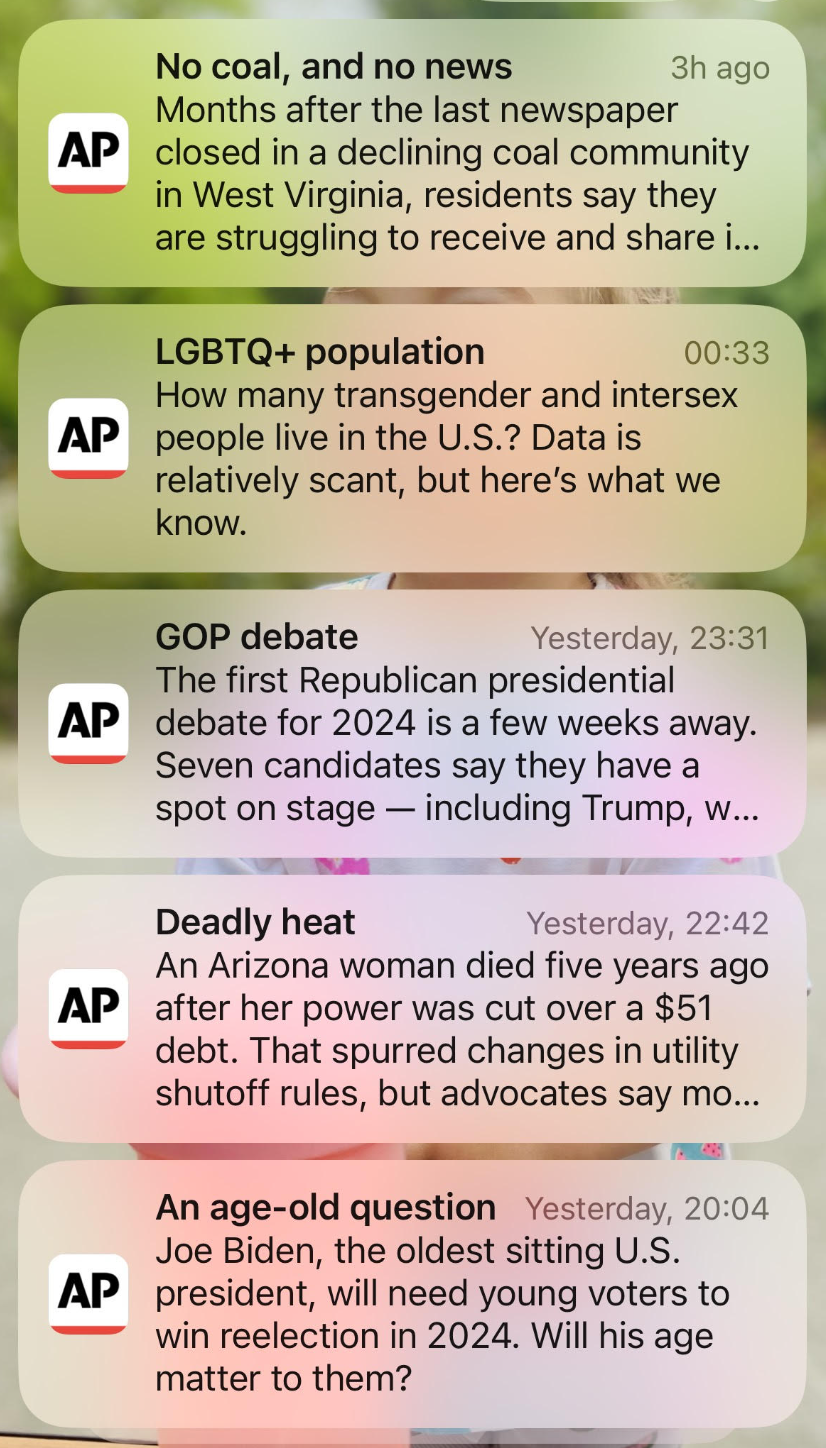 Now, the Astro website presented way more fun push notifications, with very different content and a lot of emojis. It is an Indian astrology website, so sometimes messages would be written in English, and sometimes they would be a mix of two languages. Also, the message itself was always different – it would be a piece of horoscope reading, a review from a pleased customer with a call to action, some sort of astro advice for the day, etc.
We received around 4 notifications every day from the application, the website didn't have the push system.
Note: Here, the push was used only in app; the reason why the integration of a push system was not in place on a website might just be a matter of strategy.
When it comes to all other websites, push notifications were coming every now and then – usually every three to four days, maybe once a week, but for some, it was less often than that. In the case of the Food blog it was always a new recipe with nothing but a title and blog profile picture. The link led to an actual post about the mentioned delicacy. 

With the local e-commerce Pet store, it was a discount alert pointing to their landing page, with Streaming platform "New arrival" info, or "New season of a TV show coming up" with news and additional info behind the message, and with Food-delivery service an announcement that a famous coffee brand arrived in the neighborhood. 
So our Conclusion No. 4 would be – websites tend to customize their push notifications in an attempt to increase their open rate and bring more traffic to their pages. Also, they choose different approaches and strategies with their messages, depending on niche and their target audience. Regarding messages we received, they were almost always spot on.
---
Final saying: What's left of conclusions?
#1 Push notifications are not intrusive, they didn't bother us.
Even though all of a sudden our phone and desktop notification centers were "more busy" than usual, we did not mind. The messages would be delivered right there, and only when you decide to open and see what's new in the notification center, you would be faced with push. 
#2 This little experiment confirmed our firm belief that push notifications are an ideal way for both big and smaller websites to increase audience re-engagement and expand the pool of users.
Only in the case of news website push notifications, we didn't open every single push, and it was just a matter of choosing the topic of interest.
#3 Emojis boost CTR + diverse content in push is a great way to engage users.
If you take a closer look at Astro website push notifications, how different each one is in terms of content ideas, how playful with all the emojis and intriguing headers, you will easily conclude why we opened each one of them. They were just appealing and fun. It was hard to stay away.
#4 Choosing the right push provider is essential.
From our point of view, it's unacceptable for push services not to deliver push messages, and to have such a huge flaw where the user needs to double subscribe. We were researching, and it's the only reason why we came back to the website and once again accepted receiving push. Others most likely won't do the same.
Note: It is possible to subscribe and not receive push notifications if the website doesn't have a push campaign in place at the moment. But still, the fact we needed to subscribe twice tells us the push system on these websites isn't working properly.
Maybe it's time to switch to Notix. Here's how you can safely migrate all your subscribers from any push service:
The bottom line is – this experiment led us to selected apps and websites way more often than it would be the case if the push notification system was not incorporated. Why? We simply wouldn't remember to check what's new or if there are some offers we might be interested in. So push is a great reminder really.
We hope this insight was of help and that we managed to present how push notifications "live" in actual day-to-day life. We suggest that you wait no more but to –>